32GB Sprint Galaxy S III pre-orders shipping today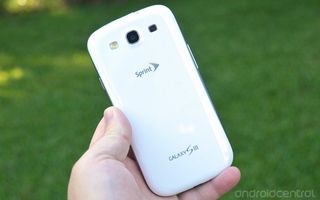 Good news for anyone who has pre-ordered a 32GB Samsung Galaxy S III on Sprint -- it shall be in your hands very soon! Taking to their Galaxy S III community forum to deliver the good news, the message reads simply:
Are you waiting on one of these or already received one? Shout out in the comments below and let us know your thoughts.
Source: Sprint Community
Android Central Newsletter
Get instant access to breaking news, the hottest reviews, great deals and helpful tips
Still waiting on vzw.............. Hope there is no delay since they decided to delay from the start. Can't complain I got mine (16GB) for $99

Congrats all you Sprint customers who have ordered this!! Hopefully I get my ICS update on the Maxx so we'll all be happy.

Really thought I wanted this and was gonna sell my gnex but being on sprint with no lte for either phone, plus jelly bean around the corner and I think I'll stick with what I got for now

Well, there will ALWAYS be a next version of Android "right around the corner".

So true...right about this time every year ;-)

Does the 64GB version even exist???

Yes, just slap your 64GB memory card in there and you have a total of 96GB!

They said later on in the year...

Sweat! What is this, the fourth LTE phone released on Sprint with no LTE network live yet? Awesome! How many people that own any of Sprints four LTE handsets do you think will ever see or get to use Sprints LTE network in the nex two years of their contract? 3G phones sold at full 4G contract prices. Sound like a great deal!!!

1) The LTE network is already unofficially live in a few areas, and very soon to be officially brought up for several cities. 2) So you think they should sell high-end phones that WON'T work with their newest 4G network that is rolling out currently? 3) There is no difference between 3G and 4G "contract prices". There are no such distinctions, anyway.

1. How much of the US do you really think Sprints LTE will cover in two years. 30%, 40%, 50%? Like I said, people are paying full price (phone prices and contract prices) for what are will be for most of the US in the next two years only 3G devices. 2. They should sell high end phones that work with their current 4G and their upcoming 4G, not to mention their even further away 4G called LTE 800mhz. Especially considering that it is the 800mhz frequency that will blanket the US and not the current 1900mhz that is able to work with the current LTE chips inside of Sprints "LTE" devices. Otherwise these phones are just 3G devices for the majority of users. 3. There is quite a difference in prices of devices on contract that are strictly 3G compared to 4G. Not to mention Sprints plan prices are competitive with other carriers price models that do have working 4G LTE networks. You can try to fool yourself and your friends with your phony logic, but the fact of the matter is everyone on Sprint buying these "LTE" devices are getting ripped off.

Keep on trolling, buddy.
You said "3G phones sold at full 4G contract prices." please show me a link where Sprint makes a difference on contracts on different smart phones.
Also, there is there this body called the ITU, and according to them, there isn't a commercial 4G deployment in the world. Don't let any facts get in the way of your trolling, I'm sure it will not.

Well in not in any hurry for the 4g. Have the og evo and now the new. I'm a WiFi who're and u bought the phone cause its a nice phone. You can rant about sprints no 4g but when it lights and on top do the super LTE we will have the last laugh. so enjoy you 4g party for now.

Were you equally complaining when AT&T launched the 3G iPhone with no 3G service?.... Didn't think so. Nothing to see just keep moving along.

Excited for you guys on Sprint!! Looking forward to Verizon shipping!

My Verizon preorder is finally showing a expected ship date. Hopefully they will stay true to their word. My should ship on the 10th and be at my doorstep by the 11th!!!

Man! does anyone have a word when either the 16 0r 32 GB will be INSTORE to buy? i cant take the wait! im itching for a new phone and really dont want the EVO. i took my evo back the 1st day i had once i heard/though the S3 was coming out on the 21st

I got a Blackberry 8530 in 2008 which I wanted to replace. I have been watching news and rumor sites since January but when I saw info about the upcoming Samsung Galaxy S III I knew that was the one I wanted. On June 4 when I read that Sprint would open pre-orders for the SG3 on June 5 I emailed my sprint agent (my business account agent who has a @sprint.com email address) asking to pre-order the 32 GB Marble White version. He emailed back, "Thank you. The line is eligible, I just need you to confirm to the following before I can process any orders; The Samsung SIII 32GB is $249.99." I replied back, "Yes, I want to proceed with the SG3 32GB White at $249.99. I understand it requires a new two-year commitment." He replied, "Thanks a bunch, I will put the order in tomorrow, I am not sure the shipping time yet. I will keep you updated on that." So, I happily went on my way with the exciting thought that I'd be one of the first in line to get the new phone. June 13 I get a little concerned that I haven't heard anything back from my agent and email him, "Will the phone ship directly to my work here? Am I supposed to get any order confirmation email because I haven't received anything from Sprint directly? Just want to make sure my order is all set." My agent replies, "Your order has been placed. It will ship to the address on file. Once the device ships, I will email you the tracking information. We are good to go on this end." Ok, so I apparently won't get an official Sprint confirmation but my official Sprint agent says my order is placed and good to go. June 21 Sprint announces pre-order delays due to overwhelming demand and to check the status of my pre-order online. What?!? I need an order number to check my order status and so contact my agent again requesting he provide my order number. He replies, "I sent in a request with ordering department to get the order number. I will send it your way once I have it." So, again, I feel uneasy about my pre-order but my agent continues to reassure me. On June 25 I email my agent again asking for my order number and get this reply, "I have asked for an update from my ordering department. I apologize on the delay on this. We are working with Samsung on an update on when inventory should be arrive." Now tonight after work I decide to call the Sprint business customer support number and am told that they have no record of my pre-order and besides they could only be done online. WHAT?!? Further, they say it's impossible to get a phone now and that I can't even order one at this time. I eventually get transferred to Order Support and then to the Retention Dept but while they apologize for what happened to me they cannot get me a phone and don't know when I can order one. I can't fully convey how utterly frustrated and upset I am at my "agent" and Sprint for allowing this to happen and not being able to rectify it. Apparently agents can't be trusted and you will get shafted if you do. What can I do now and how can I trust Sprint again?

Did you pay for it on the phone with your cc? If so, you need to track the money down. If you didn't pay for it with your agent over the phone, how could you receive an order # or confirmation email? Sorry this situation came to be upon you. I wouldn't use that agent anymore if I were you. It looks like any agent would love to make a sale because of the commission...so I don't understand why that Sprint employee would do that to you. There really is nothing to do at this point but order like everyone else... online, in a store, or from the Sprint Telesales department. What a bummer

...WOW....I bet his fingers are tired!!!!

Lol, these are comments, not the forum

I ordered mine 6/6 and as of this moment, no change in status, still back ordered. Will update when it changes.

I ordered mine 6/5, and I haven't received any emails, nor have I seen my status change yet. Perhaps they're sending them out in reverse order. :-/

I am just excited to have mine, maybe I drank the Koolaid, but I am confident that Sprints 3G overhaul will come to fruition soon enough in addition to the 4G LTE network upcoming. Cannot wait to have my shiney new 32 GB White SIII in my hands.

Geez, order or at the store, online and don't try and get some good copy. It's just mot that big a deal, really!?!

Geez, order or at the store, online and don't try and get some good copy. It's just mot that big a deal, really!?!

My order status on the 32GB has not changed...16GB was received last week but was not for me. I glare in envy. Status: The order or a portion of the order is in backorder status. If the customer would like to select an alternate product or cancel the backordered item, transfer to Order Support.

Yea I preordered on 6-5-12 and my order is still the same. Back ordered. But I called today and we should have them by 6-28-12. But hey it's at least no longer just rumors...official word from Sprint. So it's all good. All I know is 32 gig + 64 micro sd card + drop box + google drive and 2 gigs of ram on the side. OH yea...lol

My order status has changed for my 32GB. I now have a tracking number and it has arrived in Louisville, KY. Maybe I'll get it tomorrow!

same here , arriving today 27th

Here it comes baby...12:30a Pacific time Last updated: 06/27/2012
Product ID Description Qty. Order Date Tracking #
SPHL710KBB SAMSUNG L710 BLUE 32GB 1 2012-06-07
Status: The equipment has shipped and/or the activation is complete United States 06/26/2012 2:19 A.M. Order Processed: Ready for UPS
06/26/2012 11:56 P.M. Origin Scan
Louisville, KY, United States 06/26/2012 11:58 P.M. Departure Scan
Louisville, KY, United States 06/27/2012 12:19 A.M. Arrival Scan Scheduled Delivery:
Wednesday, 06/27/2012, by 3:00 P.M.(by end of day for residential deliveries) I am in Oregon, I pray it gets here by 3p, I have to work at 4p across town.
Android Central Newsletter
Get instant access to breaking news, the hottest reviews, great deals and helpful tips
Thank you for signing up to Android Central. You will receive a verification email shortly.
There was a problem. Please refresh the page and try again.