You can (and should) buy a Chromebook instead of Apple's new $300 iPad Pro keyboard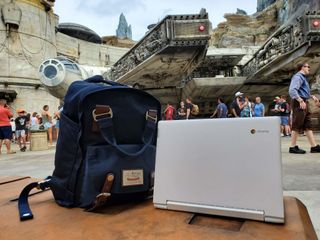 (Image credit: Ara Wagoner / Android Central)
Apple debuted a flurry of new hardware this morning, and among all the shiny rose gold and beautiful screens, my jaw hit the floor looking not at the newest iPad Pros, but at the $300 Magic Keyboard (opens in new tab) that you can buy for them.
Three hundred dollars for just the keyboard. I sit here writing this on a $250 Lenovo Chromebook C330 (opens in new tab), which was the leader of our Best Chromebooks roundup most of last year because of its friendly-yet-durable look, steady performance and excellent price. On my desk sits a band new Acer Chromebook 715 (opens in new tab) that arrived yesterday for review, a 15-inch aluminum Chromebook with an eighth-gen Intel i3 processor and a $320 price tag at Walmart.
I suppose I shouldn't expect too much from a company that sold a single monitor stand for $1000, and four caster wheels for the Mac Pro that won't even lock in place for $400. Seriously, there has to be a limit to this ridiculousness, right?
But sure, I'm being the unreasonable one here saying that a Chromebook, accused of being a "fake laptop," can possibly compete with a iPad, let alone an iPad Pro. Yesterday, when I was unboxing the Acer 715, a coworker sarcastically commented "Oh, if only I didn't have a job that involved video and photo editing." Yes, if only.
Never mind that photo editing can be done everywhere, and that between Android apps and online editors, I've edited 95% of my article photos for the last two years on a Chromebook. Never mind that the only time I drag out full Photoshop on my borrowed Surface Pro 3 (thanks, Russell) is when I need to batch edit hundreds of photos in a short period of time, like during a phone launch. It's not powerful enough to run Premiere — never mind that Premiere sucks on any sub $700 Windows laptop and eats RAM and battery on a Mac like candy — so a Chromebook is just worthless, isn't it?
The iPad has a big, shiny Retina screen, and $300 Chromebooks don't. That I'll grant you. Do I wish that all 11.6-inch Chromebooks would upgrade to 1080p displays? Sure, but Reddit, Twitter and Google Docs don't care that my screen's resolution is 1366 x 768, and most days, neither do I. My touchscreen still scrolls through websites and taps through Microsoft Solitaire Collection like a champ, and my battery usually lasts dawn 'til dusk.
Unlike a delicate iPad, most Chromebooks are durable, dependable, and affordable, which is why they're trusted in schools more and more with each passing year. And unlike an iPad, where you'll need to buy a keyboard or be trapped using on-screen keys, Chromebooks come with a keyboard — unless you're Google, who I still haven't forgiven for selling the Pixel Slate without one — and these keyboards are designed to be easy to use for children and people who haven't used computers very often. The system-wide keyboard shortcuts are excellent and make split-screening and window management a breeze.
Even for casual activities like playing games in the cafe or watching Hulu in bed, you'll likely have a better experience on a Chromebook. iPads don't come with a built-in kickstand the way Microsoft Surface tablets do, and most Chromebooks are touchscreen 2-in-1s so you can just bend the keyboard back into a stand for touchscreen solitaire and binge-watching your childhood favorites on Disney+.
Perhaps most importantly, Chromebooks offer the most consistent long-term experience for a laptop under $500 and especially under $300. Even Macs slow down with time, and getting them serviced can be more expensive than a Chromebook, whereas most Chromebooks are designed to withstand years of abuse in classrooms and be easy for school IT departments to repair or replace parts.
So, please, skip the $300 Magic Keyboard. Buy a $300 Chromebook instead, and see what's possible without blowing $1000 on a 2-in-1 that needs hundreds of dollars more in accessories. I guarantee you, you'll be surprised how much you can get done.
Built to last
(opens in new tab)
This Chromebook perfectly blends portability, performance, and price.
Yes, it's not as sexy as a new iPad Pro, but it's a quarter of the price for 85% of the functionality. It comes with a comfortable keyboard, all-day battery, a decent touchscreen, and a perfectly portable plastic body.
Android Central Newsletter
Get instant access to breaking news, the hottest reviews, great deals and helpful tips
Ara Wagoner was a staff writer at Android Central. She themes phones and pokes YouTube Music with a stick. When she's not writing about cases, Chromebooks, or customization, she's wandering around Walt Disney World. If you see her without headphones, RUN. You can follow her on Twitter at @arawagco.
Apple continues to insult my intelligence.

Well unless you prefer the ipad... this article makes little sense: different os, different machines...

I think the new iPad Pro + keyboard are really desirable, and I am a Windows user. But this article was probably the reality check I needed. FWIW, my daughter has a Lenovo Flex 11 Chromebook for school/YouTube, and I bought her a refurb iPad Pro 10.5 for artwork. That combination is still cheaper than buying one new iPad Pro + keyboard! Also: My brain can't handle pyramid solitaire, Ara is either very clever or very patient (or both!).

That's TriPeaks, not Pyramid, but yeah, that's more of a speed round solitaire for me.

So if I am a professional who needs to do the best work that I can as fast as I can on a mobile device I can either: A) buy an iPad B) stake my professional future on a MediaTek SOC I am sorry but I think that I am going to go with A) Yeah, if you can buy this iPad Pro setup you can buy a Pixelbook. But be honest ... in the 9-5 workday of your average (meaning not tech enthusiast) professional, which one is going to be far more practical to use? Exactly. Apple can charge as much as they want for iPad Pros and accessories because they have a monopoly on mobile productivity devices. People who need such things - consider sales and marketing types who burn up frequent flyer miles - have no other option. Windows is a PC OS, not a mobile one. And neither Android or ChromeOS offers them productivity applications beyond Google Docs/Office 365. For them, the iPad is not a want. It is a need. And you can blame the many failures of Microsoft and Google for Apple being in a position where they can gouge these people. For an article like this to be convincing it needs to be "Here are the top 10 things that professionals use their iPad Pro's for ... and here's how to do it on a Chromebook instead." But no article like that exists and we all know why.

You do know there are great Chromebooks with Intel or AMD processors available. Their batteries willing last as much or even longer than an iPad. If your work can't be completed on office 365 or your video/editing requirements aren't met by Chrome OS, then you should go for a full blown windows machine not an iPad.
Android Central Newsletter
Get instant access to breaking news, the hottest reviews, great deals and helpful tips
Thank you for signing up to Android Central. You will receive a verification email shortly.
There was a problem. Please refresh the page and try again.