2016 Honda Civic introduces support for Android Auto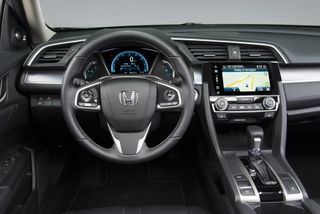 Both Apple's CarPlay and Android Auto will be supported in the upcoming 2016 Honda Civic. The manufacturer has detailed a 7-inch touch screen will be available in the vehicle, which will also enable owners to connect their smartphone to take advantage of both platforms.
The usual features one would expect from such a setup will be present, including the ability to utilize navigational systems, place and receive calls, messages, and listen to music. Voice control tech will also be available for those connecting Android hardware.
Note that you'll need to have the Android Auto app (opens in new tab) installed to be able to connect your smartphone.
Source: Honda
The one big gripe I have with the navigation system on many Honda vehicles is the rather horrendous map quality. Should be a thing of the past now.

This would replace it with either apple or Google maps ( or something like waze).. So this will solve that issue Posted via the Android Central App

Yep, that's exactly what I somewhat mentioned when I said "Should be a thing of the past now".

If it was replaced with Apple maps, I don't think it would be much of an improvement. Posted via the Android Central App

Actually Apple maps works pretty well. I've had times when Google maps wasn't working correctly and was giving me wrong directions but then my girlfriends iPhone gave the right directions. But of course its been the other way around as well. Both are pretty much the same thing. Posted via the OnePlus One (Cyanogen OS 12.1 w/ Nova Prime)

The stock unit looks like they went with Garmin, same as the 2016 Pilot, the old clunker is gone.

Where's the CR-V? Put this on the new CR-V and I can finally think about pulling the trigger. Posted via the Android Central App

Mazda CX-5 is nicer than the CR-V

Meh, I just bought a CRV and cross-shopped the CX5. While neither interior is something to write home about, the touch points in the crv were much nice. The CRV also had better driver feedback and visibility. Idk, it was the sum of lots of little things that pushed me to the CRV. Plus, its a Honda. It will run forever.

Also the H-RV I saw one the other day and it looks pretty sweet for a small SUV/big crossover.

Looking Forward to the comments on this link
Android Central Newsletter
Get the best of Android Central in in your inbox, every day!
Thank you for signing up to Android Central. You will receive a verification email shortly.
There was a problem. Please refresh the page and try again.