15 movies to watch on Disney+ before Loki debuts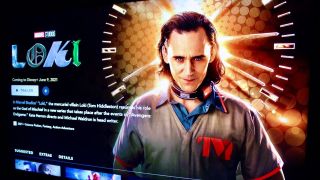 (Image credit: Marvel )
In addition to offering a variety of originals films and series, Disney Plus is the digital hub for all things Marvel. Whether you've just finished WandaVision, or want to revisit your favorite Avenger on film, Disney+ has got you covered.
The platform also offers a number Marvel-adjacent and bonus superhero films that are perfect for satiating your superhero addiction ahead of Marvel Studios' latest spinoff show. With that in mind, we've rounded up a list of movies to watch on Disney+ before diving into the new Loki series. Here they are.
Super streaming
Your home for Disney classics, Marvel heroes, and more
Disney+ subscribers have access to nearly every film in the MCU, as well as a variety of other superhero-related films and series. Sign up to catch up on everything super right now.
Marvel Cinematic Universe Phase One
Iron Man (2008)
The Marvel film that started it all, Iron Man introduces fans to Tony Stark (Robert Downey Jr.) -- a billionaire industrialist and genius who is conducting a weapons test overseas. When Stark is kidnapped by terrorists, his only option is to become Iron Man.
Thor (2011)
Thor finds Chris Hemsworth's titular hero getting ready to take over the title of King of Asgard from his father Odin when his reckless arrogance reignites an ancient war. Banished to Earth as punishment, Thor must find a way to stop his evil stepbrother Loki from stealing the throne.
The Avengers (2012)
In The Avengers, Thor's evil brother Loki (Tom Hiddleston) gets his hands on the energy cube called the Tesseract, leading Director of S.H.I.E.L.D. Nick Fury to recruit the world's best superheroes to defend Earth.
Marvel Cinematic Universe Phase Two
Thor: The Dark World (2013)
Set hundreds of years after the gods of Asgard defeated the Dark Elves and buried their ultimate weapon, the Aether, Thor: The Dark World finds Thor sprining into action when Dr. Jane Foster uncovers the weapon -- and becomes its host.
Avengers: Age of Ultron (2015)
Avengers: Age of Ultron finds the Avengers reassembling after Tony Stark (Robert Downey Jr.) accidentally creates an A.I. monster called Ultron (James Spader), who vows to achieve "world peace" by way of mass extinction.
Ant-Man (2015)
In Ant-Man, thief Scott Lang (Paul Rudd) must learn to embrace his inner hero after being armed with the ability to shrink in scale but increase in strength. With help from his mentor Dr. Hank Pym, Scott attempts to pull off a heist that will save the world.
Marvel Cinematic Universe Phase Three and Four
Thor: Ragnarok (2017)
In Thor: Ragnarok, Thor races against time to stop a cataclysmic event called Ragnarok, which promises to end all of Asgardian civilization. The catch? The God of Thunder is imprisoned on the other side of the universe, and without his hammer. In addition to being tasked with fighting a fellow Avenger in a gladiator-style contest, Thor must figure out how to keep the villainous Hela from destroying his home.
Avengers: Infinity War (2018)
Avengers: Infinity War finds the Avengers and their superhero allies teaming-up against Thanos (Josh Brolin), who seeks to use the power of the Infinity Stones to destroy the universe and half of the world's population.
Avengers: Endgame (2019)
The conclusion to the Infinity Saga, Avengers: Endgame finds the survivors of Thanos' snap attempting to move forward five years after the events that wiped out half the population in Infinity War. Along the way, the remaining Avengers must relearn how to work together in order to bring their friends and family back.
Marvel Legacy Movies
While the X-Men have yet to be offiicially introduced in the Marvel Cinematic Universe (MCU), there's plans to do just that with the long-awaited Deadpool 3. As such, it might be a good time to catch up with the mutants. Here's a selection of previously-released X-Men films that will serve as a good primer ahead of the new group of mutants joining the MCU.
X-Men (2000)
The first film in the X-Men franchise, Bryan Singer's X-Men introduces the core members of Dr. Charles Xavier's X-Men Team and pits them against the villainous Magneto (Ian MCKellen), who wants the mutants of the world to come out of hiding and take out the human race.
The Wolverine (2013)
The Wolverine finds Hugh Jackman's mutant character returning to Japan for his first time since World War II, and struggling to both keep it together and rediscover the hero within himself while on the run.
X-Men: Days of Future Past (2014)
With mutants on the brink of extinction, X-Men: Days of Future Past finds Wolverine volunteering to go back in time and rally the X-Men in order to change a pivotal moment in history and attempt to save their futures.
Superhero films you don't want to miss
Disney+ also gives subscribers access to a selection of superhero films that might be a better fit for families with younger children. Here are three films that both meet those requirements and are worth a watch.
Big Hero 6 (2014)
In Big Hero 6, robotics prodigy Hero Hamada and his robot Baymax team up with a squad of unlikely heroes to save the city of San Fransokyo.
Incredibles 2 (2018)
The long-awaited sequel to the 2004 Pixar film, Incredibles 2 finds Mr. Incredible stepping into the role of a stay-at-home parent when wife Elastigirl is enlisted to save the world.
Secret Society of Second-Born Royals (2020)
A Disney+ original film, Secret Society of Second-Born Royals stars Peyton Elizabeth Lee (And Mack) as a princess named Samantha, who is shocked to learn that she has superpowers and belongs to a secret society of second-born royals who have been working to secretly keep the peace for centuries.
What's next on Disney+
The movies listed above are just a small selection of the content that's worth watching ahead of the debut of Loki on June 9. But if you're looking for a variety of films that will get you up to speed on everything you might of missed far it's a good place to start. This is especially true of Iron Man, as well as it's two sequels, which serve as the jumping off point for each phase of the MCU the Thor films, which show Loki taking on a variety of personalities.
If you've exhausted your viewing of the Avengers-related movies, that in might be time to start an X-Men marathon. While the timeline throughout the existing films is a bit wonky, the original X-Men film and it's sequels are a solid primer for the characters you might see pop up when the mutants are reintroduced by Marvel Studios.
And if you're still building up to all the action that Marvel has to offer, the more kid-friendly Incredibles 2 might be a good place to start. You can also take your viewing experience to the next level by operating Disney+ on a 4k compatible device.
Once you've made it through this list of standout movies to watch on Disney+, you'll be prepared for the next round of content hitting the platform. In fact, Disney announced earlier this year that — in addition to WandaVision, The Falcon and the Winter Solider, and Loki series — 10 other Marvel projects are already in the works. These include the previously announced Ms. Marvel, Moon Knight and She-Hulk series. So, buckle up! It's going to be a wild ride.
Stream it now
All your Disney favorites, and so much more
Disney+ provides access to new and classic content released under the Disney, Pixar, Marvel, Star Wars and Nat Geo banners. Sign up for access to all the content you'll want -- and need.
Get the Android Central Newsletter
Instant access to breaking news, the hottest reviews, great deals and helpful tips.
Keegan Prosser is a freelance contributor based in the PNW. When she's not writing about her favorite streaming apps and devices for Android Central, she's listening to a true-crime podcast, creating the perfect playlist for her next road trip, and trying to figure out which fitness tracker she should try next. You can follow her on Twitter @keeganprosser.