Is 128GB enough storage for flagship phones in 2020?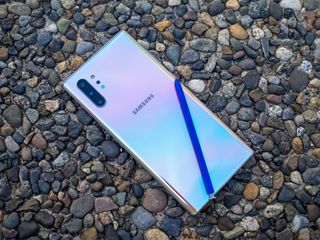 (Image credit: Andrew Martonik / Android Central)
Samsung may have just launched the Galaxy S20 series this past Friday, but that hasn't stopped people from already talking about the Galaxy Note 20. We aren't expecting it until at least August, but the rumor mill has slowly started to ramp up.
Right now, one of the biggest talking points for the Note 20 is that it will supposedly come with just 128GB of internal storage. Compared to last year's Note 10 that had a minimum of 256GB, it's quite the downgrade.
With that rumor circulating, it got some of our AC forum members debating whether or not 128GB is enough space for a 2020 flagship Android phone.
What do you think? Is 128GB enough storage for flagship phones in 2020?
Android Central Newsletter
Get instant access to breaking news, the hottest reviews, great deals and helpful tips
Joe Maring was a Senior Editor for Android Central between 2017 and 2021. You can reach him on Twitter at @JoeMaring1.
Not a big deal, just use an SD card

Samsung is losing its mind. At minimum 256. Next phone is an iPhone...

And you'll get 64GB without the option of a micro SD card.

Exactly. What a silly comment. 😂

I believe they said 256gb. Where did you get 64gb?

Absolutely. Few will be able to fill it. It's just the Base Model. But for the Note and Ultra models no because they are so expensive.

For me 128GBs is plenty of storage. I ordered an LG G8 ThinQ and it's arriving today. It was less than half the launch price on Amazon. It will be my first phone with 128 gigs of storage. But yeah if I were paying top dollar for a phone I would expect more.

I like to look at the phone as a whole. You can say as a whole a phone is it isn't worth the cost, but to point out one feature or lack there of is a bit asinine.

It's enough storage for me, but not enough for the prices that are being charged.

For me it is, I stream all my content and most of my work is in the cloud. Only reason I'd download media is if I travel and even then it's like 10GB

128 GB is way more than enough for me.

128GB hasn't been enough for a while, for me. I need 256. But as long as there's an SD slot, I can do down to 64GB internal (apps) storage: I mostly need media storage.
So to me the question is "Can you live w/o an SD slot on your phone ?". Given the price at which they sell 256GB internal storage, my answer is: "No".

128gb is enough for most people but that's not the point. The point is, for $1,100+, we shouldn't have to settle for that. Samsung is becoming more like apple every year, and in some cases, worse than apple.

How long will it be before we see articles asking if 256gb is enough?

As consumers more is better right? 😜 When running my 128gb internal storage through a disk analyzer the biggest things taking up space are games (Fortnite and PUBG take up the most) and videos (due to Google's limitations of 4K videos being unable to save directly to SD cards).

Less internal storage with the option for a microSD card that can do up to 1TB of storage seems like a good option to me.

Yes. 64GB is more than enough for the majority of people, honestly. The phones shipping with 128-256 OOTB are doing so largely because they're trying to provide a better "value proposition" when competing with Apple - and each other. People here like to pretend Android Central posters/commentators are representative of the actual market. Techies are anomalies, but their lour praises are cries can make for good or bad marketing/PR ... at least to the other techies who bother to read these sites/blogs :-P

Yes, as long as OEMs gives us the option for expandable storage. Seems fair to go 128 base model and up. Now if you're Google or iPhone that don't give you the option then you gotta bump it up more.

It's more than enough my 128gb phone has like 85gb free.
Android Central Newsletter
Get instant access to breaking news, the hottest reviews, great deals and helpful tips
Thank you for signing up to Android Central. You will receive a verification email shortly.
There was a problem. Please refresh the page and try again.