ZUS USB-C cable review: A decent right-angle cable that should've gone further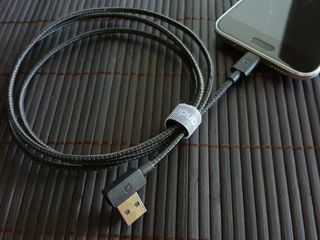 With more Type-C Android phones being released all the time, a lot of folks will be stocking up on spare cables. This last month, ZUS has been making a lot of noise about a new unique series of cables, with a successful Indiegogo having concluded on Monday. Their cable is reinforced and protected with Kevlar, but that's not the only thing that made it stand out to me.
Oh, no, what stood out in my mind were more ordinary but just as valuable features. Upon seeing the ZUS cable's pitch, one of the first features you notice is that it's a cable with a right angle plug. As someone who spends a lot of time plugged in, especially in tight places, that made my ears perk up… right up until I saw the picture.
The right angle's on the wrong end.
Don't get me wrong, the right angle on the USB-A side is useful and I'm very appreciative of it. But what I was hoping for was a right-angle USB-C plug so that I could charge a phone right-side up in one of the my mug stands, or in my LD West holster without leaving the magnetic strap undone.
Now that we're starting the transition to USB-C a reversible plug, right-angle plugs make more sense. Hopefully a later model, or another vendor, takes this final step towards a cable that'll be a little less awkward while charging in your pocket walking or on a long vacation day with your family.
Another standout about the ZUS: in a world overrun with 3-foot cables, the ZUS measures 4 foot. In their literature, they talk about this being the perfect length for the car (I do wish I'd sprung for one of the angled car chargers they're selling). More importantly, it's better for just about all of my desk charging, bedroom charging, and wherever the hell else I end up charging.
In fact, the only time 4 foot has been too much was when charging off a battery pack. While that right-angle meant I could easily slip the battery into one of my larger pockets without a cable sticking up and stabbing me in the pelvis, I also had enough spare cord to run around my hips as a belt. (Your mileage may vary there.)
And while most all of my other charging cables are neatly wound and stored safely in a pouch or pocket of my field bag, the ZUS cable I just leave loose in the main compartment with my laptop, because KEVLAR. The claim to fame here might be running over the cable with a car or letting your cat chew on it, but all I need is a cable I'm not too worried about kinking while it's thrown around by me, my bags, and my chaotic life. The ZUS can certainly handle that. (The real test will be how it holds up after a few months — or years.)
If you're still light on USB-C cables, there are certainly cheaper ones out there, but between the durability, length, and that right-angle plug, you could do a lot worse than the ZUS charging cable. And given the timeline on the Indiegogo page (shipping July 1st), at least this campaign doesn't look to take two years like some other charger projects I've backed.
And yes, it's Benson Leung-approved.
Ara Wagoner was a staff writer at Android Central. She themes phones and pokes YouTube Music with a stick. When she's not writing about cases, Chromebooks, or customization, she's wandering around Walt Disney World. If you see her without headphones, RUN. You can follow her on Twitter at @arawagco.
I might try this. Can always use more cables Posted via Nexus 6P or Galaxy S7

You're right, it's wrong. Having a right angle on the USB A end could just as easily be an inconvenience if your adapter points it away from you. It's best to assume I'm being sarcastic. if I'm ever serious I'll type "/s" to make it clear.

I mean, the right angle makes sense sometimes on the USB-A port, but it cat be an incoveinence. Unlike the USB-C port, which is reversible and thus would be able to just put it in the other direction if you wanted/needed to.

Maybe they should have copied the design of the OnePlus 2 cable... although it does give a less secure connection. Maybe that's why OnePlus apparently abandoned it. Either way if the angle was at the USB-C end this review would have sold them a couple of cables. It's best to assume I'm being sarcastic. if I'm ever serious I'll type "/s" to make it clear.

It should have just had a twistable USB A adapter. That way it wouldn't be an inconvenience because it could point either way. Gold Platinum Galaxy Note 5 on Marshmallow

A twistable adapter would've been far fatter and clunkier.

They should have made the A side reversible. Yes it can be done I ordered 2 micro USB to USB A chords from Amazon a few weeks ago and they both work as advertised. Both sides are reversible so you don't have to worry about putting either side in correctly. Both sides just work. Reversible Micro USB Cables Omaker 2 Pack Reversible Micro USB Cable High Speed USB 2.0 A Male to Micro B Sync and Charging Cable Cord with Reversible USB Port https://www.amazon.com/dp/B0197OV2GU/ref=cm_sw_r_cp_apa_ZL0yxbV6H77MA?ta... Posted via the Android Central App

They should actually be selling different versions of this cable so customers can chose which end they want the angle on and which way the angle goes on the type-A end. Posted via the Android Central App

I wonder if when Fuse Chicken releases their USB type C Titan cable which of these will withstand day to day abuses from just general not totally stationary use.

While I agree with you, I would appreciate the usb end being right angle, these will be perfect for some of my more crowded spaces. Getting two.

Now, if only it was a right angle on both ends.. Then we'd be talking!

My cat chews the crap out of wiring (thus the molding running everywhere throughout the house) - I'm not so sure that Kevlar would stand up to her attention, but I'll probably give it a shot just to see.

Ok... That LD West Holster is bananas! Way to cool for me. :)

It is cool, isn't it? I need to get some photos shot my me wearing mine and write up my experience with it the last few months.

Would be inconvenient if you're using a case on your phone. Posted via TCP/IP

Depends on how the right-angle is handled, but I've have right-angle plugs on previous cables (OTG cables seem to come with right-angle plugs a lot), and never had an issue

The thing that killed ZUS for me is that they didn't offer a USB-C to USB-C cable?! WTF? And yes, if they remedy the C-to-C lack, a 90 plug on both ends, please. 90 degrees is useless with USB-A because invariably it will be in the wrong direction. Kevlar is good, very good. It should slow my cat down enough to where he'll taste the bitter apple i spray on all my cables. No more cables ruined with one chomp.
Android Central Newsletter
Get the best of Android Central in in your inbox, every day!
Thank you for signing up to Android Central. You will receive a verification email shortly.
There was a problem. Please refresh the page and try again.