ZTE confirms 8.0 Oreo is coming to Axon 7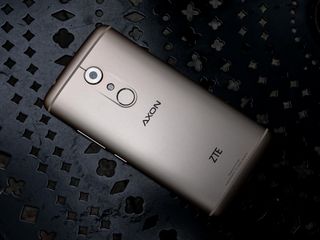 The ZTE Axon 7 was a fantastic mid-range phone when it was released in August of 2016, and if you can find a solid deal on it now, it's still not the worst way you can spend your cash on an Android handset. The hardware of the Axon 7 continues to look and feel great even in late 2017, and it now looks like the software will be receiving a big update very soon.
In a community forum for ZTE fans, one representative from the company created a thread for the Axon 7 group and posted a message to announce that Android 8.0 Oreo is officially coming to the handset.
There's currently no timeframe as to when Oreo will be ready for the Axon 7, but seeing as how the title of the post is "Android 8 is just around the corner", our guess is that we should hopefully see it pushed out within the first couple months of 2018.
When Oreo hits the Axon 7, users will be able to tap into the likes of picture-in-picture, Google's Autofill API, notification dots, and quite a bit more. We'll still likely see ZTE's skin layered on top of it, but even so, this is a greatly appreciated development.
Joe Maring was a Senior Editor for Android Central between 2017 and 2021. You can reach him on Twitter at @JoeMaring1.
Getting my A7 back from repair soon and using it as a backup phone to my S8 and it will be nice having two phones on Oreo.

Had to send mines in at least twice for repairs, within a year of owning it mind you....

I had a gray Axon 7 last year when it was released. Great hardware with barely OK software held back by two glaring flaws - signal strength was absolutely terrible (all metal body with not a lot of thought put into the antenna) and a camera with abysmal performance in any less than perfect lighting conditions. If ZTE would have just listened to the vast majority of its phone owners and released a stock Android device, it would have been the phone of the year.

The camera performance wasn't great in low light conditions, but if the user knew how to use manual mode then they could take some great pictures regardless. Granted the camera should have taken better pictures on Auto mode in any condition, especially for users who either don't know how to use manual mode or just don't have the time to mess with it. It would also be nice if ZTE fully supported the Camera2 API, instead of just having partial support like it does now, hopefully they roll this in with the 8.0 (Oreo) update as it would help with certain camera apps such as Google Camera as well as the stock camera app. Here's to hoping lol

My Axon 7 is definitely the best phone I have ever owned, and it is the company that just keeps giving, which I love. Thanks ZTE I will enjoy Oreo.

Only complaint I have is the slow pace of the security patches, other than that I'm extremely happy with the decision I made to pay $399 for this great device. Instead of spending $799-$900 for a device of similar specs and performance, I saved hundreds of dollars that we're better spent elsewhere.

Per Unjustified Dev via XDA-Developers, he received 8.0 Oreo build from ZTE early so he would have time to adapt and build his Lineage rom. Android 8.0 (Oreo) is not going to have MiFavor on the US variant (A2017U) but instead a close to stock Android build with a few ZTE changes. https://forum.xda-developers.com/showpost.php?p=74692147&postcount=181 (Link to his post) https://forum.xda-developers.com/axon-7/how-to/oh-lineageos-15-t3668956/... (Link to the thread that contains the post as well as more info regarding the build) It's not mifavor anymore, but a very light clean version of caf with zte additions. You can still see their changes made to the notification drawer and the settings. I do doubt the US will get the full Mifavor again so it's going to be similar to the carrier devices in the US which is aosp like with slight notification drawer changes, settings, and icons

Sweet! Getting this phone was the best decision I made.

Every phone is getting the Oreo except S8+

Don't be silly, The S8+ just came out this year. Of course, it will get Oreo just won't be quick (as usual)

Glad to see ZTE hasn't forgotten its customers. Although still no word on a ZTE Axon 8......

ZTE did confirm there will be an 8.

I used to have this phone. As someone else stated, reception was subpar, and so was low light camera. I moved onto the S8, no regrets. But it was good for the price. Their skin is also a bit odd.

Will this also apply to the Mini?

Looking forward to this. Had two LG phones (5X, G4) go bootloop on me in less than 2 months apart. Had to get a phone fast. This was a great alternative @ 4 bills. The hardware has been great except for its weaknesses (poor cam and signal). Camera has been fixed for the most part. Now we'll be getting Oreo and a cleaner UI, I'm all for that. Not sure what phone I'll have in a year's time. I do know ZTE will definitely get a look from me.

One of the best phones I owned. I do wish the camera was a bit better(then again all smartphone camera pales against my DSLR) but I enjoyed it. People make a big deal about security updates but to me I think security updates are overblown. As long as you are not uploading sketchy apks then it will be OK. Updates fixed the signal issues and made the camera not bad.
Android Central Newsletter
Get the best of Android Central in in your inbox, every day!
Thank you for signing up to Android Central. You will receive a verification email shortly.
There was a problem. Please refresh the page and try again.