Don't buy an Amazon Echo Dot — get the Zolo Halo instead*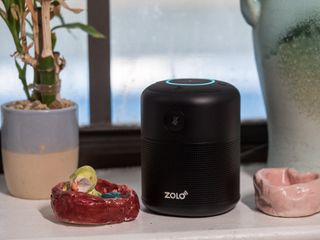 The is the Zolo Halo. It's mostly like an Amazon Echo Dot. It's a connected speaker. It's got a microphone. It has Amazon Alexa built into it. So it can answer questions and control things and do most everything the Echo can do.
And at $391, it's priced about the same as the Echo Dot (which officially is $49 but had been on sale for $39 for a while; your mileage may vary) — but it sounds a lot better. So much so that I'll say this: If you're considering an Amazon Echo Dot, give this a long, hard look first.
It's not that the Zolo Halo sounds great. It's a small, OK speaker for the price. You're not going to be blow away by sound quality by anything this small, and certainly not this small and this inexpensive. But for $40, it sounds just fine, and it sounds that much better than the Echo Dot.
I'm admittedly tired of the Echo Dot's tired design. So the Halo (much like the similar Eufy Genie, a third competitor) is a small breath of fresh air. OK, maybe it's got a bit of a pencil sharpener thing going on (now there'd be a cool trick), but it's definitely a step up from the oversized hockey puck Amazon's been selling for a few years now.
I'm digging the mute button on the front. There's no mistaking what you need to do if you don't want this thing listening in on you all day, every day. Hit the button, and it goes dumb. No more listening for you to say "Alexa."
I'm digging the rubberized buttons up top, done in sort of an inner ring/outer ring thing. Each is under a single sheet or rubber — a small but welcome detail. Looking down on the Halo, North is a button for Bluetooth control. South is play/pause. East and West are volume buttons. The inner ring is separated by the telltale blue LED light. There are a couple pinhole microphones up here, too.
Round back is an LED power light, 3.5mm aux-out port, and the power port. (Proprietary, at that. No Micro-USB nonsense going on here.)
So it's a better-looking, better-sounding Alexa device. What's the catch?
It's not an Echo. That means you'll not be able to do any of the Alexa Calling stuff that Alexa can do now. It also means that you can't do multi-room audio with other Alexa devices. You can, however, do multi-room audio with other Halo speakers.
So the decision is easy and obvious. If you just want an Alexa device that does the basics, get the Zolo Halo. If you have to have Alexa Calling, get an Echo Dot.
Image 1 of 4
The $39 price point is listed as a sale price, with the retail price a ridiculous $109 — even more than the actual Amazon Echo. Do not pay $109 for this speaker. It's worth $39, not $109. I might go to $59, but that'd be it.) ↩
Get the Android Central Newsletter
Instant access to breaking news, the hottest reviews, great deals and helpful tips.