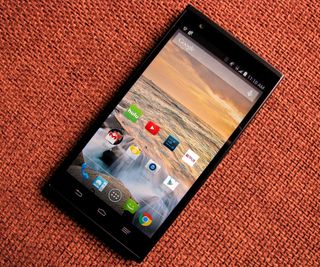 A just-decent-enough $250 smartphone strapped onto a monster battery
The ZTE ZMax is the type of phone that you get for a very specific reason: you want to play lots of videos and games but you don't have a lot of money to blow on a pricier phablet like the Galaxy Note 4 or the impending Nexus 6/X/whatever. The ZMax is $252 outright on T-Mobile, and for that money, it performs better than its budget in most areas, but not quite all of them.
So, can this phone stand out in the mid-range phone market? Let's take a quick look
The ZMax certainly towers above most phones in size. This phone has a 5.7-inch screen, not counting the pesky capacitive buttons below it and the not insignificant bezels that complete the front face. You'll likely not be keeping it in your pants unless you're a lucky devil with TARDIS-like pockets. That nice big screen is good for videos and games, and I only say good because it's only a 720p screen, and it doesn't take much to see the individual pixels on this phone and the brightness could be more in outdoor environments. But for $250, what else did you expect? Videos are decent on this screen, but you should probably invest in bluetooth headphones if you intend to watch for very long, because the speaker is quite tinny and not all that loud.
Over four and a half hours of non-stop Netflix at full brightness.
This phone is made for long video sessions, as you can easily watch hours and hours of video without the 3400 mAh battery passing out on you. In fact, in the week I've had the phone I think I've only charged it three or four times. It's a phone that will get you through the day and then some, especially if you're using Wi-Fi calling and don't have the cellular radios always active.
The phone doesn't feel terrible in the hand, but you're definitely going to want a tight grip on the slippery smooth plastic, and the back has a little give when you hold the phone. The battery's non-removable, and the microSD slot is on the side, accessible with a SIM tray puller. The SIM slot is on the opposite side. Below the two slots are the power and volume rockers, and I have to say I'm not thrilled with having them on opposite sides, but you get used to it.
The phone is almost mostly stock with the usual T-Mobile bevy of apps and a few ZTE utility apps, including a Task Manager (first one I've seen in a while), File Manager, and Flashlight. It's running the stock launcher, not the Google Now Launcher, but you could easily download and install it, or any other launcher. The settings are ever so slightly off, and it's missing a few sections like the 'Home' settings for launchers. The camera, like the phone, is a bit unwieldy, with decent auto-focus but the shutter button could take a bit of reaching for those with smaller hands, and would be better suited on the sides rather than the middle of the control bar. If ever there was a phone that could benefit from the 'tap anywhere to take' feature from the Moto X, this would be it. The front-facing camera is adequate; it'll get you through your selfies and your video Hangouts, but don't expect it to give you the moon in 1.6 megapixels.
All in all, the ZMax is a massive phone with a big battery and a price that won't break the bank. If you're a binge-watcher with giant pockets and not a lot of scratch to spare, this phone will get you by and then some, so long as you have a good set of bluetooth headphones. If you're looking for budget-friendly headphones, my personal headset is the $25 Kinivo BTH-240 (opens in new tab), which lasts me almost a week per charge and comfortably fits my head, even when I'm wearing my beloved jeep caps.
Ara Wagoner was a staff writer at Android Central. She themes phones and pokes YouTube Music with a stick. When she's not writing about cases, Chromebooks, or customization, she's wandering around Walt Disney World. If you see her without headphones, RUN. You can follow her on Twitter at @arawagco.
Thanks for the review. This should be a good option for many people Posted via the Android Central App

Only $99 at Metro PCS, it completely blows away any competition. Nothing even close. The pricing in this review seems biased. I've got a Note 2 and a ZMAX and prefer it most of the time.

I totally agree with you. I love this phone. The only thing is you mentioned the current price of $99 @ metro pcs but the price in the article refers to back in October of 2014. Therefore the price discrepancy.

>but you don't have a lot of money to blow on a pricier phablet like - the impending Nexus 6/X/whatever. false economy. penny wise and pound foolish. a fool knows the price of everything and the value of nothing. it's probably $100-$150 difference. skip a few pizza deliveries (a good idea anyway) and scrape up the extra money and get more value and longevity (future proofing) from your purchase. given the cost of service over 1-2 years, $100-$150 is chump change in the grand scheme of things amortized over that time.

Maybe you should skip a few pizzas and set your eyes on the only piece of toast that has any significance, aka the note 4.. ;) Posted via the Android Central App

I'd rather get a Note 3 for about $350 than a Note 4 for $700 Posted via the Nexus 5, Nexus 6 coming very soon

Me too Posted via the Android Central App

I'm willing to bet the new Nexus runs around 350-400. And I know several folks who can't afford delivery, and barely Digirno. Paying outright for a phone isn't in the cards for them; they want cheap and they want the installments. I've steered people to the Moto G and they still said it was too expensive without financing. Posted via the Android Central App

With those specs, the new nexus will be more than $400. Posted via...The One

I'd considered this phone before they rumored t-mobile has been balls deep with google to get wifi calling... I'd just use it for travelling, though, especially with that battery...

I definitely like the way the battery life is while watching Netflix. I will stop by a TMobile store this week for some hands on time. Posted via Android Central App

I went through half a season of Family Guy, and I was still only around 15-19% around the time of that shot. Posted via the Android Central App

How long did it take you to fully charge the battery?

I've seen it in RadioShack and loved how it felt in my hand, would jump on it in a heartbeat, but a secondhand Xperia Z Ultra will run you the same price and that's what I'm in the hunt for.

This will be good for those, who can not see well and those who can`t buy that overpriced fancy phone. Some people can't buy those pizzas and extra stuff... they trying to do the best they can. Posted via Android Central App

Exactly. If you are 40+ and/ or have vision issues this is perfect. And yes, if a 700$ plus tax phone lasted 5 years, it would make sense to go for it. But they do not. For my part, 252 plus tax is already too much for a short lived item.

Too bad it's not unlocked. I might have picked one up.

It's got T-Mobile's app suite (required for Wi-Fi calling, but I'm fairly certain you could buy one outright and they'd unlock it for you. In fact I'm pretty sure they'd be required to. Posted via the Android Central App

I am not sure that their WiFi calling is that important anymore. Google Hangouts Dialer and Google Voice is excellent and offer the feature now and is carrier independent. Otherwise, it looks like a decent budget phablet even if I prefer either the OnePlus One or Xiaomi Mi-3. I found Mi-3s for $238 on Ebay which is a steal and worth to consider for those on a budget.

Mi-3 doesn't support LTE. Not an option for me, though it does look nice spec wise Posted via the Android Central App

Great article. Oh, nice pic, Ara. ;)

I do not think that it's such a big issue since there are not that many GSM carrier choices in the U.S to begin with. And for overseas travel- I think and hope that after a while they will unlock it.

Amazing price! I hoping Nexus 6 is near that price

If only there was a ZMin... Posted via the Xperia Z4

I was waiting patiently for the Nexus 6 to come out but when I found out that it was 700 I chose to get the ZMax. Guess what, it works like a phone should. I can make calls and run apps. I originally had a Galaxy S4 and the only fancy thing I used every now and then was Dual Screen. I did not use all of the gestures, or nearly half the features that they sold the 600 phone to me on two years ago. I just wanted a big phone and not have to spend big money on it. The ZMax is a good deal for the money. I use Bluetooth Ear Buds and I have a cool rubber case from Amazon.

I press the reported thing on your comment by mistake..sorry..I think your comment is helpful and truthful

I had this phone now for a month. I'm very impressed, satisfied, and happy with this phone. It has never freeze up or act up on me like some of the $600+ did to me. One of the factors is that is running almost stock KitKat android. Never have to carry a charger or worry about not making it.. I can leave the house before daylight and stay out to early next day and still with heavy use have plenty of juice to keep going. This phone took my urge to always look for a better phone. I know In keeping these one for while.. When I said I'm satisfied.. Really is satisfaction what I get when I use this phone.. Using it is as smooth as a phone should be. I just only which more Developers would consider spend some time in this phone..and find a way to root this phone.. If there one phone that need the attentions of the Developers community is this one.

Also I have to let you guys know I got these phone until the Nexus 6 came out then I would of switch to the Nexus..but guess what..I'm keeping the ZMAX,. Why change something that is not giving me problems..

Seems a little harsh. Especially with the quality of sound! I have a ZMAX by ZTE and not only was it $199 but it is bar none the best phone I've ever owned. I'm 36 and had plenty. ;-) With the huge internal memory and the speaker is crazy awesome (that's what drew me to comment). I use a case w stand and it is great. I would say this. No kidding, its huge! So of you have small girly hands or want to put it discreetly in your skinny jeans....keep on looking. I see no pixelation as stated (I worked A/V for years). Bottom line it is affordable and can compete with ANY phone out there and hold ground. I think you got a bad one bro! Thanks for the input! :-)

Edgardo said it best. Both had them for a month and if you gave me a Note4 I would sell it! This phone is unbeatable and I would much rather flip the Note for $$$ than impress.....who cares! I'll update if it $***'s the bed! Until then, get em while u can. $199 @ MetroPCS now. I want a backup in case they stop making! Edgardo....if it ain't broke, don't fix it. As for the rest...sounds like we are looking more for a name than a phone that can handle up. Just saying...

Get Zmax thru metropcs for $99 after instant rebate at the register and you get t mobile service and unlimited 4G for $50/ month. At 250 I don't know, but at 99 yes. Bought mine today.. liking it! Gotta buy thru MetroPcs not T-Mobile.

Just got the phone today and the pics and videos are just as good as the ones with the galaxy I had I just think ppl like to pay for the big fancy names instead of a good phone

hey so how much was the phone in total with the phone, plus activation, and tax?

I don't know when you bought it but I got it 10 days ago and the sound quality is great. It is very loud and clear it actually is equipped with HD Dolby sound, I don't know if they have improved it since then but the sound is now very good. I've watched ESPN on it with a house full of children and tv's running and it a fine, unless the tv is turned extremely loud and kids are yelling all at the same Time I've never had a problem but I'm sure you would with any phone at that point. I don't have headphones and have no need for them..and why pay 600_$700 for a phone?? Really a 700 dollar phone! Why? For a few more features that you rarely will ever use? The memo?the ZTE Zmax has 18 gig of internal memory that's a lot more then a lot of top end phone's. The processor is fast, the phone runs great , the picture and sound are now perfect, and the camera takes beautiful pictures. So again why?? For the name? So you can say you have one?? It's a darn phone man it takes one drop,spill of a drink, kid breaking it, etc..... and there is $699 down the drain and I'll pass on paying for insurance on a phone I'm gonna replace in12_16 months anyway. I payed $99 for it and there is absolutely no way you could ever sell me any of those over priced name brand cell phones that the company releases a newer version of within a year..

Hello I have a question is there any device like a HDMI connection kit that I can use with the tv so I can watch movies.

Hey can anyone help me ? I'm using the latest zmax and I can't transfer app or music or anything to the SD card .! Why even have an SD card slot.

Hey man I have the same question and I already have an SD card installed and don't even know what apps can be stored on it. Sorry but I'm not very savvy with all the lingo and was wondering if someone could help me out and explain it to me like, a 55 year old lol! I would have said explain it to me like a kid but maybe I should be asking my 12year old nephew for help! Email me anyone who has a little bit of time and don't mind my little bit of know how and you have some patience! Or even if you could direct me where to look Google for the best link to help me out. Thanks Everyone!

You have to root your phone before you can transfer files to sd card

I got my zte max about 4 months ago. I like the size, I love the battery strength. The only complaints I have is storage space. I can't download a lot of apps or update current apps. Also it no longer powers off or screenshots. Other than those 2 complaints, the price was low for a very decent phone.

I have a ZTE ZMAX. It does stay charged all day and I do stream about 3 hours of Pandora Radio and many hours of audio books, daily. It stays charged the entire day. It is hard to access the camera button, because I do have small hands. It is great for YouTube videos. You can set the sound volume to various styles, through settings. The original sound setting is crummy, but can be adjusted.
Android Central Newsletter
Get the best of Android Central in in your inbox, every day!
Thank you for signing up to Android Central. You will receive a verification email shortly.
There was a problem. Please refresh the page and try again.