Verizon chooses YouTube TV as its streaming service of choice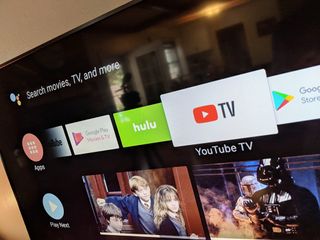 (Image credit: Android Central)
Google and Verizon have partnered to make getting YouTube TV even easier for Verizon customers (opens in new tab). Verizon announced today that customers will soon be able to subscribe to YouTube TV through Verizon, offering the standard fare of network channels to all wireless and broadband customers.
Whether you have Verizon wireless service, FIOS, or a wireless 5G home, you'll now have the ability to bundle YouTube TV along with it. With YouTube TV you get a cable-free live TV service which includes over 70 networks such as ABC, CBS, CNN, ESPN, Fox, FX, HGTV, NBC, TBS, TNT, and more.
See all channels on YouTube TV
Your YouTube TV membership also provides you with six accounts per household, a personal DVR with no storage limits, and access to on-demand content. YouTube TV lets you can watch all your favorite shows anywhere you go with apps available for your phone, tablet, TV, and the YouTube TV website.
This news comes after the recent controversial YouTube TV price hike, where Google added additional channels for an extra $15 bringing the total to $50 per month. The recent price hike left many users angry and disappointed because you are now forced to pay substantially more for channels you may have never wanted in the first place.
Cable-free live TV
Live TV anywhere you want it
YouTube TV offers over 70 of your favorite networks on any device you own. With up to six accounts per household everyone gets their own account and personal recommendations along with unlimited DVR storage.
Get the Android Central Newsletter
Instant access to breaking news, the hottest reviews, great deals and helpful tips.
Still not happy about the $15 price hike.

At $50 I canceled and will not look back.
A couple of streaming services for around $30 total and I am good. YouTube had a good thing and mucked it up with pricing increase.
Within a year or 2 all the streaming cable companies will be charging as much as regular cable with 80% of channels not being watched.

Streaming services have been a hoax the whole time. It was never about making it affordable. It was about being able to unbundle from your provider. Unfortunately once you unbundle, providers find a way to offset the price by marking up prices of other services you still have.

They're basically bundles again as well...

Love YTTV. Best service out there. Still well worth it for me.

I don't really see any benefit of subscribing through Verizon if there's no discount or anything like that.

Yeah, I don't get it either. Zero incentive.

I agree. I was fully expecting to be able to get a discount for YouTube TV being a Verizon customer.

$50 a month gets you a very good traditional cable or satellite television service. If you don't care about the additional boxes that you need and the price, that is your best route to honestly go. Weigh out the options 70 channels vs 300 channels, with infomercials built into them?

Not sure where you live that you can get what YTTV offers thru traditional cable. it would easily be 70 or 80 bucks without the DVR service. And the 300 channels that cable offers are about 275 crap.

DirecTV, Charter,Dish. You can get that price. You have to bundle usually with a product. I was able to get DirecTV for $59.99 for 2 years, plus my boxes and dvr service included six months ago on a deal. I have to pay auto-debit, but I get 30 channel which includes all of what I watch, minus the infomercials. Way more channels that YouTube Tv offers.

Are you sure the $59.99 is two years? They're notorious for doing 2 year contracts, but only 1 year of actual discounted service.

It's two years at the set price. I was skeptical at first as well, but they proved me otherwise. I'm on year two at the same price at my business of the same set price and they never raised it, and did the same promo for my house six months ago.

The current promo for DirecTV Select is $35/mo, but it's for ~150 channels, requires a 2 year contract, goes up to $81/mth the 2nd year, is much less mobile, and requires a big dish on your home that often loses signal during inclement weather. It's telling that AT&T wants to phase out satellite service entirely.

Youtube TV actually offers half as many channels, but is available on every box, computer, video game console, and mobile device you have. DirecTV would have to be half the price to be an equal proposition.

Not to mention it is shareable to up to 5 family members and the DVR options is fallover easy to use. Still not buying through Verizon though. What would be the point?

There's no net benefit for the consumer going this route. I'll even bet that plenty of people will be unaware that they can cancel YouTube TV service with them at any time.

I have No TV! Best service ever! $0/month, 0 channels, 0 BS! And best of all: plenty of time to do real exciting fun stuff that actually enriches life!

I'm hoping you can bundle FiOS internet and YouTube tv with no FiOS cable. That's the dream. I'm on FiOS and was ready to leave because to have internet only is more than the triple play I have now as an existing customer.

So YTTV increases the price $15 for those that jumped in at the beginning and helped the service grow so that Verizon customers can get a discount? What about Project Fi customers? From AndroidPolice: A Verizon spokesperson told us: No pricing details to share today but [...] we'll be offering promotions that are more valuable than what's available today through signing up direct.

I'm chatting with Fios support and they say that Youtubetv is streamable from channels 837 and 941. It doesn't give you access to the Youtubetv app. This is the most worthless thing I've ever heard of. Who would go to a channel on their cable box to go to a channel on youtube tv. They would just go to the channel on the cable box! The DVR is the only thing it would be for. So dumb.