TV streaming services have become the problem they were supposed to solve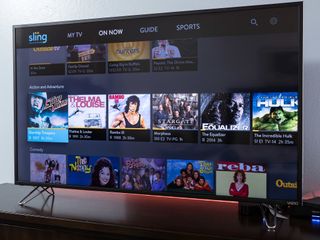 (Image credit: Android Central)
Growing up in a home with satellite TV and being the cheapskate that I am, one of the most memorable announcements to come out of the tech space in the last few years is when DISH announced Sling TV (opens in new tab) at CES 2015. I distinctly remember watching the livestream, thinking it was one of the coolest things I'd seen in a while and jumping into the beta program as soon as I possibly could.
Sling TV was the first service of its kind, bringing live television programming to a streaming service that was considerably more accessible and affordable compared to what was being offered by the likes of Comcast, DirecTV, etc. It was the catalyst for a bunch of competitors, too, including PlayStation Vue, DirecTV NOW, Hulu with Live TV, YouTube TV, and more.
This resulted in a really exciting couple of years, but shortly after this mini-revolution, things started changing. Most notably, things have started to get more expensive.
In 2018, Sling TV announced that its popular Orange Plan was increasing from $20/month up to $25. PlayStation Vue raised its prices twice — once in 2017 where all plans were increased by $10 extra per month and again in 2018 with another $5 increase across the board. Hulu lowered the price of its ad-supported on-demand service at the beginning of the year, but also sneakily upped its live TV option from $40/month up to $45/month.
And, perhaps the worst culprit of all, YouTube TV. It was already one of the pricier options around when it launched for $35/month, but over just two years, it's increased by $15 and now costs $50/month for new and existing customers alike.
In many of these cases, companies have tried to justify their price increases due to adding more channels to their respective lineups. Having more things to watch is great, but isn't that missing the entire point of the problem these services were supposed to solve in the first place?
One of the biggest complaints with cable and satellite is that you pay an outrageous amount of money each month for a bunch of channels you'll never watch. Things like Sling TV were supposed to give you the option to pay less and only get the channels you want to see, but that's very quickly starting to change. Now, we're being told that we're getting more for our higher bill even if we don't care about the channels being added. In other words, we're starting to get right back where we started.
And then there's the monstrosity that is T-Mobile TVision (opens in new tab).
T-Mobile acquired a company called Layer3 TV in late 2017 with the promise to launch its own streaming television service and take on the hated cable companies. A lot of hype and excitement was built around this, not to mention some big delays. T-Mobile's TV service was finally announced last week as TVision, and boy, oh boy, is it a hot mess.
If these streaming services were supposed to make live television more affordable and accessible, T-Mobile straight-up ignored that rulebook and gave it the middle finger.
TVision comes bundled with a heap of channels (over 275, to be exact), will initially only be available in select markets across the U.S., and requires a physical set-top box for each TV you want to watch your shows on. And then there's the price. TVision costs $100/month (or $90/month if you're a T-Mobile wireless subscriber) in addition to an extra $10/month fee for additional boxes you want if you have multiple TVs throughout your home. At launch, T-Mobile will make the $90/month rate open to everyone.
Can someone explain to me how this is any different than cable?
Most TV streaming services aren't nearly as complex as TVision, but if T-Mobile's going down this route, what's to stop other companies from trying stuff like this, too? Prices are already increasing across the board, so if T-Mobile can get away with charging for physical boxes and a $100/month asking price, why wouldn't its competitors do the same?
To be fair, not all is dark and scary quite yet. Despite its price hike, Sling TV is still one of the most affordable options on the market and works on virtually everything. There's also underdog Philo (opens in new tab), the service I personally subscribe to that costs $16/month for access to 45 channels, unlimited cloud DVR, and the ability to stream on up to three screens at once. There aren't any sports channels, but for someone like me that only really cares about March Madness, it works out really well. It's a slim offering of channels for a low price and is the exact opposite of what Spectrum tries to sell me every other day.
Internet-based TV streaming is really exciting and has plenty of room to grow, and with services like Sling and Philo, I have hope that it can still be used as a legit and unique alternative to cable. It's just that when we get price jumps every year and old cable traditions start creeping, I get a little worried as to where we're headed.
Some of our favorite cord-cutting gadgets
Amazon Fire TV Stick 4K (opens in new tab) ($50 at Amazon)
If you, like so many other people, use Amazon's Echo speakers, the Fire TV Stick is a great fit for your home. It works with most major streaming apps, including the likes of Sling TV, Hulu, Netflix, and much more. There's support for 4K streaming, buttons on the remote to control your TV's volume, and there's Alexa support!
Roku Premiere (opens in new tab) ($39 at Amazon)
One of the best value streaming sticks you can buy is the Roku Premiere. It offers 4K and HDR streaming, supports just about every channel/app you can think of, and can be controlled via the Google Assistant. For the price, what's not to like?
NVIDIA Shield TV (opens in new tab) ($170 at Amazon)
Want the most powerful streaming box money can buy? That's where the NVIDIA Shield TV comes into play. For video content, the Shield TV supports 4K and HDR to make your shows really pop. It also has the Google Assistant built-in, acts as a Chromecast target, and can play PC/console games using NVIDIA GeForce NOW.
Joe Maring was a Senior Editor for Android Central between 2017 and 2021. You can reach him on Twitter at @JoeMaring1.
Exactly this. It's getting ridiculous. I can't even keep up with all the shows I currently watch plus ones that I want to see on just one streaming service yet they all keep adding more and charging more (often for movies/shows I'm not interested in in the first place). Just as the author stated, we seem to be headed right back to where we started.

It's fine. Just means people go back to pirating once again. These companies still refuse to 'get it'. Pay per channel is all we want. It's very simple. No bundles, just a set price per channel and we'll all be much happier.

18 months ago I cancelled my cable because I was tired of paying over $82 per month for basic cable. So I got Hulu , Netflix, Prime video to watch TV. Then I had to get Wifi from the Cable co to watch all that TV so now I'm paying even more than I was to begin with and I don't even get local news. One way or another someone's going to shove it in and snap it off.

It still isn't good, but at the moment paying $49.99 for cable at only 15MB download which has no problem streaming anything, $7.99 for Hulu, $9.99 for Netflix and pay roughly $68 a month and get everything I need. If I could get a cheaper internet connection that would be nice. But it is understandable that people want more. I would suggest those that want to be watching certain things to cycle. Pay for Netflix for a while for your show then get another one next month, whether that's HBO for 15.99 or something else. But, I think we need to limit ourselves and make decisions each month of what we want to be watching instead of grabbing everything. I don't think that $68 a month is that bad because I am getting a lot out of it, but it certainly could be cheaper and I could be doing the same thing some months and only paying for one.

That's a very reasonable take. My only fear is that content companies start making yearly subscriptions cheap and jack up the pay-per-month cost.

Saw this coming years ago, so I just stuck to my cable company, who's always been willing to offer me their latest discounts. I'm paying $40 for all the channels, on all my TVs. Due to bundling, it works out to just $20 more than I'd pay for just my premium internet connection. Cord-cutting can't touch that. BUT, the available competition is what makes that deal possible, so I appreciate them being there.

Saw this coming years ago, so I just stuck to my cable company, who's always been willing to offer me their latest discounts. I'm paying $40 for all the channels, on all my TVs. Due to bundling, it works out to just $20 more than I'd pay for just my premium internet connection. Cord-cutting can't touch that. BUT, the available competition is what makes that deal possible, so I appreciate them being there.

I agree, the cable companies are actually not bad deals anymore, as I had a similar package cost with TWC not too long ago when I was using their services. Plus, you get the convenience of the reliability of a cable connection, which for me, is still more stable than streaming. DVR worked better too.

Hopefully this stays a US problem she doesn't get exported (although ideally it'd get fixed there, but I don't see that happening). I just signed up for Now TV in the UK to watch Game of Thrones and it's costing me a bank account shattering £7.99 a month lol.

Yep, there's a new bully in town!

They took the One Ring and used it to throw down the Dark Lord only to become a new Dark Lord. They should have destroyed the Ring in the Crack of Doom and ended his dark reign for good.

Thankfully I'm not a big TV watcher, but when I feel the need, I turn to a $5 to $10 per month global IPTV feed that I can stream via an apk on the phone, or through VLC on Windows machine.

Problem is cost reduction. To get the lowest price companies want you to bundle everything. Cable, internet and phone. When you unbundle guess what? Prices increase dramatically for services.

Yeah, you're right.....though Sling isn't too bad yet. Philo looks pretty good at this point for the way I watch TV at home (no ESPN thank you). DirectTV/ATT...is a JOKE....as is the new TMobile service...which looks horrid(who would get this?) There is some hope with Spectrum TV Essentials..but it's Spectrum, so there will likely be a large catch somewhere besides having to have their Internet connection (for instance...watching the TV with your eyes open, is a $40 surcharge probably).

None of this stuff is free so quit acting like you are being overcharged. The problem is that the initial costs were low to suck you in and they were making no money. Now the companies selling the shows are charging higher costs, or the real costs and that is why the price is going up. Simple economics.

Who says you actually need all the streaming services and the crud they're pilfering as content? Yay, more channels! Yay, more streams! Yay, more shows! Put down the remote or the voice assistant and look at what you're wasting your life on. Cancel them all, take control and take back your life. Otherwise, instead of watching it, you'll be living Wall-E. (we're already in the Era of Idiocracy...)

Is Dwayne Elizondo Moutain Dew Herbert Camacho the President too? Lol

Stop watching TV. Check out videos from your library and sign up for Hoopla. Otherwise, nothing will substantially change. Read a book maybe. Television programming is a drug. Whether you buy it from a cable company or a streaming service, it's a commodity in demand. And dealers want to get paid.

The thing that's keeping the status quo afloat is live and first run broadcasts (sports, shows, news, etc.). Because the value of a live event pretty much evaporates once it's over (and 1st run episodes are max value of all runs of said episode), whoever owns the rights to broadcast them pretty much dictates terms to service providers. Also, such shows/events aren't fungible, meaning that you can't substitute something else for Monday Night Football, for example. There's only 1 MNF, and if you don't carry it, you don't have it. Ergo, live TV will *always* be expensive, regardless of the medium. TV is a business challenge, not a technical one. Shipping video across the world has been a solved problem for a very long time now.

"Can someone explain to me how this is any different than cable?"
No, I cannot. Because it isn't. I agree. This was and still is the problem with most cable offerings and the streaming services have essentially copied the worst aspects of the cable fee systems.
It presents a real opportunity for someone to do it right and garner incredible customer support. It might look difficult but the streaming services are already enabling/disabling selected content based on whether you subscribe to CBS+ or HBO, etc.
The other aspect of burgeoning streaming services (and one for which I see no solution) is the fact that I might want to watch one show on CBS+ and five on Disney+ and so on yet I have to pay a full subscription for each service. With more and more of these showing up each day, it's going to consume much of my entertainment budget before long.

They also don't have channels the others do. Which makes it a real pain in the butt to choose one. Directv now is the best when it comes to channels. Their only problem is their 20 hour dvr that continually records movies and shows you didn't set to record.

I agree things seem to be trending back towards the old ways of cable. That said, what cord-cutting has done for us is changing our habits and narrowing our TV watching to only what we really want to watch. We use an antenna w/ a Tablo box for local channels ($5), Hulu w/ no commercials (not live - $12), Netflix ($12), ESPN+ ($5), and look forward to Disney Plus this fall ($7). We also have Amazon Prime, but we would have that even if we had cable, so that doesn't really matter from a budget standpoint. So we're still saving a tremendous amount vs. cable for our needs. HGTV, Discovery, etc. - those are good channels, but we only used them as fillers or time killers... we never really cared about the shows on those channels.

In addition to the rising prices, I feel like the other problem with services like Sling TV is dropping channels when providers get into a spat with the networks. I considered cutting the cord from Dish Network after one of these incidents but then read that the same channels were also being dropped on Sling TV. For me to really embrace streaming TV that is one thing that needs to change.

Hi Joe! Great article. Totally agree with you: "One of the biggest complaints with cable and satellite is that you pay an outrageous amount of money each month for a bunch of channels you'll never watch." It was bound to happen since GREED is the real motivator. There used to be one show that I would watch on one channel. Didn't care about the other shows on this particular channel. Second, I am rarely home to watch TV. Yet, I am paying for it just the same as if I was home 24/7 watching TV and watching all of the channels that I never needed. Third, back in the day, commercials paid for content. I'm okay with commercials...but to be charged a fee on top of that too? (Looking at you HULU). I might be even cheaper than you Joe. ☺

I like the flexibility you have now. How many people signed up for HBO Now the other day just to watch Game of Thrones? No contract, on your TV in one minute, and you can disconnect at anytime. I have 2 Sling TV accounts, one based in one region of the country, the other one where I live. Why? Regional sports package. I will drop the local subscription as soon as hockey season ends. See what I mean by flexibility? Sure the costs of these subscriptions are going up, but also be mindful the content is on demand as well as live, and it can be added and dropped in a heartbeat. Also I got a free Roku streaming device when I paid for 3 months of Sling in advanced. Competition is great find out what service works for you when you need it.

I agree, I actualy cut the cable , and when Comcast looked at my bill after a year, they offerered me a lower internet bill that included streaming TV.. not many channels at all, but the locals with DVR were included (including free HBO for a year) I know this package will change in a year, but yes.
NOW the nitty gritty, cutting the cable could save you money, unless you do a lot of streaming instead of watching Cable TV, cause the cable companies DO start charging you for more data use when you hit whatever cap they give you, this is a serious Catch 22..
The cheapest option is a family plan now sharing between a few friends..

I am not happy about the YTTV $15 / month price bump. Especially since I really only ever watch 6 channels but not all of the time, I average watching 2 channels per day. Not happy I am being forced into this but I also understand this is probably the only way they could sign a deal with owner of Discovery and the other new channels. Plus I have a feeling Disney probably decided to charge more for YTTV to offer their channels.

The article, and others like it, misses the root cause off the problem. Content providers can't offer per channel packages because content owners won't sell their channels that way. Want to offer HGTV, then you have to also take OWN, Velocity, DIY, etc.

Everyone wants to have their hand in the pot. Not surprising. It was only a matter of time.

Anyone that thought streaming was the answer in the past is just not living in reality. OF COURSE the cost was going to go up. I never switched. I never wanted to say, for this show I need this service but for that show I need that service. I pay more for cable but it is just plain worth it. I don't have to keep track of the services which add up. And the streaming costs will continue to go up. What else did you expect? By the way, the answer is nothing.

Honestly I'm not sure why people thought streaming was the end of cable/satellite as we know it. The content is still owned by the same people and you think they were going to give up said content for free? Nope it's just changed it's form, but the same companies (mostly) still own said content. That said, streaming has done a lot of good in making content more available in many forms rather than being tied to your TV so that's a plus for sure
Android Central Newsletter
Get the best of Android Central in in your inbox, every day!
Thank you for signing up to Android Central. You will receive a verification email shortly.
There was a problem. Please refresh the page and try again.