YouTube Music starts getting lyrics support on the web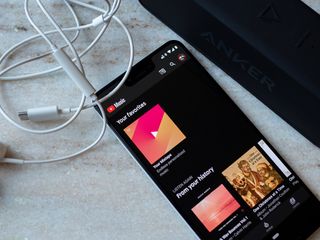 (Image credit: Andrew Martonik / Android Central)
What you need to know
Google has started rolling out lyrics support to YouTube Music's desktop app.
It's a server-side switch, so not all users have access to it yet.
Google introduced lyrics to the mobile app just a few months ago.
Google is rolling out an update to YouTube Music on the desktop that adds lyrics support. It's not for everyone just yet, but some users on the r/YouTubeMusic subreddit have reported access to it (via Android Police).
Just like on mobile, users will have multiple tabs on the now playing screen and be able to navigate between the queue and lyrics view. Like we said above, it's a server-side switch, so there's nothing you can do to trigger the update on your end.
Google rolled out lyrics support on YouTube Music months ago alongside a small redesign to the mobile app. It has since then started the process of killing off Google Play Music for YouTube Music. The new service is set to be Google's only music streaming service by the end of the year.
On the desktop, YouTube Music is a fairly decent experience, but it's not as good as the Google Play Music web app which it replaces. As of today, you still can't stream from YouTube Music's desktop app to a Nest Mini or any other Google Cast device, you can do so from Spotify or Google Play Music. It's an egregious omission, considering how one would expect Google's premier music streaming service to work with its smart speakers.
With Play Music scheduled for execution before 2021, Google still has some time to implement those missing features. There are signs that Google is listening to complaints from its most engaged customers. Last week, the company delivered the following statement to Ars Technica when confronted around an adjacent feature-omission between the YouTube Music app and the Google Play Music service:
Android Central Newsletter
Get instant access to breaking news, the hottest reviews, great deals and helpful tips
I dropped Google subscription when they decided to kill off GPM. I tried YTM but it sucks.

YTM web version has virtually none of the playlist editing features of GPM so it's hard to know why the Android Central team never mentions this. 1. Playlists are alphabetized in GPM, but are in order of creation date in YTM with no option to change. The phone app at least gives the options for creation date, A to Z or Z to A sorting.
2. Playlist scrolling is instant in GPM, but with YTM pauses every 50 or so playlists so you have to wait a long time to get to the end of your playlists. The phone app is faster, but it takes multiple tries to even get the playlist to load from the library tab.
3. When you add a new song to a playlist, the popup window is also in order of creation date in YTM so it's impossible to find the playlist name. Even worse, the popup window only loads the first 200 playlists so you are out of luck if you have more than 200 playlists.
4. When a playlist is opened, GPM allows sorts on any column, YTM has no column sorting. Phone app also doesn't sort columns.
5. Once the playlist is opened, song scrolling also takes 10 times longer since YTM pauses to fetch data every 50 songs or so GPM scrolls top to bottom almost instantly with the scroll bar.
6. GPM web app allows multi-song select and move. YTM web and phone app only allow single song selection. To move 3 songs from a favorite album to a playlist in GPM, you can multi-select songs, move all to a new playlist, multi-select songs again and move to new position. For YTM, you have to single select your 3 favorite songs to add to the playlist, then you have to move the 3 songs 3 times individually within the playlist.
7. The previous step is even harder in YTM since scrolling to move a song takes about 5 times longer from the web app when you have to move from the bottom to the top of the playlist with YTM compared to GPM. In short, the web version has barely been changed when it comes to matching the features of Google Play Music. Even the phone app version doesn't have all of the editing features of GPM such as fast scrolling, column sorting within playlists and multiple song selection for playlist editing.

Superb! This is good news to all music artist. I will definitely try this feature of YouTube music. Many many thanks to YouTube.
Android Central Newsletter
Get instant access to breaking news, the hottest reviews, great deals and helpful tips
Thank you for signing up to Android Central. You will receive a verification email shortly.
There was a problem. Please refresh the page and try again.