New YouTube app for PS3 brings revamped UI, Android controls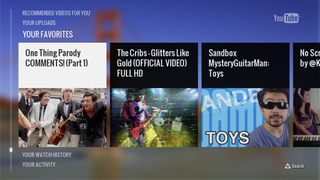 Playstation users have been able to watch YouTube videos on their consoles for some time, but the experience just got much better as the company announced a brand new app.
The app brings a completely refreshed UI that focuses on delivering the personalized content that YouTube has been pushing recently. Your subscribed channels, favorites and playlists are highlighted, bringing a much improved experience. Search also has been improved, with video results appearing instantly while you type. The app can also now be controlled completely with your smartphone after a quick pairing.
The app is available for free from the Playstation Store. Google is making a huge push with YouTube and the more good experiences across devices the better and this is just the next step.
Source: YouTube Blog
Android Central Newsletter
Get instant access to breaking news, the hottest reviews, great deals and helpful tips
what app do you need to control from android?
EDIT: nevermind, you goto youtube.com/activate from your phone to do it. I'd love to be able to completely control the PS3 from my android phone.

I only see a Vita app...am I missing something?

It's not in the store yet. I've been waiting for it all morning.

Thanks, at least I know it's not just me. Hope this doesn't turn into the wait I've had for the Walking Dead games.

These no actual app in the play store. It works like the nexus Q, you pair the device threw setting on the PS3. Then in the YouTube app on the phone you can choose what "screen" to play on. Works on my Galaxy Nexus.

My PS3 has been getting pretty dusty recently and will probably stay that way for the most part, but I will definitely try this when I get home.

Damn I can't find it either?? What gives??

Only getting the Vita app here too.

Only getting the Vita app in the store. According to the blog post, it should show up under the My Channels section under TV/Video services, but it's not there yet either.

There was once some talk about the ps3 getting Google TV. I'm wondering if that is still a possibility. Anyone? Anyone? Bueller?

Does this mean you can finally watch HD without going through hoops? SD Youtube on a 52" LCD is the suxor

I installed it, but it doesn't appear ready for prime time for me. Maybe something is overloaded right now from all the new-ness, but trying to play random videos locks up my ps3 and I can't access m.youtube.com on my phone to pair (stuck on 'loading'). Anyone else?

youtube.com/activate and type in the code the ps3 gives, works like a charm

Where does the PS3 give you the code? I can't find a code.

I'm going to have to check this out not like i don't have a Vita, Xoom, Galaxy Nexus, 360 and two laptops that have Youtube but I wonder if 3d sbs is supported on the ps3 version unlike the 360 one it would be an awesome plus since my Panasonic 3dtv has a Youtube app that streams 3d but the quality sucks.

Would be nice if you guys mentioned it was U.S. only. I got excited and booted up my PS3 in a hurry but didn't find a thing. Once again, we Europeans have been left out of the good stuff....

This app is absolutely terrible. Its crashed three times since I installed it (about an hour ago), causing my PS3 to reboot.

I cant get my youtube account activated on my PS3.

Having trouble loading it.cant tell yet
Android Central Newsletter
Get instant access to breaking news, the hottest reviews, great deals and helpful tips
Thank you for signing up to Android Central. You will receive a verification email shortly.
There was a problem. Please refresh the page and try again.