Your next Google Home could double as a Wi-Fi router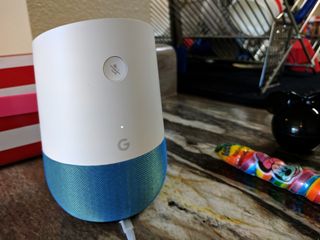 Wouldn't it be great to have Google Home connect to an already existing mesh network? According to The Information, this sort of thing is just on the horizon.
Google is reportedly working on a two-in-one device that combines the helpful Assistant features of Google Home with the Wi-Fi mesh routing capabilities of Google Wifi. The existence of such a thing would not only cut down on the number of devices you have in any given room, but it'll offer a one-up on the Amazon Echo, which does not currently offer a built-in Wi-Fi router.
There's no mention of a launch date or a price point for the Google Frankenstein, but we're excited to think of the prospects. Perhaps we'll learn more at Google's annual developer conference.
Get the Android Central Newsletter
Instant access to breaking news, the hottest reviews, great deals and helpful tips.
Florence Ion was formerly an editor and columnist at Android Central. She writes about Android-powered devices of all types and explores their usefulness in her everyday life. You can follow her on Twitter or watch her Tuesday nights on All About Android.