This is your last chance to get YouTube TV for $35 a month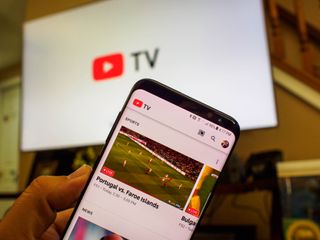 (Image credit: Android Central)
YouTube TV's price hike is going into effect from tomorrow, March 13, with new subscribers having to shell out $40 a month, up $5 from the existing rate of $35. The service offers over 40 live channels — including the likes of ESPN, Disney, and Fox — and there's a native app for Android TV along with support for Chromecast.
YouTube TV: Everything you need to know
You get access to your local stations as well as live sports, making YouTube TV a viable cord-cutting option. YouTube TV also comes with a seven-day trial, which gives you plenty of time to figure out if you want to go ahead with the monthly subscription.
The service is live in over 80 cities across the U.S., so if you're interested in taking a look, hit up the link below to subscribe to YouTube TV for $35 a month.
Android Central Newsletter
Get instant access to breaking news, the hottest reviews, great deals and helpful tips
Harish Jonnalagadda is a Senior Editor overseeing Asia at Android Central. He leads the site's coverage of Chinese phone brands, contributing to reviews, features, and buying guides. He also writes about storage servers, audio products, and the semiconductor industry. Contact him on Twitter at @chunkynerd.
I doubt it is the last chance. Give it a week. There is a popup on that stupid site almost daily trying to get me to join something.

hmmm, not sure if you read the article or even just the title. last chance to get it for $35 since price is increasing tomorrow to $40

With sling starting at $20, good luck with $40. Glad to see cable finally getting some competition, but needs to get down to Netflix level $10/mo. Live TV isn't getting more valuable.

Sling TV is not cheaper. An equivalent package from Sling with DVR charges (that restrict which channels you can actually record) would be $45. Youtube TV just doesn't mess around with garbage tiers to reel you in. Youtube TV also offers many more local channels in many more markets. Also, it just works much better.

yes, but sling has a $20 option. Youtube does not. Pay for what you want or take the youtube bundle. The $20 sling deal works for my dwindling live tv needs.

What he means is, what he gets for $20 is enough for him. He does not need to pay $45 to get more/equivalent. Think of it this way. If all you want to kill your hunger is a burger for $5, why would you pay $10 for two burgers?

What makes u thing I use dvr?

With all I've heard about Sling TV, I'd rather go back to rabbit ears and coat hangers.

YTTV streams incredibly well and unlimited DVR. Can't say the same for DTVNow where there are constant freezes and errors.

There's not constant freezes or errors.. It works just fine.

That's good but I have both and DTVNow does not come close in streaming quality (not referring to picture quality).

I've had Sling TV since October of last year and it works great. I have had more problems with Directv Now over sling. The channels constantly drop in and out, and yes that is with a sufficient internet provider giving 100mbps down and 6mbps up. I like the Sling Tv for the sports channels that I get along with my regular channels I get. I'm forced to stay with Directv Now because my wifes channels she likes to watch Sling doesn't have, which makes us have to stick with both providers. If Sling offered the wifes 4 select channels, I would drop the Directv Now service immediately.

$35 or $40 sounds like a lot of money. I went the IPTV route, for $5 a month.

Hmm... This doesn't seem that great a deal... But I'm British, so I might be spoiled by a minimal level of regulation... When you factor in your internet connection, is this actually much cheaper than just using a traditional TV provider?

In either event, you're paying for the high speed internet service. When I had satellite I was in excess of $200/mo for cable, internet, modem rental and the rental fees for the receivers on each TV. I have lost a lot of channels going with YouTube TV, but primarily lost a lot of channels I never watched. I already had the Chromecasts and I bought my own modem and router to avoid those fees and I'm also seeing better connection speeds. YouTube TV + internet service I'm now paying about $80/mo rather than $200/mo. They continue to roll out new channels since I've subscribed and my rate has remained the same (for now). I'm hoping they keep this pace.

You pay more than me and I have cable. Including 100 Mbps download speed and digital starter pack, I pay $90/month with Comcast. Why? I don't use their equipment...nothing. I use an HDHomeRun Prime triple tuner that takes a cable card. I have an Intel NUC and use Windows Media Center and Windows 7 on it. I use a Nexus Player on my bedroom TV. When Microsoft blows up Windows 7 and 8.1, I'll just use SiliconDust's DVR platform instead for $30/yr. Oh and having cable TV doesn't count against my internet data cap like YouTube TV will. I have 2 Nest cameras that chew through 400GB per month with 24/7 recording. :-)

So you're only paying $45 for internet service? Do you have a data limit on that? When I had Comcast/Xfinity for internet I was paying $60 and found out I had a 300gb/mo. cap with $10 per every 50gb I went over. My household averages 1Tb/mo usage and that's with regular TV service. If I switched to a streaming service my cost would easily exceed $250, probably closer to $400/mo.

It's a great deal in the US. Went from 260 a month to 131 a month, and that's including a 2nd streaming service (Philo) to get all the channels that I watch.

Yeah, I still have HBO Now, Amazon Prime and Netflix as a supplement, but I had all those before too lol. So apples to apples I'm saving about the same as you. $120'ish. I'm encouraging others to at least sign up for the trial today. I wish I got a referral bonus. :)

Those numbers are pretty insane...I pay about £50 ($70 direct conversion) a month to virgin for cable TV (although I don't pay for premium sports) and 100 Mbps broadband with the cable modem/router and TiVo box included in the price... I'm not surprised so many of you want to be "cord cutters". Also, do you know how crazy your commercial breaks are? Drove me nuts when I was there! 3 commercial breaks in a half hour TV show! Argh!

For me, yes. I save $40/month now that I moved away from Comcast. I get 300mbps up/down and yttv and only pay $90/month.

Nope. I thought $35 was already too expensive. I would highly consider $40 if it included Play Music Family in the bundle.

I use it. Very happy with service. It has an excellent UI and unlimited DVR. $35 is the right price point though.

If YouTube Tv had discovery n history channels I'd get it.

Torrents are your friends

MSG in NY is the only reason for me to have live TV. Since YouTube doesn't offer it, I have no choice but to stick with DirecTV Now for the time being.

Do you guys get your local TV networks like NBC or do you get the national broadcasts.

It's your actual local channels not a national feed. The ones they offer depends on your market and what stations they have agreements with in that market.

And we still can't get an app for the mi Box...

Remember you still need internet. For no disruptions you have to go to highest tier. On Comcast that's$104 for Blast including fees. Tack on streaming $140

I switched from comcast to att at the same time I dropped directv. went from 65Mb with a 1tb limit, that often slowed due to congestion. To unlimited gigabit for 15 dollars more.

If they included all of the YouTube Red perks I would get this in a heartbeat. I mostly just watch YouTube.

You can get both and split them with a willing partner, as you can have multiple logins. It's what my brother and I do. So YouTube TV ends up being $17 each. We have Google play music and YouTube red that we got bundled on a promotion...so it's three services that together cost us each about $25/mo. No-brainer if you can find a friend or family member to split it with.

For $35/mo youtube tv has been great. Local channels, sports, recently added channels & DVR/on demand. Had sling for a couple months last year...it needed some work. Youtube tv = far superior

I'll probably get YouTube TV again in the fall for football (ESPN/SEC) otherwise the rest of the year it's not watched enough to justify any price. I installed an outdoor tv antenna recently and can get at least 30 channels and even more from fringe markets on days where the weather is right. It has enough to have something on for the household here.
Android Central Newsletter
Get instant access to breaking news, the hottest reviews, great deals and helpful tips
Thank you for signing up to Android Central. You will receive a verification email shortly.
There was a problem. Please refresh the page and try again.