Your Amazon Alexa device can finally tell different voices apart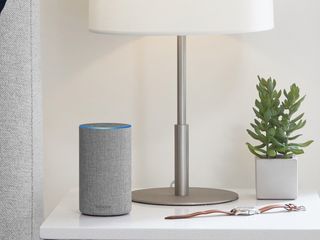 If you're in the market for a smart speaker, your two biggest choices lie with Amazon's Echo line and Google's Home devices. The original Echo was first made available in late 2014 for select Amazon Prime subscribers, and that means the Alexa AI has been learning new tricks and features for nearly three years. Despite this, Alexa is just now learning how to tell different voices apart from one another.
With this new feature, any Alexa-powered device will now be able to provide specific information to users based on who's talking to it. For example, if you ask for your Flash Briefing, you'll now hear different news stories from what your partner has set up with their Amazon account.
In addition to Flash Briefing, Alexa's ability to distinguish different voices will also creep into shopping, Amazon Music (family plan only), and Alexa to Alexa calling. Amazon says that it plans on expanding this functionality to additional services as time goes on, and along with this, Alexa should get better at telling people apart as you use the feature more.
If this sounds familiar, that's because the Google Assistant picked up this functionality on Google Home way back in April – a commendable feat considering the sizable lead that Amazon had over Google when it comes to this market.
Alexa will be able to start telling different voices apart starting today, and instructions on how to set this up can be found here (opens in new tab). Amazon certainly is playing catch up with Google in this case, but we're still excited to see the AI finally pick up this very helpful trick.
Joe Maring was a Senior Editor for Android Central between 2017 and 2021. You can reach him on Twitter at @JoeMaring1.
Now if only it could figure out to turn on the Hallway light, instead off telling me " I can't seem to find All Way Light"

I'm trying to click the "next" button in voice training but it's not working

Must be waiting on an app update, because I don't even see a "Your Voice" option in the app where the tutorial video shows. It has "voice training," but that was there before.

To ppl that have an echo, what would you say is your most favorite skill? Or feature. I'm looking for an excuse to buy one. Thx

My 2 favourites are atm turning the lights off when im in bed and the kids being able to call me from the echo dot and vice versa. They're young so don't have mobile phones atm. For 50 pounds it's worth its price and more. Next I want to set it up with my heating system. Oh and it also controls my Sonos, but I use Spotify and it's not compatible with that atm so don't really use it for that. Neat little item.

I wonder if this will come to the Fire HD (2017) too now that it has the hands-free Alexa support?

Yay help video triggering my Echo.
Android Central Newsletter
Get the best of Android Central in in your inbox, every day!
Thank you for signing up to Android Central. You will receive a verification email shortly.
There was a problem. Please refresh the page and try again.