You can now pair your Google Home to other Bluetooth speakers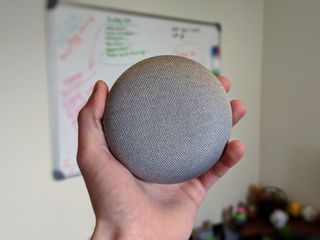 (Image credit: Android Central)
When Google released the Home Mini, it received a lot of criticism for not including a 3.5mm headphone jack so you could connect it to another, more powerful speaker. This is one big advantage the Echo Dot has over the Home Mini, but that conversation is now changing with the ability to stream audio from Google Homes to Bluetooth speakers.
Prior to this update, users have only been able to send audio to Home speakers using Bluetooth on phones. However, with today's update, you can now send audio from Home devices to other Bluetooth-enabled speakers.
To get started, simply go the device settings in the Home app and follow the instructions for pairing your Bluetooth speakers to your Google Home. Once this is done, you can either have your Bluetooth speaker replace audio output from your Google Home or add it to an audio group and quickly get multi-room audio.
You'll still need to talk to your Home speaker to perform voice commands, but even so, this is a great feature to have. I imagine most people will use this with the Home Mini, but it also works on the regular Home and Home Max.
Android Central Newsletter
Get instant access to breaking news, the hottest reviews, great deals and helpful tips
Joe Maring was a Senior Editor for Android Central between 2017 and 2021. You can reach him on Twitter at @JoeMaring1.
Pretty sweet! Now just get my Google home and assistant to work with sonos and I will be a happy camper!!

Fck Sonos. I just sold all my Sonos speakers (all 7 of them), got so tired of them not working with Assistant. Had Chromecast audio in some of them but the experience just isn't as good as an integrated solution. Replacing them with a bunch of Home Max and JBL Link speakers.

Yeah, didn't work for me just yet. Home>Device>Select Device>Enable Bluetooth> nada.

For me to get it to work, I had to switch to the Preview Program on and wait for it to get the update. I checked all tabs, it just wouldn't work on the normal version. Had no problem on the preview one.

WHAT! You mean I don't have to buy the Google home mini S or a bluetooth dongle to get the new features to work?
SAID NO APPLE USER EVER!

This is great news, now I can get rid of my Echo Dot. Alexa doesn't know $h!t.

She is getting more annoying every day for me. I keep them both around to compare, but she is dangerously close to getting unplugged.

The last straw for me was when I told Alexa to play "Bills, Bills, Bills" and she started playing the cover from Glee. I almost threw her against the wall.

Unless I'm missing something, the biggest problem I see with this is that most bluetooth speakers turn off after a certain period of non-use, making it a bit more work to play music through Home on them, since you'll need to turn them back on the next time you go to play music...and if you have 2, 3 or more of these speakers,that could be a bit irritating. I've only come across a couple speakers that both sound good and have an option to stay on all the time. That's the one nice part of my Chromecast compatible speakers I have throughout the house now...whenever I want to play music, they're all ready to go. Dont have to go from room to room to turn them back on

Does not seem to be a problem with the Bose Soundtouch 10.

From my testing it looks like it might be 'pinging' the bluetooth device to keep it from falling asleep. My Sharkk usually will turn off but when I paired it with my Mini it stayed connected all day without me playing any music to it.

That basically kills the need for the Max. I'll have to try this out with a few of my BT speakers.

Has anyone gotten this to work? I've tried messing around in the Google Home app, but I can't figure it out. Should my Vizio Bluetooth speakers show up as a device?

It's under Device>Settings>Default music speaker>Pair Bluetooth Speaker.

Holy crap! I searched a number of websites today all of them say head over Devices > Device Settings > Paired Bluetooth devices, which is WRONG until I found your comment. Thank YOU!!!

Wow thanks for this also had to join preview but still works great.

If this device can have a headphone jack, why not the phone? It just don't make any sense.

Neither the Google Home Mini, nor the regular Google Home has a headphone jack. I don't know about the Google Home Max.

I can't find the ability to pair with a Bluetooth device in the Home>Device settings anywhere.

It worked for me! In Android, it's under Device>Settings>Default music speaker>Pair Bluetooth Speaker. I couldn't find the settings on my iPad though.

Can't get this to work on my Bose SoundLink Color. Anyone else having problems making it work, or know how to fix it?

Not working for me either.

now if only ALL my Home and Chromecast devices actually showed up consistently in the Home app or from Chromebook!!!

Wow! finally I can control my my Bose Soundtouch speakers with my Google Mini, For awhile I was dismayed that Bose offered an Alex's skill for Soundtouch speakers but nothing for the Google Home. Moreover, Bose offers the capability add additional Soundtouch speakers (even if those speakers may not have Bluetoo} through their Soundtouch app. I Amma happy camper, thanks Google.

It's not here in Australia yet.

Awesome!
Now I'm getting at bluetooth shower speaker

Sweet I've got two Minis and two extra BT speakers I don't use.

Awesome! I was hoping for this since I have a small little BT speaker just for showers. What a great little $50 investment.

I was really hyped when I first saw an article about this... but my enthusiasm quickly went down. Why?
- By defaulting music to my radio, it also defaults news to that radio. I listen to the news in bed, and my radio is off at that time, not gonna turn it on just to listen to the news. Can't seem to make it play my music on the speaker with a command, without using the default. That is a no-go for me.
- Google Home is just bad in terms of playing my music. Google Music workaround works okay-ish, but I can only play entirety of my music, without the possibility of picking the concrete tracks. They need to fix this.
- No aptX. Yuk.
- It's just not worth the hassle. At this point, it's easier and much, MUCH better to play music from my phone.

My Google home finds my receiver, but can't connect to it... I also tried with a separate Bluetooth speaker, doesn't work either. Both are Yamahas....
Android Central Newsletter
Get instant access to breaking news, the hottest reviews, great deals and helpful tips
Thank you for signing up to Android Central. You will receive a verification email shortly.
There was a problem. Please refresh the page and try again.