Xobni launches Smartr Contacts for Android - makes your address book smarter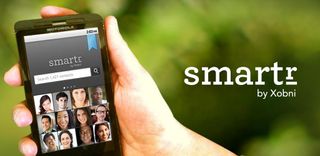 If you came to Android from the BlackBerry world then there is a good chance you've heard of the folks behind the newly released contact management app Smartr. Xobni, while having first made their app available on BlackBerry has now launched Smartr to the Android Market after a long beta and alpha testing phase.
Rather then just simply offering you another address book, Smartr organizes your address book and takes it to the next level by offering a solution of making sure the people you contact the most, are always at your fingertips. Contacts are no longer arranged alphabetically, your contacts are now ranked by how often you reach out to them -- bringing the most important to the top. In addition to the better organization, profiles can be completely filled out with a photo, job title, company details, email history, common contacts and info from social networks.
Acessing your Smartr contact information is easy as well, you have access to them from the home screen, via the main search bar, the widgets, or the Smartr app. If you're in need of a better contact management system for your device, give Smartr a look. Couple it with Smartr contacts for GMail and you have a pretty awesome solution for keeping your contacts organized. We're going to have a full review up soon but for now -- it's available in the Android Market for free and you'll find the download, press release and a video further explaining the services past the break.
XOBNI GETS SMARTR
SMARTR INBOX FOR GMAIL AND SMARTR CONTACTS FOR ANDROID
NOW PUBLICLY AVAILABLE FOR DOWNLOAD
SAN FRANCISCO, September 27, 2011 – Xobni, the leader in email and relationship management, today introduces a new sub-brand called SmartrTM to better encapsulate their growing suite of products. Also announced today was the public beta of the first two products under this sub-brand - Smartr Inbox for Gmail and Smartr Contacts for Android. These products are free and available for download immediately at Xobni.com (http://address.yahoo.com/xobni), and soon in the Android, Chrome, Firefox and Safari app stores.
Smartr Inbox for Gmail has been in private beta (formerly Xobni for Gmail) since Q1 2011 and Smartr Contacts for Android (formerly Xobni for Android) went into private beta in Q2. "Both Gmail and Android have had a very active community of testers who have told us that these products make them smarter and more productive," said Michael Albers, VP of Product at Xobni. "We'll continue to listen to our users as we extend the Smartr product line, which includes iPhone."
Smartr Inbox is a sidebar for Gmail and Google Apps mail that makes your inbox smarter. It automatically discovers all the people you've ever emailed, called or SMS'd, and instantly provides a full view of each contact. The Smartr sidebar includes lightning-fast search to instantly show who your contacts are, how you know them, when you last talked, and who you have in common. In addition, you'll see their photo, job title, company details, and updates from LinkedIn, Facebook and Twitter.
Smartr Contacts is a free app for Android that brings the ultimate in relationship management to your phone. Contacts are easily searchable and Smartr ranks them by importance, not alphabetically. Each profile is complete with a photo, job title, company details, email history, common contacts and info from social networks. The app can be accessed on your phone home screen, via the main search bar, the widgets, or the Smartr app.
Smartr Contacts for the iPhone is in private beta and expected to hit the Apple app store in Q4.
Earlier this year, Xobni introduced Xobni Pro, a service that now connects all Xobni and Smartr products, offering a more complete, robust and reliable way to access all your contacts, and all the information and communications you've had with them.
Commentary from Jeff Bonforte, Xobni CEO
Xobni has built a reputation for building smart products, taking the pain out of your inbox and rethinking contact management. Our Outlook and BlackBerry products have been downloaded over 10M times. Of course not everyone - not even all Xobni employees - uses Outlook and a BlackBerry. Thousands of customers have have asked for these products on new platforms and devices, and for different inboxes, and we've been listening.
Say hello to Smartr Inbox for Gmail and Smartr Contacts for Android – the first of many products powered by the all-new Smartr platform.
Our first webmail product – Smartr Inbox for Gmail – works to blend powerful features with a clean simple interface. Located to the right of your Gmail or Google Apps inbox, it works automatically as you read and compose email, reflecting everything you need to know about people and organizations with whom you email, without so much as a click in our interface. When you need help or more information from Smartr, you just type a few characters in our search box, and you will see almost instantly what you need. My personal favorite feature is our new AutoSuggest, and I think it will blow our customers away. Type in the first letter or two of the person or company you are emailing in the "to" line, and they appear with photo, name and title. When you select the person you want, the next few people you will likely want to add will appear instantly. I can send an email to 15 people and only type in one letter. If a person has more than one email address, Smartr knows which email address to use. For those with multiple accounts, Smartr will learn from all of them and make the information available everywhere.
Our new Android product, Smartr Contacts, seamlessly handles many times more relationships than any other product has ever attempted (10,000), does it fully automatically, comprehensively, and yet is still the fastest and simplest contact manager you've ever used. In fact, we think the search and ranking is so good, it is a failure if need to scroll to find the person you want. This new Android app manages thousands of contacts far better than any other address book handles a few hundred. And while the interface should feel familiar, the application is remarkably powerful, offering more and more smarts with each tap. If you have an Android phone and use Gmail, Google Apps and/or Outlook, I hope you'll give it a try. If you are an iPhone user, we're almost ready for you, too.
And as for the name – Smartr… this actually came from our customers. We heard over and over again in testing how they felt this product "just made me smarter about my contacts," so we went with it. I've written a blog post about how the Xobni brand will remain, but we believe Smartr is something that will resonate with more people.
So what took so long, you might ask? Simply put –The paradox of simple and fast products is that they are deceivingly difficult to build. What makes these new Smartr products both simpler and more powerful than anything we have done before is basically invisible. (See blog post about how Smartr makes it easy for me to manage 30,000 contacts LINK) Everything from our inbox and contact indexing, to injecting and integrating into the right places at the right time, to our massively improved ranking algorithms can't be done off-the-shelf and it can't be done quickly, well.
We watch with interest as others big and small have attempted products and features similar to the ones we first introduced back in 2008. We're always curious to see if they'll dive in and attempt to do the hard stuff or try to get away with shortcuts. So far we've seen surface work – attempting to replicate the idea of what we do, but they don't do the backend work that makes us actually, well, smart. Of course, we know why they cheat. Doing it right is hard.
So while I'm incredibly excited to broaden and deepen our user base by introducing Smartr for Android and Gmail, I'm even happier about the new platform powering these products, and future Smartr products. We are still in beta on these products and have work to do, I can guarantee you one thing – we didn't throw a pretty veil over a clunky back end, and certainly didn't cut corners.
We hope you like Smartr as much as we do. As always, feedback is welcome and appreciated.
About Xobni
Xobni ("inbox" spelled backwards) is a San Francisco startup that makes your inbox and address book smarter by bringing together your individual exchanges with social media content to provide a complete view of all your contacts in one place. Xobni, and its Smartr product line, discovers all the people you've ever exchanged emails, calls or SMS' with and instantly provides a full view of each contact, complete with their photo, job title, company details, email history as well as updates from LinkedIn, Facebook and Twitter. Xobni's first product – Xobni for Outlook - launched publicly in 2008 and the first mobile product for BlackBerry in 2010 – and together have had over 10 million downloads. Xobni is available for Outlook and BlackBerry and Smartr for Gmail and Android – and soon for the iPhone. Xobni is funded by Khosla Ventures, RRE Ventures, Cisco Systems, BlackBerry Partners Fund, First Round Capital and others. For more information, go to xobni.com.
Get the Android Central Newsletter
Instant access to breaking news, the hottest reviews, great deals and helpful tips.