Xiaomi's insane new 200W 'HyperCharge' tech can charge a phone in just 8 minutes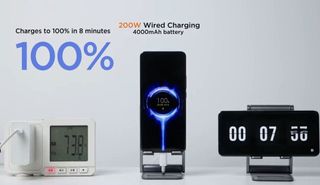 (Image credit: Xiaomi)
What you need to know
Xiaomi has announced a new 200W "HyperCharge" fast charging solution for smartphones.
The new fast charging tech can fully charge a 4,000mAh battery in under eight minutes.
Along with 200W wired charging, Xiaomi has also introduced a new 120W wireless charging tech.
Xiaomi today showcased a new 200W "HyperCharge" fast charging tech, which it says can fully charge a phone in eight minutes. It used a modified Mi 11 Pro with a 4,000mAh battery to demonstrate the tech. Xiaomi was also the first smartphone maker to introduce a 100W fast charging solution. The company demonstrated the 100W "Super Charge Turbo" tech in March 2019, although the tech was commercialized only in August last year.
As can be seen in the video above, Xiaomi's new HyperCharge tech takes just three minutes to charge the modified Mi 11 Pro from empty to 50%. In addition to 200W HyperCharge wired fast charging system, Xiaomi has introduced a new 120W wireless charging solution as well. Xiaomi claims its latest wireless charging tech can fully charge a phone in just fifteen minutes.
Unsurprisingly, Xiaomi hasn't yet provided a timeframe as to when the first phone with the new 200W HyperCharge tech will hit the market. Currently, the fastest charging Xiaomi phone is last year's Mi 10 Ultra, which supports 120W wired charging speeds.
Seeing how the Mi 11 Ultra is a downgrade over the Mi 10 Ultra in the fast charging department, it may take a while before we see a Xiaomi flagship with 200W charging. It is also worth noting that such high charging speeds could have a significant impact on long-term battery health and also lead to overheating issues.
While Xiaomi hasn't launched a new phone with its 120W fast charging tech this year, its Black Shark brand released two new devices with 120W charging in March to challenge the best gaming phones. Vivo's iQOO sub-brand also launched a Snapdragon 888-powered flagship phone earlier this year with support for 120W fast charging.
Get the Android Central Newsletter
Instant access to breaking news, the hottest reviews, great deals and helpful tips.
I wonder what this does to battery longevity. Hopefully these won't explode.

Then I wonder how many people would trade off ultra great charging for a battery that stays healthy for 2 years instead 5, for example. That might be acceptable to me.

Fast charging is getting out of hand now, is it even safe at this level? It's certainly dangerous for the battery.

Those must be impressive numbers, with a brand new unit. 🤔I wonder how it will behave after 1,000 charges, to simulate a year or so of discharging/recharging.

Well, since P=V*I and they don't want to increase the current flow through the battery as it's resistance is relatively fixed (and it degrades it too much via overheating) they must be jacking up the Voltage a LOT to achieve this.
This is the same reason why EVs are moving from 400 V charging to 800 V charging, to increase the power transfer without increasing the current (and thus the heat generated) so they "charge faster".
This is the same reason long-distance power transmission lines run at 15KV or higher, to deliver more power without melting the lines (and other considerations to complex to go into right now.)

They're probably sending high voltage to the phone and the charging circuit is using charge pumps to lower voltage and increase the current. The same thing OnePlus is doing.