Xiaomi Mi Band 3 picks up an upgraded OLED panel and NFC, costs just $30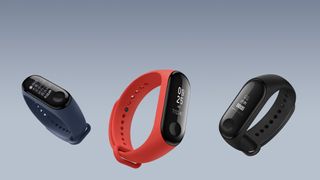 Xiaomi is one of the most popular wearable manufacturers around, which is entirely down to the Mi Band series of fitness trackers. With its latest model, the brand is looking to kick things up a notch. The Mi Band 3 has made its debut alongside the Mi 8, offering a heart-rate sensor, a larger 0.78-inch OLED screen (up from 0.42 inches in the Mi Band 2), and NFC connectivity.
The OLED screen now offers a resolution of 128x80, and the 110mAh battery is also considerably larger than last year's model — Xiaomi says it lasts for over 20 days between charges. The Mi Band 3 is water resistant up to 50 meters, so you can easily use it in a pool (or go diving) without any issues.
The Mi Band 3 connects over Bluetooth 4.2 LE, and the larger screen allows more information to be displayed on the band for incoming texts and notifications. The band is available in three color options at launch, and Xiaomi will undoubtedly make more colors available in the coming weeks and months.
Affordability has been a core tenet of the Mi Band series, and the Mi Band 3 continues that tradition. The fitness band will go on sale in China for just ¥179, or the equivalent of $30. That's for the version with NFC connectivity, and there's also a standard variant without NFC that will retail for around $25.
For now, we don't know when the Mi Band 3 will make its way to international markets, but the product is one of few that Xiaomi sells globally, so we should know more soon. In the meantime, what are your thoughts on the Mi Band 3?
Harish Jonnalagadda is a Senior Editor covering Asia at Android Central. He leads the site's coverage of Chinese phone manufacturers, and writes about the semiconductor industry, storage servers, and audio products. Contact him on Twitter at @chunkynerd.
I have a Mi Band 2 and before that à Mi Band 1. I love them. They are simple, cheap, do exactly what I want devices. The Mi Band 3 will definitely be in my future.

If it comes to the UK I'll give it a go.
For around £30 it's not much of a risk.

Not sure if trolling but NFC is used for payments f.e....

Well, we know what NFC is for, but you can't just "extend" your phone's NFC and have it do Android Pay for example. So it's unclear what the NFC actually does, and if it is built in or whether it just has a slot for the micro form factor NFC standalone chip+antenna solutions like the bPay chip. From this image I found: https://writers.pricebaba.com/wp-content/uploads/2018/05/mi-band-3-nfc.png Google Translate says "city bus card support transit account recharge payment", so maybe it's just specific to some city's transport system, or maybe they're partnering with people, or something else entirely - can't find any more details!

I have a friend who's worked in China all summer for the past 4 years or so. Based on what he's told me, I understand that China uses the government IDs that all citizens must carry for NFC payments for bus, taxi, and all sorts of other services. So my expectation is this is compatible with that system and it's not just some city's transport, it would be all of China where NFC capabilities have been added. Remember, China has a centralized government without much power devolved to local municipalities (with Hong Kong as a notable exception). Now, for what that means outside of China, that's still anyone's guess. It certainly won't do Google Pay (Android Pay is dead, long live Google Pay) and I don't foresee Xiaomi cutting deals with banks across Europe and the the Americas to form their own NFC based payment system.

you should watch this video: https://www.youtube.com/watch?v=bDJypHv8ZDM

and it's not "government IDs" it's just rechargeable card you can buy
watch this: https://www.youtube.com/watch?v=9Gl1WnsAbJ0

Probably to make it easier to pair with your phone. Tap to pair instead of dealing with scanning and searching bluetooth, putting in a code, etc.

this should come to the UK... I'm buying one whenever it arrives here

Looks like a nice update to the 2, I use mine just for sleep tracking along with sleep as android.

I have two questions about this band: 1. Does it integrate with Google Fit?
2. Does it display any messaging/email alerts?

1. Yeah
2. Yeah. You can choose app to notify you

My miband 2 has lots of 3rd party Android apps that allow it to do all sorts of cool things like creating custom notifications for different apps. Now working on a hack to make it a remote camera shutter button so I can trigger my phone camera from across the room. Such a great little device, I'll probably upgrade whenever mine starts showing signs of age -- OR if the new one has some amazing feature I can't live without. As it stands, I actually prefer the 2's smaller and simpler size. It looks great in an aftermarket black metal watch band. People always want to know "what is that"?!?!

Don't buy it doesn't do what it is meant for. I have mi 1 and my friend has mi 2 both has same bug. Don't walk, just move your hand with mi band on back and forth and you will see your step count increasing. So if you want to give your friends some complex use this band and kepp moving your hand

Mi Band 3 Specs Screen: 0.78-inch OLED
Display: Capacitive
Resolution: 128 x 80
Dimensions: 17.9 x 46.9 x 12mm
Weight: 20g
Battery: 110 mAh
Battery Life: 20 days
Waterproof: 50m
Bluetooth: 4.2 LE
NFS: Yes (More expensive model)
Price: $25 - $31 USD
Release Date: June 5 2018 - Chinese Market

Anyone have feedback on the heart rate sensor?
My Fitbit only tracks resting heart rate for the most part. I'm looking for something that is real time and will provide alerts if low/high.

I owned the Mi Band 2, for only $20! more bang for the buck you'd say, a practical device with all the bells and whistles you'll need (not want), on a fitness band. Until the rubber strap got loose and lost the gadget, hope they've worked on that.

I also purchased my Band 2 for $20. Battery life is about 6 weeks.

The NFC version will only be availabe in September.
"At the same time, the mi band 3 NFC version can achieve city traffic bracelet payment, will also be on line in September."
Auto translation from http://bbs.xiaomi.cn/t-29778286
Android Central Newsletter
Get the best of Android Central in in your inbox, every day!
Thank you for signing up to Android Central. You will receive a verification email shortly.
There was a problem. Please refresh the page and try again.