Xiaomi Mi A2 vs. Nokia 7 Plus: So close, yet so far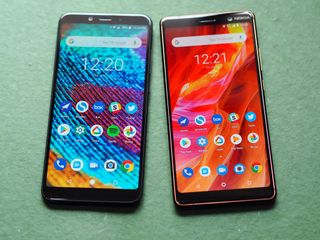 Three months after its launch, the Nokia 7 Plus continues to be one of the best mid-range phones in the market. There really isn't much the phone gets wrong — there's a 18:9 panel at the front, proven dual cameras at the back, 4GB of RAM and 64GB of storage as standard, and to top things off, the device is powered by the Snapdragon 660. Then there's the fact that the Nokia 7 Plus — like the rest of HMD Global's portfolio — runs Android One, guaranteeing timely updates.
Xiaomi is now looking to challenge the Nokia 7 Plus with its 2018 Android One device, the Mi A2. At a high level, both devices are nearly identical: the Mi A2 also has an 18:9 display, and it features the Snapdragon 660 along with 4GB of RAM and 64GB of storage. The dual cameras at the back are just as capable as the Nokia 7 Plus.
That's where the similarities end. The Mi A2 is set to go on sale in India from August 16 for ₹16,999, or $250. That's $130 less than what the Nokia 7 Plus retails for in the country. Xiaomi's aggressive strategy gives the Mi A2 an edge when it comes to pricing, but the device is missing out on several features, including NFC, a 3.5mm jack, and a MicroSD slot.
Here's how the Mi A2 compares to the Nokia 7 Plus.
Xiaomi Mi A2 vs. Nokia 7 Plus: Specs
Category
Xiaomi Mi A2
Nokia 7 Plus
Operating System
Android 8.1 Oreo
Android One
Android 8.1 Oreo
Android One
Display
5.99-inch 18:9 FHD+
(2160x1080) IPS LCD panel
Gorilla Glass 5
6.0-inch 18:9 FHD+
(2160x1080) IPS LCD panel
Gorilla Glass 3
SoC
Octa-core Qualcomm Snapdragon 660
4x2.2GHz Kryo 260 + 4x1.8GHz Kryo 260
14nm
Octa-core Qualcomm Snapdragon 660
4x2.2GHz Kryo 260 + 4x1.8GHz Kryo 260
14nm
GPU
Adreno 512
Adreno 512
RAM
4GB/6GB
4GB
Storage
32GB/64GB/128GB
64GB
Expandable
No
Yes, up to 256GB
Rear camera
12MP (f/1.75, 1.25um) + 20MP (f/1.75, 1.0um)
PDAF, LED flash, 4K video recording
12MP (f/1.8, 1.4um) + 13MP (f/2.6, 1.0um)
PDAF, LED flash
4K video recording
Front camera
20MP (f/1.75, 1.0um)
AI portrait mode
LED Selfie light
Beautify 4.0
16MP (f/2.0, 1.0um)
Connectivity
LTE with VoLTE
Wi-Fi 802.11 ac, Bluetooth 5.0
GPS, GLONASS
Dual VoLTE, NFC
Wi-Fi 802.11 ac, Bluetooth 5.0
3.5mm jack, FM radio
GPS, GLONASS
Battery
3000mAh battery
Quick Charge 4.0 (India)
QC3.0 (ROW)
USB-C
3800mAh battery
Quick Charge 3.0
USB-C
Fingerprint
Rear fingerprint
Rear fingerprint
Dimensions
158.7 x 75.4 x 7.3mm
158.4 x 75.6 x 8mm
Weight
166g
183g
Colors
Black, Rose Gold, Gold, Blue
Black/Copper, White/Copper
Where they're equal
As highlighted above, the Mi A2 and Nokia 7 Plus share a lot of the same internal hardware. The Snapdragon 660 is integral here, as it's currently the best mid-range chipset available today. That will change soon as we see more Snapdragon 710 devices make their way into the market, but for now, the Snapdragon 660 is a staple in this category.
Both the Mi A2 and Nokia 7 Plus come with 4GB of RAM and 64GB of storage. There's a variant of the Mi A2 with 6GB of RAM and 128GB of storage, but that'll make its way to India at a later date.
Also notable is the fact that both phones come with Android One. With Google moving out of the mid-range market with the discontinuation of the Nexus line, third-party brands have filled the void with the current slate of Android One devices, and for the most part, the experience has been identical.
In fact, the Nokia 7 Plus' design and feature-set have lent it the Pixel 2 Lite moniker, and it wears that badge very well. With Android One, you're getting a user experience that's near-identical to that of the Pixels on a diverse set of devices that span different regions and audiences.
What the Mi A2 does better
Xiaomi dominates the value game, and that's evident when you see how the Mi A2 lines up next to the Nokia 7 Plus. A $130 difference is a huge deal, especially when you consider the fact that the camera on the Mi A2 is just as good as that of the Nokia 7 Plus, if not better.
It's no small feat to launch a Snapdragon 660-powered phone for $250, and Xiaomi's insistence that it won't exceed over 5% in profits from its hardware products makes it the brand to beat when we're talking about value. It is this factor that allows Xiaomi to undercut every other manufacturer.
Xiaomi Mi A2 to the left, Nokia 7 Plus to the right.
Xiaomi has also done a fantastic job with the camera on the Mi A2. I'm not exaggerating when I say that this is the best camera I've used on a sub-$300 phone, and both the rear cameras as well as the front 20MP shooter are incredible.
That last image in particular — the one with the window — is where you'll see the Mi A2 pulling its weight. The greenery outside is more accurately portrayed in the Mi A2, and the overall detail is much better.
What the Nokia 7 Plus does better
With the Mi A2, Xiaomi focused on creating a device with a sleek form factor, and that meant eliminating features like the 3.5mm jack to maximize internal space. The Mi A2 comes in at 7.3mm as a result, whereas the Nokia 7 Plus is 8mm thick.
The Mi A2 doesn't have the 3.5mm jack or even a MicroSD card slot, which puts the device at a disadvantage in the $250 category. The Nokia 7 Plus has both, and it has NFC as well, another feature that the Mi A2 is missing. NFC isn't as vital a feature as the MicroSD slot for Indian customers, but its omission makes the Mi A2 a less attractive option in markets where Google Pay is available.
The Nokia 7 Plus' added bulk also has to do with the fact that it has a larger 3800mAh battery. The battery life on the Nokia 7 Plus is fantastic, and in this area the device pulls out a significant lead over the Mi A2.
Also going in favor of the Nokia 7 Plus is the 6.0-inch 18:9 display. It is an LCD panel — like the Mi A2 — but it has better color accuracy, and much better sunlight legibility.
Then there's the design: the two-tone finish on the Nokia 7 Plus gives it character and allows it to stand out in this segment, and I prefer it to the Mi A2. Xiaomi's design language is starting to look stale, and it's in need of an overhaul.
Xiaomi's primary goal is to deliver the most amount of value, and as such you don't get a lot of accessories in the box. There's a silicone case, and although the Mi A2 offers Quick Charge 4.0 in India, the charger included in the box is the standard 5V/2A unit that Xiaomi provides with its budget phones. And while Xiaomi makes a pretty decent pair of USB-C earbuds, they're not bundled either — you just get a USB-C to 3.5mm dongle that lets you hook up your existing wired gear.
On the other hand, HMD includes a Quick Charge 3.0 wall charger (9V/2A) in the box, so you don't have to pick up a third-party accessory to access faster charging speeds. As the phone has a 3.5mm jack, you get the usual Nokia-branded earbuds, and HMD also threw in a silicone case.
Finally, although both devices are running Android One, I have more confidence in HMD delivering the Android Pie update to the Nokia 7 Plus ahead of the Mi A2. The fact that the Nokia 7 Plus was one of the devices in the Android Pie beta program definitely helps, but HMD has a much better record when it comes to rolling out updates.
Which should you buy? Nokia 7 Plus
Ultimately, it comes down to what you're looking for in a phone. I love the camera on the Mi A2, but the Nokia 7 Plus has more going for it. The $130 premium it commands over the Mi A2 is well worth it when you consider the fact that it has a 3.5mm jack, MicroSD slot, NFC, and a larger battery.
The last part makes a lot of difference, because the battery life on the Nokia 7 Plus is fantastic. The 3000mAh battery on the Mi A2 is decent enough and it manages to deliver a day's worth of use, but the Nokia 7 Plus is the clear winner in this area. Same goes for the display as well — the Nokia 7 Plus has a much more vibrant panel.
The Nokia 7 Plus also doesn't exhibit any lag in day-to-day usage, and it's puzzling to see the Mi A2 face this issue as they both share the same platform. There isn't a lot to differentiate between either phone when it comes to the camera, and that's a testament to just how far Xiaomi has come in this area over the course of the last 12 months.
All things considered, the Nokia 7 Plus is the better option.
See at Amazon (opens in new tab)
Harish Jonnalagadda is a Senior Editor overseeing Asia at Android Central. He leads the site's coverage of Chinese phone brands, contributing to reviews, features, and buying guides. He also writes about storage servers, audio products, and the semiconductor industry. Contact him on Twitter at @chunkynerd.
It's so great to see a European brand be competitive and produce great products. It's a shame that there aren't more European brands (and for me personally British brands in particular) producing smartphones.

Isn't wileyfox a British company?

It is, but it doesn't have a global presence.
I personally wish their was a European mobile OS. In the currently political climate this dependecy on american products (OS and SoCs) could be used as a bullying tactic, case in point ZTE.

This review is good at pointing out the difference between the phones, but there's a huge flaw in the conclusion. You're talking about $130. That's absolutely huge. Add another $130 onto the price of the Nokia 7 Plus (USD) and you could buy a $500 USD OnePlus 5T off Amazon. That's one of the best flagship phones of yesteryear. "When paying that much for a Nokia 7, why not just another $130 for all the features and power of a flagship?" That's because $130 is an entire category changing amount. And while the review is definitely good at pointing out how these phones compare spec wise, that type of logic would have phones like the OnePlus 6 ($529) always losing to the Pixel 2 ($649) due to the differences in software updates and waterproofing, for example ($120 difference). When really, price is what makes all the difference.

your review doesn't make sense at so many points. NFC is something that Nokia used to include back in 2013 & how many of Indians make use of it? Pointless 'feature'! Speaking of 3.5mm jack, Mi A2 isn't that thick to include it & you can still plug the type-C connector for the same.
And for your kind information, HMD doesn't know how to price their devices. For the price of Nokia 6.1, Xiaomi is selling Mi A2 with features on par with your 7 plus. Please look for the price segments too. Nokia is doomed to fail. And so is your biased review!
Your review is absurd!

The build quality is far better on nokia and always will be, they deserve the extra 130$ they are charging. 3.5mm jack, nfc for euro market and SD card all are very valid points. So, nokia IS better if you take out the price equation, but MI wins at pricing.

I have had two Xiaomi phones and the build quality has always been excellent. Pricing is very good also. My concerns would be no NFC, no headphone jack and no expandable storage. If it had those things, I would have already ordered one.

Dude the Xiaomi Mi A2 is a good phone but it lacks a lot of features compared to the Nokia 7 Plus, no headphone jack, no NFC, lacklustre display, ridiculously small battery and no SD card slot (that I'm not particularly bothered about) and Xiaomi has a poor record with updates all that adds to the Nokia 7 Plus being the better phone.

Nokia had me at " SD Card slot".

Perhaps i missed it but what about build quality? If the build quality is that much better on the 7 plus theres certainly another justification for the higher price in my opinion.

$130 is a very significant amount of money. Consider this, you can get the A2 and a 20100mah anker power bank for less than what you pay for the 7plus.

Why get a cumbersome power bank if I can get a phone with a decent battery.

Xiaomi has to up their game if they want to compete in the Android One category, because I don't see myself upgrading to the A2 from my A1 with so many lacking features.

But they couldnt undercut the honor play...and looks like xiaomis fuking up their android one again.

Xiaomi has better memory range but the camera needs work.

XDA has a lost for dismissing the Google Camera that improved things on the Nokia. Also, the August security patch downloaded/installed today. Loving the 7plus! https://www.xda-developers.com/google-camera-port-hub/

Can you help me get spotify in India. I see all your reviews & all of them have spotify in the homepage. how is that possible (with /without VPN ?)

You missed out on Notification light, IR blaster and Headphones Amp DAC, all present in MI A2 which the Nokia misses out. Also, speaker output is louder on mi A2 which is a point to consider too.

The 7 Plus has a headphone jack, bigger battery a better LCD display, better build quality and better record with updates thanks to HMD Global so all this makes the Nokia 7 Plus worth the extra $130 over the Xiaomi Mi A2 and and making the Nokia 7 Plus the better phone than the Mi A2.
Android Central Newsletter
Get the best of Android Central in in your inbox, every day!
Thank you for signing up to Android Central. You will receive a verification email shortly.
There was a problem. Please refresh the page and try again.