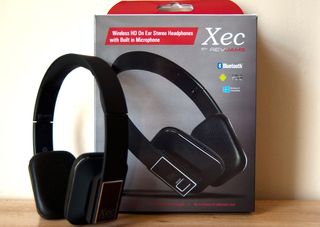 Call me old fashioned, but the words "audio" and "Bluetooth" together tend to scare me. I'm a child of a time where Bluetooth audio was a fantastic concept that failed to produce passable results. I've had one too many bad experiences with loss of fidelity, cut out audio, and interference – not the most pleasant experiences when you're trying to listen to music.
And while the technology has come so far in the past few days, that doesn't mean there aren't still some problems out there. Take the RevJams Xec On Ear HD Headphones, for example. At $80 retail, RevJams promises to deliver high quality audio in a stylish package without any need for wires, at up to 30 feet of distance and for up to eight hours at a time.
And in large part, the Xec by RevJams delivers on that promise. It's an attractive package that's surprisingly comfortable to wear, thanks to its luxuriously padded earpieces, and because it folds up, it's compact enough to fit in your small bag or even large pockets. And it's built in microphone does a lovely job filtering out background noise and interference.
But this system has its flaws. The low point of the Xec by RevJams headphones is the audio quality. It's by no means unbearable – in fact, it's remarkably clear and capable of producing some incredibly loud levels. But as loud as the audio gets, it never manages to fill out – bass is shallow, and there's a tininess that becomes really obvious when listening to less-than-perfect quality audio.
I was also a bit disappointed by the system's battery life. Eight hours on a single charge might seem like a lot, but in real world usage it seemed like the RevJams Xec headphones spent a whole lot of time on the charger. Plus, charging time was incredibly slow, which added a bit of insult to injury.
That said, it's hard to really fault the Xec by RevJams headphones, which perform fairly well given its price point. For most, the quibbles with the audio aren't going to be a deal breaker, and with on-sale prices hovering at around $50-$60 for the system, the RevJams' Xec make excellent backup headphones. Bluetooth audio isn't perfect yet, but at least it's making progress.
Be an expert in 5 minutes
Get the latest news from Android Central, your trusted companion in the world of Android