The wireless charging wars are over (for now)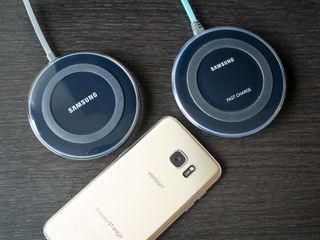 Wireless charging, specifically the part where you can put your phone on a puck and charge your phone over magnetic induction instead of plugging in a cable, has been a thing for years now. Palm was the first big name to do it, and when Android phones picked up steam the tech started a slow burn to where we are today. It's not the most common way to charge your phone by a long shot, but it has gotten less complicated and significantly less expensive over the last couple of years.
One of the things that helped this process over the last couple of years has been the consolidation of competing technologies into the Wireless Power Consortium. Today, a significant member the last major competitor to the WPC announced it was joining and sharing its technology to advance the Qi standard of wireless charging. That's right, smartphone fans, Powermat has finally decided to join forces with Qi.
For years now, wireless charging has meant two options — Qi or Powermat. For the longest time these options were incompatible with one another, meaning your phone either supported one or the other. Some restaurants and coffee shops would support Qi, other Powermat. Starbucks went so far as to offer special adapters you could plug into your phone to take advantage of this feature, and as long as you could wrap your head around plugging something in to your power port so your phone could charge "wirelessly" it worked okayish.
Looking to pick up a wireless charger for yourself? These are the best!
Samsung changed things a bit with the Galaxy S, a phone with native wireless charging that supported both Qi and Powermat without needing to do anything. It meant switching to a glass back on the phone, something Apple followed suit with on the iPhone 8, but the real success here was not needing to worry about whether the charging puck you were using would actually work with your phone. With Powermat joining the WPC, there will be a day in the not-too-distant future where every phone with wireless charging will be able to enjoy simply dropping the phone onto a puck and seeing it simply start charging.
This move is going to be good news for everyone. Powermat technology will become a part of the Qi standard, and the lack of a competing standard means there's even more incentive for phone manufacturers to join in the push to make wireless charging the default.
The wireless charging wars have ended, at least for now. We know at least one company has recently received FCC approval for over-the-air power that does not require a special puck to set your phone or watch on. There are also patents from Apple for wireless power transfer that can choose which devices get more power. It's likely we'll see more about that this year, possibly with supported devices shortly after. Who knows, maybe the wireless charging wars are finally starting to get interesting?
Get the Android Central Newsletter
Instant access to breaking news, the hottest reviews, great deals and helpful tips.