Why I'll only drink coffee from this $150, Android-connected mug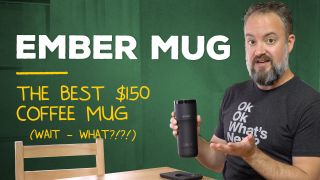 How much would you pay to keep your coffee hot for up to two hours? If you said $150 — well you're a little crazy. But that's what I spent on the Ember Mug. (OK, I spent more than that. I'll explain in a minute.)
Here's the gist: Ember Mug is, first and foremost, a mug. And it's a really good mug. (Damn well better be for $150.) The feel of the thing is great, from the soft-touch coating to the position of the "shoulder." And the 360-degree, spring-loaded lid is brilliant.
That's not what makes this thing $150, though.
No, what makes the Ember Mug ridiculously expensive for a coffee mug is what's tucked into the bottom of it. Mainly, a battery, heating element and Bluetooth radio.
This is a smart mug.
Subscribe to Modern Dad on YouTube!
OK, here's the real gist. ... Ember Mug has this "phase change cooling system" thing that helps bring it down from scalding to something more survivable, and then keep the temperature wherever you choose. Well, between 120 degrees and 145 degrees, anyway. You tap the logo on the mug to turn it on, then twist the bottom of the mug to set the temperature, with a little hidden dot-matrix-style display showing you what's what.
Me? I'm liking things at about 135 degrees. Some quick (unscientific) testing at home points to the mug being accurate within a couple degrees or so, which is good enough for me.
By the way — yes, the mug will heat room-temperature water just fine, but it's not terribly quick about it, and that definitely eats at the battery. This really is meant to keep hot things hot, not to reheat cool things.
And of course there's an app. (Because how did you ever drink coffee without an app, right?) The app has presets for various drinks — coffee, tea, latte, etc. And you can use it to set a custom name on the mug, and to update the mug's firmware. (Because how did you ever drink coffee without updated firmware, right?) It's the same experience on Android as it is on iOS. Or you can forget the previous sentences and just drink hot coffee from your $150 electric mug like a semi-normal person.
One sort-of major headache with this thing, though. If you want to use your Ember Mug at more than one location — say, at home and at the office — you're going to need a second charger, right? The good news there is that Ember sells spare chargers for exactly this purpose, for another $40. That brings you up to $190 for the mug and a spare charger. (Plus the $18 in shipping I paid for said extra charger. WTF.)
On the other hand, if you're the sort of person who has to have a $150 smart heating coffee mug in the first place, maybe that's not so bad.
You can pick one up inside of a Starbucks store, at Ember's site, or at the link below.
Get the Android Central Newsletter
Instant access to breaking news, the hottest reviews, great deals and helpful tips.