Which would you rather buy, a Samsung Galaxy Z Fold 3 or a Google Pixel Fold?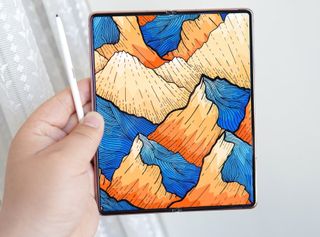 (Image credit: Ice Universe / Twitter)
Samsung is reportedly preparing to release its third-generation Galaxy Z Fold device, and (depending on who you ask), it's second or third Z Flip phone sometime in the next few months. But Samsung isn't the only OEM making foldables, as we've seen foldable prototypes and devices from companies like Huawei, Xiaomi, Microsoft, and Motorola, just to name a few.
Even though many of the best foldable phones are made by Samsung, there are a lot of folks like my colleagues Chris Wedel and Alex Dobie who are equally, if not more, excited at the prospect of a Google-made Pixel Fold. Granted, this device has only been hinted at and rumored in the tech blogosphere, but where there's smoke, there is often fire. Many credible leakers have suggested that the Pixel Fold (or whatever Google decides to call such a device) will be announced this fall and roll out to customers at the end of the year or early in 2022.
No one knows what kind of specs or pricing such a device might carry, but if Google's recent Pixel 5 is any indication, it could be a more affordable phone than its Galaxy Z Fold counterpart. Then again, Google has dabbled in the premium space before with its Pixel line, so it could come close to matching the best from Samsung, spec for spec. We know that Google has been working on optimizing Android for folding form factors for several years, and the release of Android 12 with Material You would be the perfect time to showcase this work in a first-party product.
So that got us wondering — considering Samsung's design prowess and several years of experience producing foldable phones now under its belt, do you think you'd be more likely to buy a Galaxy Z Fold 3 device, or would you take a flyer on a prospective Google Pixel Fold phone?
Jeramy is proud to help *Keep Austin Weird* and loves hiking in the hill country of central Texas with a breakfast taco in each hand. When he's not writing about smart home gadgets and wearables, he's defending his relationship with his smart voice assistants to his family. You can follow him on Twitter at @jeramyutgw.
I don't have faith in Google to get fifth generation hardware right, let alone first.

Samsung. I dont want to give Google a penny more of revenue than I have to.

I'm not interested in foldables yet even though they're cool, but if I had to choose out of a Samsung or Pixel foldable, phone, I'd choose a Pixel all day long, I like my Android experience clean and uncluttered with fast da 1 updates, even on foldables.

Whichever will give me an SD card and headphone jack 😜 I have over 100gb of local music organized in .m3u playlists and cannot copy to a device via MTP. 🤦🏽‍♂️

You're out og luck for an SD card slot as both Samsung or Google don't have them, but to be honest I've never cared about SD cards and don't use the SD card slot on my S20 FE and my future phone (Pixel 4a 5G) won't either, most users don't care about SD card and those that do are an increasingly niche minority.

I'm just about done with Samsung, but if I had to spend my money on a new foldable, it would be them. Google needs at least three failed attempts to get any hardware right. That said, I am excited about the Pixel 6Pro

Why can't Samsung and Google come together. Samsung makes the best hardware and Google has the software down. I believe they could honestly compete with Apple with that combo. They are doing it with Wear OS so I hope some of that bleeds over into a phone partnership. Bring back the Galaxy Nexus!!!
This choice is hardware vs software. Without seeing them its hard to say, but I would lean into better hardware for something like a foldable. I do love pure Android and will be getting a Pixel 6 to replace my S20 FE that can't get me through a day on a charge anymore.

No interest in a foldable phone. None.

Samsung... While their software has never been my bag, I don't trust 1st gen hardware. At least Samsung has had some time to get better.
Android Central Newsletter
Thank you for signing up to Android Central. You will receive a verification email shortly.
There was a problem. Please refresh the page and try again.