Which phone would you rather have — Galaxy S21 or S21 Ultra?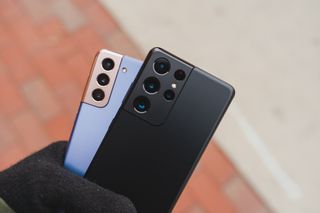 (Image credit: Hayato Huseman / Android Central)
Samsung has a pretty impressive trio of Android phones on its hands between the Galaxy S21, S21+, and S21 Ultra. All three handsets look to bring impressive specs and features for their respective price points, but among them, the baseline S21 and top-tier S21 Ultra stand out as the two most compelling.
One the one hand, we have the Galaxy S21. It has the ultra-powerful Snapdragon 888 chipset, a 120Hz AMOLED display, great cameras, and a big 4000 mAh battery for just $800. That's a lot of phone for considerably less money than something like the iPhone 12 Pro, making it a really appealing value option.
Then there's the Galaxy S21 Ultra, which steps up to a $1200 asking price and delivers a few meaningful upgrades — namely an unbeatable camera system with impressive zoom capabilities, a larger display and battery, and a more premium glass design.
One of our AC forum members posted that they're having trouble deciding between the two devices, and sure enough, our other members were quick to chime in with their two cents.
This got us wondering — Would you rather have the Galaxy S21 or S21 Ultra?
Join the conversation in the forums!
Affordable flagship
(opens in new tab)
The full Galaxy S experience for less
While the Galaxy S21 may not be a "cheap" phone, it does manage to deliver excellent value for the price. Virtually nothing about its experience is compromised and that's evident with every spec. Between the Snapdragon 888, 120Hz display, triple camera system, and tons more, this is a phone that you'll want to keep using for years to come.
Joe Maring was a Senior Editor for Android Central between 2017 and 2021. You can reach him on Twitter at @JoeMaring1.
I pre-ordered the S21+, why? Well, I much prefer the 1080p display with the 4800mamp 🔋. I'm expecting stellar 🔋performance with the lower resolution display. I used the FE for 9wks and the display is still excellent! No need for full-time 1440p, that will be a definite drain on the battery?

Neither. I already ordered the S21+. I like the bigger screen, bigger battery, and inclusion of UWB. Plus, Phantom Black looks really sweet! Glass vs. plastic doesn't really matter, so that wasn't a factor in my decision between the two lower priced models. I do like the flat screen compared to the Ultra, and I really don't care about the FHD+ vs Quad HD+. I run my Note 9 at FHD+ anyway. The price premium from the + to the Ultra doesn't justify the .1" in screen size and 200 mAh in battery. Conversely, the premium to get an additional .5" of screen real estate and 800 mAh is far more worth it.

I ordered the S21+. Coming from a Note 10+, I liked the larger screen size and 1080p is fine with me. I didn't feel I needed all the advanced camera features of the Ultra.

S21 all others are too big

Pixel 6 XL. That will be my upgrade for the year.

S21+. Have had the base "small" one for years and find I want a larger screen (yeah, larger fonts, getting old). I contemplated the ultra but... I want something as small and light as possible and the ultra is that much heavier and bulkier that I think it may be a detriment to every day carrying/use. Agonizing over the specs, eh, is the conclusion. I run at the 1080 resolution today and it's fine. Look forward to trying the flat screen again. The battery life is promising. And the cameras, well, I use my camera zoom and whatnot when I travel and that ain't happening anytime soon. So it's the S21+ for me. And I hope I can get away with using it case-less.
Android Central Newsletter
Get the best of Android Central in in your inbox, every day!
Thank you for signing up to Android Central. You will receive a verification email shortly.
There was a problem. Please refresh the page and try again.