Where to buy the LG G7 ThinQ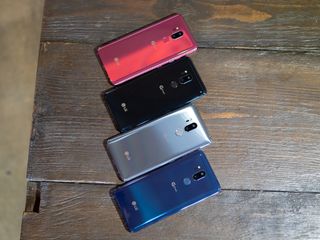 LG's playing it safe this year with the G7 ThinQ, but that doesn't mean it's a bad phone. In fact, the G7 is one heck of a smartphone that's at least worth a look.
If you live in the United States or Canada and are interested in picking up the G7 ThinQ for yourself, here's everything you need to know.
United States
Unlocked
Weeks after launch, LG finally started making the U.S. unlocked version of the LG G7 widely available. It's available in multiple colors, with 64GB of storage. Importantly, the U.S. unlocked model is designed to work on all four major U.S. carriers — yes, including Verizon and Sprint. Both Amazon and B&H Photo have already started to discount the LG G7 from its original $749 price tag.
Sprint
If Sprint's your carrier of choice, you're going to pay more than most to own the G7.
On Sprint, the phone will cost you $33/month for an 18-month lease, and if you decide to keep paying for six more months to actually own the G7, you'll be looking at a final price of $792 — $42 more than T-Mobile and Verizon.
Sprint is offering a lease one, get another for free deal, but you're required to either add two new lines or upgrade two existing ones.
T-Mobile
Jumping over to T-Mobile, the G7 costs $30 down and then $30/month afterward, resulting in a final retail price of $750 ($30 more than the Galaxy S9). To help offset the cost, T-Mobile is running a BOGO promo that allows you to get two G7s for the price of one via monthly bill credits.
See at T-Mobile (opens in new tab)
Verizon
Last but not least for U.S. carriers, pricing for the G7 at Verizon is similar to that of T-Mobile, including a payment of $31.25/month for 24 months for a final price of $750.
In honor of the G7's launch, Verizon's offering an instant $100 off discount just for buying it on an installment plan. Better yet, that deal can be combined with Verizon's other trade-in promotions.
See at Verizon (opens in new tab)
AT&T
Although LG devices usually show up on AT&T like clockwork, this year appears to be slightly different. Instead of carrying the G7, AT&T is instead selling the V35 — a phone that has the design of last year's V30 and the modern specs of the G7. It's an interesting mashup, to say the least, and one that'll cost you a pretty penny at $900.
See at AT&T (opens in new tab)
U.S. Cellular
The LG G7 is also available at U.S. Cellular. It costs $749.70 if you buy it with a prepaid plan, but if you purchase it on an installment setup, you can save $300 by paying just $14.99/month for 30 months after monthly bill credits.
Should you choose to go the installment route, you'll pay $0 down and have 0% APR. Not too shabby!
See at U.S. Cellular (opens in new tab)
Project Fi
Google's own carrier, Project Fi, has branched out its phone offerings to two of LG's latest phones, including the G7. Pricing is set at $749, with optional 24-month no-interest financing that breaks it down to $31.21 per month. Choose between black or blue colors.
For a limited time, Project Fi is offering a $300 bill credit with purchase of the LG G7, which makes it extremely enticing for new Fi customers in particular. The deal ends on July 29.
Canada
Bell
At Bell, you can purchase the G7 between $199.99 and $399.99 depending on what kind of two-year plan you sign up for. If you prefer to purchase it outright, it'll set you back $1,049.99.
If there's a Bell store nearby, you can go there, trade-in an eligible phone, sign up for a two-year Premium Plus plan with data, and get the G7 for as little as $0.
Freedom Mobile
If Freedom Mobile is your Canadian carrier of choice, there are four main ways you can buy the G7:
Pay $0 down + $20/month MyTab Boost for 24 months on current $50+ plans (save $480)
Pay $250 down + $25/month MyTab Boost for 24 months on current $40+ plans (save $110)
Pay $480 down + $20/month MyTab Boost for 24 months on current $30+ plans
Pay $960 to buy the G7 outright
Rogers
Rogers is also selling the G7 in The Great White North, with pricing working out as follows:
$199 on two-year Premium+ Tab
$399 on two-year Premium Tab
$549 on two-year Smart Tab
$699 on two-year Talk & Text Tab
$999 with outright with No Tab
SaskTel
For SaskTel customers, the carrier's running a promotion through June 30 that lets you get a $200 bonus credit on top of the trade-in value of your existing phone when you upgrade to the G7.
Along with that, pricing works out as follows:
Pay $0 down + $20/month with Plus Pricing on a two-year $20/month+ plan
Pay $199.99 down + $10/month with Plus Pricing on a two-year $10/month+ plan
Pay $399.99 with a two-year voice and data plan
Pay $99.99 with a monthly, device only, or prepaid plan
Telus
Last but not least, Telus is also selling the LG G7 ThinQ.
You'll pay between $200 and $400 down depending on which plan you choose, and if you prefer to buy the phone outright, you'll need to hand over $980.
See at Telus (opens in new tab)
Update July 2018: Now that the G7's launched, we've refreshed this guide to include final pricing at all U.S. and Canadian carriers/retailers, including unlocked models.
Android Central Newsletter
Get instant access to breaking news, the hottest reviews, great deals and helpful tips
Joe Maring was a Senior Editor for Android Central between 2017 and 2021. You can reach him on Twitter at @JoeMaring1.
SASKTEL? Never heard of them

They are a regional carrier which only operates in the province of Saskatchewan. They are owned by the government and the extra competition actually means plans in SK are cheaper than the rest of the country!

I'm really trying to like this phone but the smallish 3000mamp battery kills it for me. I realize it has Quick Charging but as a power user I really can't see this lasting a full day. Power efficient or not it's just to small. The 845 processer is more power hungry than anticipated & the s9 is living proof. It barely makes it thru a full day. I guess it's not my cup of tea!

Then buy a power bank. That's what they're for. I'd hate to go for a phone that last less than 4 SOT but I have power bank to save me.

I will do you better, buy a phone with a bigger battery 😆

There are better options out there

I think the new LCD panel will be less battery hungry...once the reviews are live with the production unit u can decide

I don't see the problem. It's the software that makes the difference in battery life. It's about the same as Essential Phone. I get 30+ hours with 6 hours of SoT on my PH-1 easy.

I'm considering upgrading from my LG G6 via AT&T's NEXT plan. Just waiting for more hands on reviews.

AT&T isn't getting the normal G7. you'll have to wait a couple/three months on AT&T to see what they "do to it"

Buy it unlocked. Use it anywhere.

If only useless LG and Samsung don't treat the US unlocked models as if they don't exist when it comes to updates.

When are these idiots going to do away with carrier exclsive devices. It really cuts down the OEM's profits and keeps consumers from getting the device they want. You can buy unlocked but that is way more expensive.

How do you know it cuts down on OEM profits? I'd think the companies worth billions of dollars would know better if it was bad for profits.
Most US consumers still get their phones from the carriers, and the carriers pay to get exclusives.
Is it consumer friendly? Probably not. But they do it for a reason

Exactly. OEMs give into carrier request for customizations to get the phones in physical stores. They give them exclusives to get the càrriers to get them to invest their marketing dollars in them and push them in the stores. As much as people try to deny it, the overwhelming majority of people don't read tech blogs or buy unlocked devices. They go into carrier stores and buy the phone with a familiar sounding name (iPhone, Galaxy) or that the sales rep recommends or catches their eye as they walk into the store because it's displayed prominent up front.

Since the technical aspects of the G7 have been covered well enough, I wonder what colors LG will offer in the US. The Raspberry and Moroccan Blue look great.

wtg LG. find ways to have even less sales. AT&T customers won't even know about this phantom device.

How the hell do you pronounce "ThinQ"??
Is it like "think" or am I supposed to say "thin-queue"?
Either way it's stupid. Just call it the G7 for g's sake. Smh.

Like "thin-queue" Really.

The LG G6 is my first & last LG phone. Their poor record of updates has just become too much for me to trust that they will get better, even with their new pay no attention to the people behind the curtain software update center. Its May 21 my G6 still has the January 1, 2018 security patch and there is no news on Oreo for this phone in the US.

I was at the TBooth store at the Rideau Centre in Ottawa today (21.05) and they're already selling it, on Rogers, at least.

If the 750.00 price doesn't come down I don't expect great sales being it's more than the s9?

Simply don't. I don't feel like this is LG's best effort. Wait for the V40.

Nope. Not after wasting my time and money on a V30 that I sold due to Laggy camera and crashed several times losing video files on a supposed content creation device. Get it right LG. And ATT passing on this model for waiting for later in the summer to market a special device loaded with ATT's special brand of crappy bloatware for suckers. No thanks to that too.

Just got mine in the mail yesterday from T-Mo. Upgraded from the G6. It is quite a nice device so far.

My business partner got the Verizon version a few weeks ago and he exchanged it for an S9 because the radio in this phone is garbage. He literally could not make or receive calls in our office and he would frequently drop calls between home & work where his S7 was flawless. His S9 is not quite as good as his S7 as far as the radio and antennas go, but it is light-years ahead of the G7 Thin Q.

Already got the V35 with prime deal last week otherwise definitely would have considered picking this instead. I had the T-Mobile version at launch and loved the phone but sold it off since I don't prefer using carrier versions when unlocked non carrier models are available. Great phone and LG did a great job with G7 and V35.

Amazon has the unlocked model for 649.00. I kind of knew this would happen. Wait a month or two their prices always drop fast! Now this might be worth it!

I've had no issues with my G7. I bought it from Verizon when it became available. I work as an electrician and I'm constantly on construction sites and working in this wonderful Arizona heat. The phone has no issues with the heat. The screen does not scratch easily either. I have a Spigen case on it. No screen protector. Never have issues with dropped calls or data. I even spent about 3 weeks using my phone as a wifi hot spot with no lagouts or latency issues. I mainly play wow, bf1 and pubg. This phone is fast and doesn't skip a beat. Yes the battery is smaller than I'd like but it holds its own. I work 10 to 12 hour days quite often and my phone has never gone below 50%. I'm always using my phone at work to take pictures, as a flashlight, to record stuff in my note app and to navigate to job sites and make phone calls and text coworkers.
Android Central Newsletter
Get instant access to breaking news, the hottest reviews, great deals and helpful tips
Thank you for signing up to Android Central. You will receive a verification email shortly.
There was a problem. Please refresh the page and try again.