WhatsApp is ending support for outdated versions of Android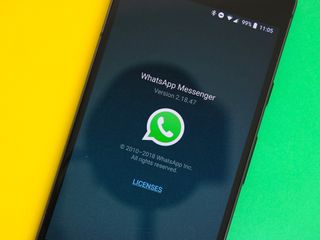 (Image credit: Android Central)
What you need to know
WhatsApp has quietly ended support for outdated versions of Android.
The popular messaging service now supports devices running Android 4.0.3 or higher.
Users running Android 2.3.7 and older versions will be able to continue using WhatsApp only till February 1, 2020.
WhatsApp has confirmed that it will soon stop supporting devices running outdated Android versions. On its support page, the company notes that it provides support for and recommends Android devices running 4.0.3 Ice Cream Sandwich or higher.
Those of you with a device that runs Android 2.3.7 and older will no longer be able to create a new account or reverify an existing account. However, those of you already using WhatsApp will be able to continue to do so until February 1, 2020. WhatsApp also notes that some features "might stop functioning at any time" for Android versions that are not supported.
If your device runs a non-supported Android version, it is a good idea to manually back up all your chats to Google Drive. To back up your chats manually, open WhatsApp and tap on More options. Next, navigate to Settings > Chats > Chat backup > Back Up.
You can also export a copy of your individual or group chats using the app's Export chat feature. To access the feature, you will have to open the individual or group chat you want to export and then tap on More options > More > Export Chat. The chat that you exported will then be emailed to you as a .txt document. You can also choose to include media files as attachments while exporting your chats.
So, if you haven't bought a new phone in 10 years, you won't be able to use WhatsApp. Not really seeing a problem here.

Lol... Pretty much. Doesn't seem unreasonable of them to not offer support for such an archaic OS.

Good grief, are that many people still on 2.3? That's amazing that it's been supported THIS long!

Damn...got to let my HTC Evo go now....

Now what am I going to do with my Samsung Captivate??
It's still on Eclair!

WhatsApp (facebook) and all others should be mandated to drop support for anything pre-8.1 ... anything prior qualifies as a privacy and security risk. I mean ... HOLY MOLEY .. 4.4 was new on the Galaxy Nexus and that was 8 years ago. I'd say with the amount of great lower and midrange phones today that are hella cheap .. this holding on to ancient tech is just dumb.
Android Central Newsletter
Get the best of Android Central in in your inbox, every day!
Thank you for signing up to Android Central. You will receive a verification email shortly.
There was a problem. Please refresh the page and try again.