What's your favorite Pixel phone?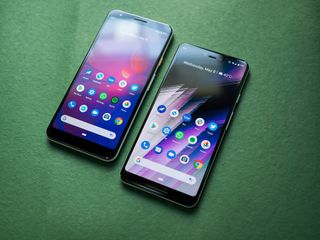 (Image credit: Android Central)
Despite all of the criticism and controversy they're often met with, Google's Pixel phones regularly stand out as some of the most interesting Android handsets on the market. They're never perfect, but the combination of excellent software and unmatched cameras is one that's hard to argue with.
Recently, a member of our AC forums asked for what phone they should upgrade to. They currently have a Galaxy S7 and are eyeing the Pixel 3. Here's how some of our other members responded.
This got us to wondering — What's your favorite Pixel phone?
Join the conversation in the forums!
Joe Maring was a Senior Editor for Android Central between 2017 and 2021. You can reach him on Twitter at @JoeMaring1.
I like the 3a xl, but I gave it away. Bought the 4xl for 599.00, my new favorite pixel. Extremely fast, great 📷's, Astro photography, stereo speakers, the 🔋 that the reviewers ripped apart, even with forced 90hz on average 6hrs SOT, not too shabby! If Google would have released this phone at 599.00 they would have sold ⛵ loads. Now if the 4a with 6gigs and 128gb's of storage at 349.00 they will sell in record #'s!

The P4XL battery is big enough for most people. It is the "regular" P4 that can't last a whole day without bump charging.

I have the Pixel 2 XL and it's a really good phone with an amazing camera then and still now. Very happy and satisfied with it. Was planning on upgrading to the orange Pixel 4 XL but realized for the price and lack of fingerprint sensor and ultra wide camera wasn't worth it. Maybe the Pixel 5 will be better improved.

I have a Pixel 3 and a Pixel 4. Bought the 3 when it first came out. Best phone I'd ever had up to that point. When the Pixel 4 came out, I decided to buy it and give the 3 to my husband (he had a Samsung S7 that needed replacing). It would be difficult to decide which is better. Both the 3 and 4 are great phones for us. They work smoothly, the battery life is acceptable for us, the cameras are outstanding, and the screens are beautiful.

A new 128gb 4a for 350 will be my favorite for sure!

What is "acceptable" battery life?
5 hours SOT? 6 hours SOT?
What is your average uptime between charges?
I am just curious.

What battery life does he have ? Since Android 10 my 3 has 2,5-3 SOT, I was wondering if it was a common issue

The Pixel 2 XL is my favorite Pixel which is pretty much due to it being the only Pixel I owned and is the only one after the original Pixel that had decent battery life until Android 9 Pie even the Pixel 2 XL had issues with the poor display quality and becoming laggy which tech YouTuber MKBHD complained about in a video at the time.

I have had the Pixel 2 XL for two years and it really has been the best phone I have ever had. It literally has no weakness. Camera is great, speakers are good, display is decent (are know there are better out there but the display is just fine), and battery life is amazing (6-8 hours SoT on LTE, 9-11 hours SoT on wifi typically). It's not my favorite Android phone of all time (I actually liked the LG G3 the best), but it definitely is the best all around that I have had.

None. With all due respect, I prefer max specs in a phone because I don't buy phones often. I have a Note 8.... I might get the 512GB storage 16GB ram S20 Ultra.... Or maybe wait until next year. The Pixel phones have always been priced way too high for what they offer.

3a hands down. Great screen, battery, camera, size, weight, FP scanner and it doesn't have the most ridiculous thing most every other phone has now - a glass back. I switch roughly every 2 weeks between my 3a and S20 which speaks volumes to how good the 3a is.

I had a Pixel 2XL. I upgraded to a 4XL and my husband now has it. I actually prefer the 2XL and have one again as a spare phone.

Upgraded from the 2xl to the 4xl. Had to go back to the 2xl since the 4xl had a power glitch and I got used to the finger print scanner. I think the 2xl is my favorite. But the 4 is fast.

For me pixel 2 and pixel 3 specillay pixel 3 with smaller size and bazzels i think that form factor is really hard to find these days
Android Central Newsletter
Thank you for signing up to Android Central. You will receive a verification email shortly.
There was a problem. Please refresh the page and try again.