What other things do I need to use Google Home?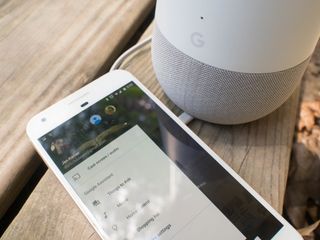 Google Home aims to make your life easier, but you will need a few things in order to use it. Don't worry though, chances are you already have access to the three integral parts of using Google Home. We've got the details for you here.
Internet, account, and apps
There are three prerequisites you need to possess before using Google Home:
Internet service and an in-home Wi-Fi connection
A Google account
Apps to connect the service to
The odds are that you already have Wi-Fi where you plan to use Google Home, a Google account, and apps that are compatible with Google Home installed on your phone. If this is the case, then you've already done the hard work of making sure that you have everything necessary to use Google Home.
You'll use your Google Account as authentication of who you are when linking apps, making purchases, or accessing your Google Play library. Once you plug Google Home in and set it up, it'll use the internet in order to access goods and services, as well as answer any questions you have. No Wi-Fi means no Google Home services.
Last but certainly not least are the apps you'll want to link with Google Home. These apps include Spotify or Pandora for music, as well as apps for your connected home (like Nest or Hue). By connecting to your existing account, you're able to connect to everything from a single hub. Probably the most important app to use with Google Home, though, is IFTTT which can let you use Google Home and your connected accessories to personalize your experience.
How to connect Google home and IFTTT
Questions?
Do you have questions about what is needed in order to use Google Home? Are you having issues getting set up? Let us know in the comments below!
Jen is a staff writer who spends her time researching the products you didn't know you needed. She's also a fantasy novelist and has a serious Civ VI addiction. You can follow her on Twitter.
Wife clicks her shutter button on her iPhone and does NOT touch a single additional button. Then walks into our family room and asks for a photo to appear and auto-magically the TV turns itself on, the input sets, and the photo with very fine detail appears. But here is the kicker. It appears in 4k!! Does my wife have the new HomePod? No she simply purchased a Google Home and a 4K Chromecast. She also installed Google Photos on her iPhone. The work to tie everything together was simply logging into her Google account and that is it. Google made it all just happen. Honestly, Apple just feels like they have lost their way. One button press is the lowest friction you can get! But it is Google doing it with Apple hardware and NOT Apple. Then consider the ONLY way to see your iPhone photos in 4k on the largest screen in the house is from Google. BTW, I am talking like crazy fine details you can ask and get with this setup. So say show me Johnny building a sandcastle. Or pretty much anything you can think of. Sally tea party. Sunset. Photos from last month. I mean basically any place, time, person, object, and even color objects, etc.

When will it be available in Italy?
Android Central Newsletter
Get the best of Android Central in in your inbox, every day!
Thank you for signing up to Android Central. You will receive a verification email shortly.
There was a problem. Please refresh the page and try again.