Everything you need to know about 4K streaming on Chromecast Ultra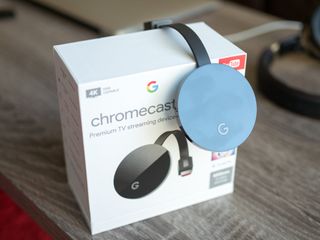 (Image credit: Android Central)
Google is doing its part to make 4K streaming more accessible, but buying a Chromecast Ultra is only part of the equation. In order to stream a the highest-available resolution you'll need a few different pieces to come together. Namely you need a display that can handle the resolution, enough internet bandwidth to carry all of those extra bits and of course you have to find the 4K content to stream.
It's going to be a little while before 4K streaming is ubiquitous, but you can be ahead of the curve with your Chromecast Ultra and all of the right equipment to support it.
First, a 4K screen
The most important starting point for this equation is a screen with a 4K (or UHD) resolution. Though that can mean a computer monitor, chances are you're looking to use this with a TV. 4K TVs aren't nearly as expensive as they used to be, and it's actually getting kind of tough to buy a new TV that isn't 4K. Go pick up a new TV with the resolution, and you'll be good to go.
More: Best 4K HDR TVs under $700
If you want to guarantee compatibility, make sure the TV you're buying (or the one you have) supports HDCP 2.2, which is a prerequisite for streaming copy-protected content on the Chromecast Ultra. If you use an A/V receiver or a soundbar system with your TV, those will also have to be HDCP 2.2 compliant.
While you're shopping, you may consider splashing a little extra cash to get a TV that supports HDR video as well. You'll get more vivid colors and dynamic range, and the Chromecast Ultra supports HDR streaming. Another nice-to-have feature is HDMI CEC, which lets the TV and Chromecast Ultra talk to one another, enabling features like the Chromecast turning the TV on and outside devices to control the Chromecast via the TV.
A lot of bandwidth
You either have a 4K screen or you don't — that part is pretty easy — but whether or not you have enough internet bandwidth is definitely another question. In order to stream in 4K, Google recommends at least 20 mbps sustained speeds for the Chromecast Ultra — and for what it's worth, Netflix recommends 25 mbps. That honestly doesn't sound like too much if you live in a major city and have cable internet, but there are a few things to consider here.
Just because you have advertised speeds of (usually denoted as "up to") 20 mbps to your home doesn't mean that you have that speed sustained — it could be much less. If you do have that much bandwidth, you have to also take into account the fact that multiple devices in your home are likely sharing that bandwidth, and depending on the quality of your Wi-Fi router at home that may also take a chunk off the top of your internet speed as it's delivered to the Chromecast Ultra.
If you don't meet the bandwidth requirements, the Chromecast Ultra is likely to fall back to streaming in 1080p in order to keep the stream going. Chances are it'll still look really good, and will stream smoother, but then again it won't look any better than streaming in 1080p from a cheaper second-gen Chromecast, either. If you are using a slower DSL connection or find your cable internet slows down heavily at peak times, you may never be able to stream in 4K.
External power brick
If you had one of the prior two Chromecast models before your Ultra you may have enjoyed the freedom of running your Chromecast off the power provided by a USB port on the back of your TV — saving you from extra cables and power outlets. With the Chromecast Ultra, it's a requirement that you use the included power brick if you want to stream in 4K, as the new model draws more power than previous generations, and more than any TV can reliably provide.
The power brick outputs 5V/1A of power, so theoretically you could use any power brick you have laying around that offers the same output, but considering the included one is ... well, included, you might as well use it.
The power brick is a little bulky, but it also has the benefit of giving you an ethernet port, which means you can get your Chromecast Ultra hooked up to a wired network without extra accessories. Since many people have a router or switch in their home entertainment setup, this may be the best way to ensure you meet those above-mentioned bandwidth requirements for 4K streaming.
Now find the 4K content
So you've jumped through all of the hoops in terms of hardware, now you just have to find some content that actually streams in 4K. It's true that the majority of what you'll find out there today is still in 1080p, but there are a few reliable sources for finding that high-resolution goodness you bought the Chromecast Ultra for.
After you search through and find some good 4K video to be impressed by you're likely to fall back to watching mostly 1080p video as you start to make viewing choices based on the actual content rather than the resolution. But with the Chromecast Ultra all set up and ready for 4K, you'll seamlessly stream the highest-quality video when available — no need to configure anything extra. Eventually, more and more of what you actually want to watch will also be coming at you in 4K.
Get the Android Central Newsletter
Instant access to breaking news, the hottest reviews, great deals and helpful tips.
Andrew was an Executive Editor, U.S. at Android Central between 2012 and 2020.