Everything you need to know about 4K streaming on Chromecast Ultra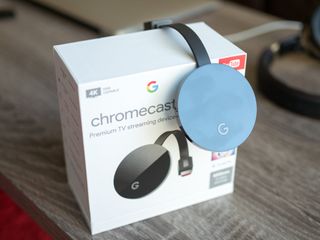 (Image credit: Android Central)
Google is doing its part to make 4K streaming more accessible, but buying a Chromecast Ultra is only part of the equation. In order to stream a the highest-available resolution you'll need a few different pieces to come together. Namely you need a display that can handle the resolution, enough internet bandwidth to carry all of those extra bits and of course you have to find the 4K content to stream.
It's going to be a little while before 4K streaming is ubiquitous, but you can be ahead of the curve with your Chromecast Ultra and all of the right equipment to support it.
First, a 4K screen
The most important starting point for this equation is a screen with a 4K (or UHD) resolution. Though that can mean a computer monitor, chances are you're looking to use this with a TV. 4K TVs aren't nearly as expensive as they used to be, and it's actually getting kind of tough to buy a new TV that isn't 4K. Go pick up a new TV with the resolution, and you'll be good to go.
More: Best 4K HDR TVs under $700
If you want to guarantee compatibility, make sure the TV you're buying (or the one you have) supports HDCP 2.2, which is a prerequisite for streaming copy-protected content on the Chromecast Ultra. If you use an A/V receiver or a soundbar system with your TV, those will also have to be HDCP 2.2 compliant.
While you're shopping, you may consider splashing a little extra cash to get a TV that supports HDR video as well. You'll get more vivid colors and dynamic range, and the Chromecast Ultra supports HDR streaming. Another nice-to-have feature is HDMI CEC, which lets the TV and Chromecast Ultra talk to one another, enabling features like the Chromecast turning the TV on and outside devices to control the Chromecast via the TV.
A lot of bandwidth
You either have a 4K screen or you don't — that part is pretty easy — but whether or not you have enough internet bandwidth is definitely another question. In order to stream in 4K, Google recommends at least 20 mbps sustained speeds for the Chromecast Ultra — and for what it's worth, Netflix recommends 25 mbps (opens in new tab). That honestly doesn't sound like too much if you live in a major city and have cable internet, but there are a few things to consider here.
Just because you have advertised speeds of (usually denoted as "up to") 20 mbps to your home doesn't mean that you have that speed sustained — it could be much less. If you do have that much bandwidth, you have to also take into account the fact that multiple devices in your home are likely sharing that bandwidth, and depending on the quality of your Wi-Fi router at home that may also take a chunk off the top of your internet speed as it's delivered to the Chromecast Ultra.
If you don't meet the bandwidth requirements, the Chromecast Ultra is likely to fall back to streaming in 1080p in order to keep the stream going. Chances are it'll still look really good, and will stream smoother, but then again it won't look any better than streaming in 1080p from a cheaper second-gen Chromecast, either. If you are using a slower DSL connection or find your cable internet slows down heavily at peak times, you may never be able to stream in 4K.
External power brick
If you had one of the prior two Chromecast models before your Ultra you may have enjoyed the freedom of running your Chromecast off the power provided by a USB port on the back of your TV — saving you from extra cables and power outlets. With the Chromecast Ultra, it's a requirement that you use the included power brick if you want to stream in 4K, as the new model draws more power than previous generations, and more than any TV can reliably provide.
The power brick outputs 5V/1A of power, so theoretically you could use any power brick you have laying around that offers the same output, but considering the included one is ... well, included, you might as well use it.
The power brick is a little bulky, but it also has the benefit of giving you an ethernet port, which means you can get your Chromecast Ultra hooked up to a wired network without extra accessories. Since many people have a router or switch in their home entertainment setup, this may be the best way to ensure you meet those above-mentioned bandwidth requirements for 4K streaming.
Now find the 4K content
So you've jumped through all of the hoops in terms of hardware, now you just have to find some content that actually streams in 4K. It's true that the majority of what you'll find out there today is still in 1080p, but there are a few reliable sources for finding that high-resolution goodness you bought the Chromecast Ultra for.
After you search through and find some good 4K video to be impressed by you're likely to fall back to watching mostly 1080p video as you start to make viewing choices based on the actual content rather than the resolution. But with the Chromecast Ultra all set up and ready for 4K, you'll seamlessly stream the highest-quality video when available — no need to configure anything extra. Eventually, more and more of what you actually want to watch will also be coming at you in 4K.
See at Best Buy (opens in new tab)
Android Central Newsletter
Get instant access to breaking news, the hottest reviews, great deals and helpful tips
Andrew was an Executive Editor, U.S. at Android Central between 2012 and 2020.
Really interested in this, but currently use Plex to manage my media library. One of my biggest reasons for sticking to my Nvidia Shield is the fact that it handles HEVC / h.265 natively, so ultimately no need for any transcoding on the server side. Does anyone know what file formats this will be able to handle playing directly without the need for transcoding. I have tried for ages to find this out but to no avail!

Just bought mine yesterday and I can confirm native HEVC decoding (via BubbleUPnP and the Castnow nodejs app). Plays all the scene MKVs I throw at it, no problem. Dunno about the higher bitrate stuff, but the SoC must be up to the task if it can handle HDR content.

I'm disappointed that they don't support google photos is 4k at launch. Hopefully they'll add it shortly.

Does it matter which type of HDR the TV supports?

Does it support the Ethernet Adapter for Chromecast?

It includes one in the box.

I'm curious about one thing: Netflix in 4K currently only works on non-PC sources. However, only on PC (Windows 10 app or web browser) do you have access to the Ctrl+Alt+Shift+S shortcut which guarantees max bitrate for the entire duration of the video. Thus, what chance in hell is there that by using a Chromecast Ultra things will actually look better than on a PC all the time, not just when Netflix decides my Internet speed is "juuust right"?

I guess the short answer is you can't. Since Netflix gives the user no option to specify bitrate on these devices, you kinda have to take their word for it. For those who don't know though, there is a Netflix Test "show" that you can search that will actively show you what resolution, bitrate, and other stats that running while you watch the test. Though not perfect, it is a good indicator of what your device is currently pulling down from Netflix servers. I found it by searching for "test patterns".

It's not so much "juuuust right" as Netflix and Google both lay out minimum requirements to stream in 4K. Meet them, and you'll get it. Though you can't force it to have a higher resolution, most people want it to just stream and figure it out. They don't want to configure and tweak things ... particularly with something like the Chromecast that doesn't have its own UI or settings on screen. So many people would rather just watch in 1080p on Chromecast than plug a PC into their TV to force 4K, y'know?

This absolutely should also have multi room audio at this price. I'm tired of switching inputs and having 2 devices on the same entertainment center doing basically the same thing

Are there actually any movies on Google Play in 4K yet? I know Google said they would be selling 4k content, but I can't find any evidence it's up yet.

You need to get a better TV, bro.

Thanks for your ... input? Bro. I quite like my Vizio P-series.

I was just joking. Just strange to see a limitation on the HDMI inputs like that.

HDCP 2.2 WILL frustrate you!!!
So I hooked up My Chromecast Ultra and so far I am not happy with the results.
Equipment in play:
Vizio M60-C3 (HDCP 2.2, HDMI inputs 1,2 & 5)
Denon AVR-X3000 (non-HDCP 2.2) **With the Chromecast hooked up directly to the Denon**
The Vizio registers a 4k resolution signal
4k content will not play in 4k
Dolby Digital Sound signal is received by the Denon **With the Chromecast hooked up to the Vizio**
The Vizio receives a 4k resolution signal
4k content will play in 4k
ONLY 2 channel sound is received via ARC by the Denon I may need to replace the denon but I am going to try some other less expensive solutions first. *Please note that when I use the build in Netflix app on the Vizio I get 4k video and Dolby Digital Sound to the Denon. Also my DirectTv 4k Mini that is hooked up directly to the Vizio will pass Dolby Digital Sound signal to the Denon via ARC.

You need HDCP 2.2 on all devices, otherwise you can't see a picture.

@BEN1481
As in my first example that is not the case. I received a 4k signal but all content was delivered at a maximum of 1080p.

Be aware that the Netflix app on the Chromecast only does stereo or Dolby Digital Plus, it won't do good ol' AC-3 Dolby Digital 5.1.
I think the Chromecast handshake sees it's connected to a 2ch built-in TV speaker system (blind to the the ARC output) and doesn't offer anything over stereo.
My solution for similar issue was ebay. Sold my receiver for $50 and picked up a nice Onkyo tx-444 for $150. It does 4k, and is HDCP 2.2 compliant, so Chromecast Ultra into that, I get 5.1 or more. So now I really have no use anymore for any of the redundant VIA apps, plus no more input switching on the TV is nice.
Read the "best answer" on this post for info:
https://productforums.google.com/forum/#!topic/chromecast/vgvreiV17Eg

I found a wonky bug. My Chromecast Ultra work fine over wireless, however, I want it on a wired connection. Found it odd that it was REQUIRED to set it up over wireless, but whatever...no big deal. So I get it all setup, start casting an episode of Daredevil (as it's one of the few HDR/4k titles available) and sure enough - my wireless isn't quite good enough to provide a seamless stream - so I plug in my ethernet cable. It works great, and in about a second - I'm looking at crystal clear video and audio - terrific. The problem comes in when I go back to Cast and I can't find my Chromecast Ultra on my cast list - it disappears (even though my TV is still casting). I unplugged the ethernet cable and boom - I can cast again, but my quality goes back subpar. Thought it was a weird setup bug - so I factory reset it - did it all again - same thing. I can cast to it fine only if it's on the wireless network, but not if it's plugged into the ethernet port. I've sent a req to Google but hadn't gotten a reply...I believe what we're seeing here is yet another in the long line of half-though out products with bugs and weirdnesses that'll have to be fixed later...Google...this is why we can't have nice things....YOU Jack

If I get this right, you need such a ChromeCast-4k device, a very powerful WLAN, and at least a middle class smartphone to view 4k/HD-content on your TV. The solution that works best for me is a simply Ultra-HD-4k-HDMI cable connection between my PC and my TV for about 10 EUR. And if you add up the cost of all the necessary devices, you can buy a suitable PC instead, which can be used much longer and more universal.

You don't need a high end phone to cast at 4k
Android Central Newsletter
Get instant access to breaking news, the hottest reviews, great deals and helpful tips
Thank you for signing up to Android Central. You will receive a verification email shortly.
There was a problem. Please refresh the page and try again.