What watch face are you using on your Galaxy Watch?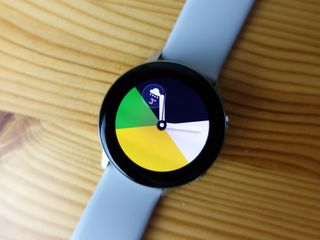 (Image credit: Android Central)
When it comes to smartwatches that work with Android, two of your best options right now come in the form of the Galaxy Watch and Galaxy Watch Active. Both watches run Samsung's Tizen operating system and are chock-full with just about every feature you could ask for.
App and watch face support for Tizen has continued to grow over the years, and when a new Galaxy Watch user asked what watch face apps the AC forums recommended, this is what some of our users had to say.
Now, we'd love to hear from you. What watch face are you using on your Galaxy Watch?
Join the conversation in the forums!
Joe Maring was a Senior Editor for Android Central between 2017 and 2021. You can reach him on Twitter at @JoeMaring1.
I love digital watch faces and one thing I notice is regardless if it's an analog watch face or a digital watch face, they all try do too much. Over loading the watchfaces with a lot of features, fancy animations and too much photoshopping. I had a few digital ones free of charge once a upon a time on the Galaxy App Store and created them with Samsung Watch Designer. But Samsung does a poor job providing tools to developers. Limitations as well that I gave up and currently using one developers watchfaces that are so minimal that it looks beautiful. If anyone one is interested in trying it, the watch face is called SQS004_FWF

I'm currently using the AirMonster from Omage Watches. I have a few of their watchfaces. They are very realistic Homage watches with original details. The Airmonster has F-14 fighter jets at both ends of the sweep second hand. On one end, the wings are extended and at the other they are pulled in. I can customize the background, numbers and logo and also launch key apps with a tap. Here is a link to their stuff in the galaxy store: https://galaxy.store/OmageW

I use the SpyMonster 200. Simple, yet realistic analog diver with hot spots to tap to launch stopwatch, battery, steps and calander apps. I get the best of both worlds, looks like a classic watch but i can customize the background color/pattern and get to key info with a quick tap. Just search for spymonster in the galaxy store. Pretty sure its the same brand PAlt mentioned (Omage Watches)

I use Facer and created my own watch faces using their online tools. I'm picky and wanted something more than I could find already existing.
Android Central Newsletter
Get the best of Android Central in in your inbox, every day!
Thank you for signing up to Android Central. You will receive a verification email shortly.
There was a problem. Please refresh the page and try again.