What texting app are you using in 2020?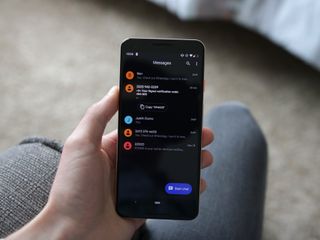 (Image credit: Joe Maring / Android Central)
While messaging apps like WhatsApp, Telegram, and Signal get a lot of coverage and buzz, there's something to be said about good old-fashioned SMS texting. It may not be as feature-rich or secure as those other platforms, but its sheer ease-of-use means that it's something a lot of us still rely on every single day.
Your Android phone comes with a texting app right out of the box, but if you take a gander at the Google Play Store, you'll find a plethora of third-party ones that offer additional customization tweaks and features that can really elevate your texting experience.
Our AC forum members often talk about their favorite texting apps, and recently, that conversation was struck up once more when someone asked for recommendations on what texting app they should use.
Now, we want to hear from you — What texting app are you using in 2020?
Get the Android Central Newsletter
Instant access to breaking news, the hottest reviews, great deals and helpful tips.
Joe Maring was a Senior Editor for Android Central between 2017 and 2021. You can reach him on Twitter at @JoeMaring1.
Google Messages and WhatsApp.

SMS Organizer, by Microsoft.. Wondering why nobody has mentioned it. Tried multiple apps before I settled for this one.

Checking it out, says it's in early access. Which is probably why nobody is mentioning it. I hadn't heard of it until now. It does look pretty good, I'll give it a shot before I go back to Textra anyway, lol

Aaaaaand, I switched back, lol. They had some neat features, but still prefer the look of Textra

Messages. My stock messaging app stopped showing new messages. Messages is ok. I'm not all that impressed with it. Mms is fine but rcs messages all require me to turn off wifi calling or they won't download. I don't have a good signal in my house which is why I'm using wifi calling to begin with.

At least in my phone they fixed that issue with Google messages. It works fine over WiFi now. I'm pretty much always in WiFi

Textra. I like Verizon messages, but it screws up way too much, sending things out of order. Textra does everything I want, reliably. Delayed sending so I can double proofread is a lifesaver.

Whatsapp.. Rarely use SMS messages for Personal use these days.

Goggle messages of course, trying to convert my friends

Google Messages now. Used to use Message+ by Verizon and Samsung Messages in between.

I wish Google Messages would let me schedule messages like Samsung does.

The only times I get SMS messages is when I change a password! or from my bank or phone company when I travel to a different country.
Are we still in 1999

Surprising to see no one mentioned telegram as it is quite popular and used by millions, almost half a billion downloads on playstore. I use WhatsApp and Telegram.

Samsung Messages
WhatsApp

Non Americans, just don't make your generic asinine comments about how superior you think you are about using WhatsApp. We literally don't care. Google messages.