What is Google+ and why should I use it?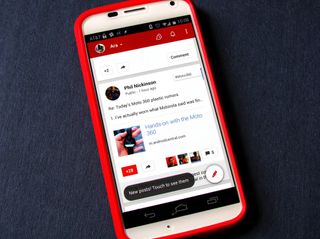 Part social network, part beta system
Google+ is something of a black sheep in the world of social media. Even as a young network of three years that has grown faster than many of the current leaders, Google+ has been disparaged and shunned by much of the public for the moves Google has made with it. Google+ has long required users to use their real name as their screen name, a move which was made even more unpopular when Google announced that YouTube comments would take place through Google+. That requirement is now gone, much to the delight of SamsungKnight1134.
Recently, the departure of the public face of Google+, Vic Gundotra, led many to call the network dead. These naysayers claim Google+ doesn't work, it doesn't make sense, and that it's a ghost town. I'm here to tell you that they're wrong. It is alive, it absolutely works, and you should almost definitely use it. How do I know?
Because I wouldn't be writing here without it.
Google+ has been my primary blogging platform since the beginning, and my primary social platform for over a year. Every week I'd meet a few more people who liked my writing and wanted to talk tech. I'd share my posts in any community I dared in the hopes that more established writers could help guide my writing, shape it for the better. With a timely post on rooting, I managed to catch the eye of some very established writers, and they decided to take a chance on me here at Android Central. So to me, Google+ is a little more than just a social network, and I'd like to help share its bounty with you.
What is Google+?
Google+ is a social network that builds off of your Google Account. If you have a Google Account, you can activate your Google+ account as easily as you would activate Google Now. At first, it seems about the same as Facebook or Twitter, importing contacts and assigning them to circles — Google+'s version of lists. After that, you can add curated circles for your particular interests, entertainment, news, sports, etc. That said, the first big difference is that Google+ isn't reliant on any of those real-life contacts you import. I went into Google+ with none of my family or friends using the site. That's right, none. And that was perfectly fine, because my feed is not clogged with baby pictures and engagement announcements like Facebook is. It's filled with Android, cooking and Disney. Because those are my interests and my passions, and that is a big part of what Google+ is for: connecting you to other people who are interested in your passions.
Communities and Circles: A place for everything, and everything in its place
Google+ helps you connect to others with your passion with Communities, and helps you keep those interests separate with Circles. Just as you don't want to share your Facebook party pics with your parents (and maybe you really shouldn't share them anywhere), you don't want to send your pumpkin seed recipe with your fellow Android enthusiasts. I have separate circles for work, news, and tech, and I share directly with communities instead of circles for niche content. I can also control the amount of content I see from each community in my feed in each community's settings. If I want to see lots of Android and not a lot of gardening pictures, that's what I see.
Communities can be as big as 380,000, like the Android community created by Android Central, or be as small as a couple of friends sharing meme GIFs. They can cater to every fandom, hobby, and political affiliation. There are dozens of communities for Android themes, ROMs, mods, and apps. These communities are one of the more valuable tools for users as there is always some up in the communities to answer questions. In addition, some devices like the Moto X have extra help in their communities from product managers and employees from within Motorola. Yet another reason the Moto X and its maker are still awesome after a year.
Beta Testing: Google+ brings developers and testers together
Google+ is especially useful to those whose passion is Android, because it's more than a place to talk about Android and apps: it's a place to help make them better. Beta testing for many popular apps including Nova Launcher, CCleaner, and Beautiful Widgets is done through Google+ due to its integration with the Play Store. That whole "One Account, All of Google" thing has its perks.
Now, these betas are easy enough to get into. Once you join the community, you can use the opt-in link on the community's page to join the beta, and that version will push to your Android devices in a few hours. And the feedback they give developers helps shape the app for future users. I'm in the TouchPal X keyboard beta, and I along with my fellow beta users managed to get Kit Kat emoji support added after our sustained pleas.
Google+ is Google: Uniting services and people who use them.
Google calls Google+ the "social layer" of their services, augmenting many other services such as the Play Store, Gmail, and, of course, Search. While searching for Google (say for Chromebook reviews), relevant posts from your circles will appear in search results. Just as the integration with your Google Account makes beta testing through Google+ simpler, it allows you to more easily share documents from Drive or songs from Play Music with the Google+ share intent across the Android and Google ecosystems. Google+ helps bring together their differing services in order to help serve its users. You can see what apps your friends like in the Play Store, and their reviews can help warn you away from bad content.
This is to say nothing of the fantastic integration between Google+ and YouTube that is Hangouts on Air, which we at Android Central use for our weekly podcasts. The event is posted and promoted through Google+ and the video is then automatically stored on YouTube to watch afterwards. Hangouts on Air isn't just for podcasts and talk shows, it can be used for teaching, business presentations, and even family reunions.
Google+ does have a leg up on other social media sites in that it will never feature ads. It quite simply doesn't need to. In exchange for this network and the conveniences it brings to the Google and Android ecosystems, Google+ makes its profit not off of ads, but off the information it can use to feed them. Most social media sites collect user information for ads, and often sell that data after utilizing it themselves. However, for the others, that begins by placing ads on their own sites, and Google+ has no need for that. Google users will be spending enough time in Search and other websites where AdSense can reach them that it does not need to clutter their social network with it. It is a trade-off, yes, but it's the same trade-off users make when they sign up for any other social network.
It may not be the most popular network on the planet, but Google+ is definitely alive and useful. From beta testing to #Caturday, Google+ is much more than the butt of a joke, and it's worth at least a look. Check out Android Central on Google+ to get started!
Get the Android Central Newsletter
Instant access to breaking news, the hottest reviews, great deals and helpful tips.
Ara Wagoner was a staff writer at Android Central. She themes phones and pokes YouTube Music with a stick. When she's not writing about cases, Chromebooks, or customization, she's wandering around Walt Disney World. If you see her without headphones, RUN. You can follow her on Twitter at @arawagco.