What do you use your smartphone for?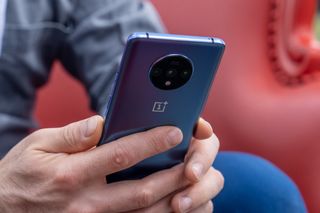 (Image credit: Daniel Bader / Android Central)
It's no surprise to any of us that smartphones are capable of a lot these days. They make phone calls, can take incredible pictures, play graphically-intensive games, and so much more.
It can be easy to take our phones for granted, and when you step back and really look at everything you do with it on a daily basis, it can be pretty mind-blowing.
Here's what some of our AC forum members do with their phones.
Now, we want to hear from you. What do you use your smartphone for?
Get the Android Central Newsletter
Instant access to breaking news, the hottest reviews, great deals and helpful tips.
Joe Maring was a Senior Editor for Android Central between 2017 and 2021. You can reach him on Twitter at @JoeMaring1.
Coupons, internet, texting

Calls, texting, personal and professional organizer, traveling, maps, YouTube, information source - surfing the web etc., music, a few games - basically my personal assistant...

Since December my OnePlus 6T has become my home broadband connecting all my other tech via HotSpot or Bluetooth. My One Unlimited 55+ plan has allowed me to save $650+ by cutting FiOS. That savings will pay for an X55 5G modem device once they become available. Just waiting on Qualcomm, T-Mobile and ....

That's pretty good use of unlimited for sure, but I have to assume you live alone? Otherwise it would be very annoying to want to go online for anything, only to learn the "internet" went out to the store lol

In order of significant use: SMS texting, Twitter, Email/Calendar, FB Messenger, Photos, Music, Videos, OneNote and Excel editing, phone calls.

Reading comments on Android Central

Texts (regular and WhatsApp), Calls, rarely facetime and sometimes map, Youtube and checking things I'm selling on the app Letgo. One time I've left my phone at work on Friday pm, and left it there until Monday. :-)
Tweeter is the app I use the most....... a few time during the day... I would prefer to use my tablet than my iphone, mainly because of the screen size.

My tech news, sports and gaming. Texting emails and... uh... Calls! Lol

Communication in all forms (emails, sms, calls and social media) reading phone news and others, maybe some music if I have to wait around.. Also, YouTube if I am extremely bored. Some camera pics as well 👌that's about it!

I use my phone for the following:
YouTube
Music
Movies (connect my phone to the tv)
Writing poems and quotes
Emails
Social Media
Web browsing
Taking photos (Occasionally)
Editing photos and videos
Editing my game clips and game screenshots. (I prefer editing everything on my phone or iPad. I never once used my laptop to edit, like never.)
Phone calls (once in a blue)
Paying bill
Sending my son money
Alarm Clock (I never notice once hit snooze in my life time)
Etc
Etc
My iPhone and iPad Pro has replaced 90% of my laptop. The 10% that's still missing is when I need a driver or need to use software isn't available for my phone. Which is rare these days.

Hmm...I'd say Calls
Texts
Paying 90% of bills
Facebook
E-books (reading)
Music
Field notes/Measurements (One Note)
Games
E-mail Not necessarily in that order

Reading e-books, browsing articles, emails, calls, music, podcasts, alarm, slack, twitter, sms, WhatsApp, occasional videos.