What do you think is the best smartphone of 2019?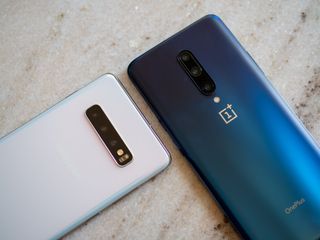 (Image credit: Android Central)
2019 is quickly on its way out the door, and as we inch closer and closer towards the end of the year, it's fun to look back on all of the smartphones that have been released over the last few months.
The beginning of the year got started with a bang thanks to the Galaxy S10 (opens in new tab) series, the Huawei P30 Pro (opens in new tab) asserted itself as one of the most impressive handsets thanks to its outstanding cameras and battery life, and the Pixel 3a (opens in new tab) was a big boon for the mid-range market.
And, of course, that's not to forget Samsung launching the Galaxy Fold as the first mainstream foldable phone.
It's safe to say that 2019 has been an exciting year for smartphones, and looking through the AC forums, a lot of people have some thoughts to share about this year's highlights.
What say you? What do you think is the best smartphone of 2019?
Joe Maring was a Senior Editor for Android Central between 2017 and 2021. You can reach him on Twitter at @JoeMaring1.
Note 10 plus, in my opinion.

IDK about which is best, but ya gotta give kudos to the amazing Asus Rog Phone 2, or whatever it's called.
Really impressed with what they did. I would use one if I could afford it, and it's not exorbitantly priced.
I'm not a gamer at all. They looked at this from a clean slate, usb ports x 3, 6100 mah battery ota, 120 hz screen. Just amazing.

Still the Note 9! No hole, no notch, audio jack, fantastic features, great screen, good battery life, still powerful and smooth running, and fully paid! Did I mention no camera hole...

IMO, the LG G8 Thinq. Personally, I think the phone is complete with everything. It doesn't lack anything for a modern phone,and since I'm someone who needs good audio from a phone it's my pick. Using the LG G7 thinq right now and will definitely make that switch when the prices drop.

There is no single one phone that is the very best in every category. But if I were to pick one that is a flagship, with a host of everything, like sd support, wireless charging, great screen, hifi dac, in screen fingerprint reader. I'd have to go with the ZTE axon 10 pro, especially for the price. I currently have an LG V30 that is truly a loaded phone, and I wouldn't hesitate to buy another LG. But for the price, it's the ZTE

If I go according to the reviews, the One Plus 7t wins 2019.

The Note 9 has treated me... VERY well.

iPhone (any of them), then the Galaxy S or Note series. Nothing else is really worth it, honestly. Maybe a pixel 3a if you can get a deal.

Going by the specs and price, the OnePlus 7t Pro would be the winner for me; it ticks the right boxes, and keeps the price down by cutting back where it doesn't matter too much for me. Big con = Chinese. If only the Galaxy 10 series came without a notch, punch hole or bezels...
Android Central Newsletter
Get the best of Android Central in in your inbox, every day!
Thank you for signing up to Android Central. You will receive a verification email shortly.
There was a problem. Please refresh the page and try again.