This is what the BlackBerry KEY2 looks like [Update]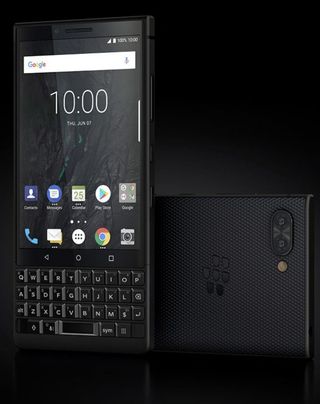 Updated June 5, 2018: Shortly after Evan Blass shared the original renders, he came back to showcase the KEY2 in an all-black paint job. Check it out below 👇
https://twitter.com/evleaks/status/1003966099837341696
This Thursday, June 7, BlackBerry will be hosting an event in New York City to unveil the KEY2 — the successor to last year's excellent BlackBerry KEYone. Just a few short days before that event, Evan Blass has taken to Twitter to share a few press renders of the upcoming phone.
Similar to what we've seen from previous renders and hands-on photos, they KEY2 shares a very similar form factor compared to the KEYone.
The front is home to a large touchscreen display and below that is a full-fledged physical keyboard. In between those are capacitive navigation buttons for making your way around Android, and the fingerprint sensor appears to reside in the spacebar once again.
Around back is a textured finish with the BlackBerry logo and dual cameras, with the bottom frame being home to a USB-C port and two speaker grills. Along with that, the right side of the frame looks like it'll be home to an extra button along with the volume rocker and power/wake button.
We still don't know what kind of specs the KEY2 will come equipped with or how much it'll cost, but those fine details will soon be set in stone later this week.
How are you liking what we've seen so far of the BlackBerry KEY2?
Joe Maring was a Senior Editor for Android Central between 2017 and 2021. You can reach him on Twitter at @JoeMaring1.
Please have a big battery please have a big battery. 🤞 🤞🤞🤞

Looks awesome just like any blackberry phone. Is bb still responsible for the design of the phone or is it all tcl? If its tcl then I must credit them for capturing that classic blackberry feel. I really wish more company take on this design cues instead of the fragile looking design we get this days.

I would think BB has some input to provide just like Nokia does.

Yes the phone looks fabulous. Already purchased the blackberry motion which is truly a gem, but the KEY2 rocks as well. All the best to another brilliant phone from blackberry.

Oh my! This looks beautiful. I don't know if it's enough to lure me away from the Note 8. And the camera is important for me even though this is geared more toward being a workhorse and not camera, I like the Note 8 does both. I'm loving the layout though.

Fantastic! It reminds me more of the silver edition Passport. Getting this for sure.

My thoughts exactly. As soon as I saw this it reminded me of my SE Passport, probably my second favourite BlackBerry behind the Bold 9000. May have to get this, we'll see.

It really does. That's all I was seeing when I was looking at the pictures.

So we have seen pics of a silver and a black version? Two different versions maybe one with more premium specs than the other? Here's to hoping...

This is actually looking really good, wasn't thinking of getting BlackBerry again for a second phone but if the specs are match the design language it may peak my interest.

I just wish they didn't use the capacitive navigation keys. Takes away potential screen space and now compromises how it will run on Android O.

This is beautiful. If I hadn't bought my pixel 2 xl this would have definitely been my Priv replacement. Maybe the Key3 next year...

Darnit! The capacitive buttons are still there! It was far too easy to accidentally press them when typing before. :(

Not to mention that the keyboard makes for a small screen - and yet they waste space on capacitive buttons that don't need to be always there. If ever a phone were crying out for on-screen buttons (and a notch up top, while we're at it), this one is. And with gestures apparently soon to replace navigation buttons (at least as an option), hardware buttons are going to look pretty silly next year. My Axon 7 has them, and I've always wished it didn't - but the constituency for capacitive buttons was really loud in the community forum there.

This I can agree on. This would be so much nicer to take advantage of the full screen w/o capacitive buttons. Especially with swipe features of the keyboard. I think in 2018 capacitive is a bit outdated

Having a 55% screen to body ratio is more like 2008 ;)

Yup. Those buttons gotta go. Hello this is blackberry! Using gestures on BBB10 was great. Skin and mod this blackberry to bring it BACK to the future please

I really wish they just put the nav buttons on the keyboard.

The sound had better be better than the Keyone or I'm going to stick with my lovely Passport SE.

Still using my passport se in 2018 with no camara because mine seems to have a problem when starting the camara application, I would have to say if the key2 isn't water resistant I have to pass and look elsewhere which i dont want to but i need a camara for the summer! I need a keyboard water resistanttt please.

If this is on T-Mobile and has Wireless Charging, I will pick it up

Welcome to 2007.... If this form had come out in 2007, it would have kicked azz. The irony is you'd say 2017 was a good year for BlackBerry if you correctly state they sold 25% as many phones as the Pixel... But only 850,000 Blackberrys were sold worldwide. If your parents are in their late 60s or early 70s... It's a better option than a smart Jitterbug...

Looks cheaper. The keyboard on the k1 looks to be better integrated. K2 looks like and off the shelf piece. Capacitive buttons are a waste of display space. Should really extend from top to keyboard and have that dumb notch to maximize the restricted available real estate. Good luck TCL, I'm still using my k1 but I'm ready to move on to Samsung or even apple. The keyboard is the only thing keeping me around but if the k2 is as slow as the k1 I'm going to look elsewhere.

It's obviously going to be faster than the KEYone since it'll have the SD 660

If you want speed, apple is the choice. My 6s is still faster than most new android phones released now.

It isn't... But even if it was... All smartphones today are fast. The network you are on is the best predictor of speed. Differences in mobile CPU speed are milliseconds at best... Tiny fractions that don't matter. A practical power difference would be a phone that can play 4K video at 10 frames per second (no, your 6S can't do that).

Yeah, but they have weaker antennas than Android devices. My S9+ gets a bar or two more than my iPhone X in weak cell coverage areas (Verizon).

Apple? Nope! That would be Sony XZ2

i think I'll give it a try, i am using note 8

I wonder if the displays will pop out of these ones as well?

had before! i don't think they will repeat the same

Don't get this Dan. DO NOT buy this Dan...

Mi mix 2s is faster than any iphone lol...is not 2008 anymore...Sony, s9 are faster than the new iphone.

The silver/aluminium variant of the Key2 looks awesome. Well done BlackBerry!!

In looking over the comments, it seems that fans don't want the capacitive buttons. Makes you wonder if anyone is listening. I hope it still has that retro tech look. The Key 1 reminded me of something from the original Star Trek.

Man, reading the articles here on the KEY1 and KEY2 really make me miss my Treo.
While the keyboard was good, I think what I liked about it was my big hands fit the form factor better. It wasn't trying to be the slimmest phone around. And on my S7, I can type better on it when it's in a fat case than when it's out of it.
Does anyone know of a battery back for the K1?

Very sharp device. They got the KEY2 right.....all of it. If the specs are correct with the SD660 (don't be mistaken - this is considerably stronger than the Keyone's 625), then buying one is a certainty. It IS the Passport SE with Android it seems.
Android Central Newsletter
Thank you for signing up to Android Central. You will receive a verification email shortly.
There was a problem. Please refresh the page and try again.