What are you hoping to see in Android Q?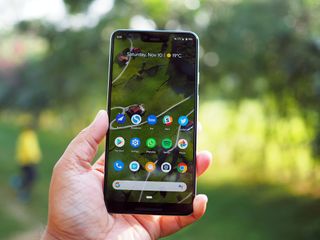 Earlier this week, we published an article called Top 6 things we want to see in Android Q. The next version of Android will be here before you know it, and as such, it doesn't hurt to start looking ahead to imagine what we'll see from Google with this upcoming iteration.
Now that we've told you what we want to see in Android Q, it's now time for you to tell us what you want to see.
Some forum members have already chimed in with their thoughts, and they include the following:
Your turn! What would you like to see in Android Q?
Joe Maring was a Senior Editor for Android Central between 2017 and 2021. You can reach him on Twitter at @JoeMaring1.
Allow to us to move the clock back to the right side, where it belongs. Not all phones have notches(yet, hopefully not ever).

Came here to post this. I'm still on Oreo on my Pixel 2 due to this.

I hope that BB10 gestures find their way.

So true. I miss BB10 so much. The best of all the systems. Too bad it didn't work out and it is dead...

The good ol bb10 gesture navigation was so nice. Google should work with blackberry to work on their flow

it's nice to see google trying to catch up to my z10 from 6 years ago. Why didn't google just adopt BB10 and adapt it or just take all the great parts to make android better years earlier?

ecosystem-wide black mode. Not blue-filtered, but grey-on-black.

System wide dark mode, navigation gestures changed & better battery stats

Smarter cache management: No user should ever need to clear cache watch can sometimes be >1GB. I know there are apps like Files to monitor and remove it but you never here iPhone users needing to clear cache. Keyboard improvements: The keyboard has surprisingly gotten much better at suggesting text recently and I'm sure it has to do with the auto compose feature in Gmail. But swiping to text sometimes gives me words that are not logical. The Windows Phone keyboard still had the best texting experience and I wish this was better.

I haven't seen Pie yet so this article is way too early. Google needs to fix the community fragmentation problem! So that could be a Q change!

I think it's time to let apps be opened more than once (without messenger-specific hacks like Samsung has). This would also enable sort of a sets or session feature similar to virtual desktops where you can classify running apps into one of these sets or sessions and switch between them. So instead of having one single long list of running applications, you could have one list for research related stuff, one for games, one for messaging with your friends etc.

None of my current phones will see Android Q. None of them have even got P yet!
Android Central Newsletter
Get the best of Android Central in in your inbox, every day!
Thank you for signing up to Android Central. You will receive a verification email shortly.
There was a problem. Please refresh the page and try again.