I'm in love: A week with Substratum/Andromeda theming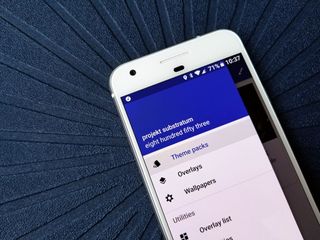 Want to have a dark system theme on your Android phone? Well, if that's not the default theme on your smartphone, you basically have two options: buy a phone that has a theme engine, like a Samsung Note 8, or root your phone and find a custom ROM that's theme-friendly. This is far from perfect, and Google has been working to change it for years, and this year, they've come so close we can taste it. Matter of fact, if you're on an Android Oreo phone, you can get a small taste of system theming with Substratum's newest rootless add-on: Andromeda.
I was apprehensive about what sounded like such an easy way to get the dark themes I've dreamed of for years, but after a week with Andromeda, I can say it: I'm in love!
Bridging the divide with Andromeda
Because we don't have to bother with rooting or custom ROMs, getting started with Substratum and Andromeda is rather quick, and almost entirely painless. Once you've downloaded the Substratum app (opens in new tab) and the Andromeda backend add-on (opens in new tab) on your phone, you head to xda-developers for the Andromeda desktop client that works with your PC. There's a version for Windows, Mac, and Linux — sorry, Chromebook users — and each has everything included to connect to your phone and upgrade the privileges for Andromeda and Substratum to enable system theming.
Now, we need USB debugging enabled under Developer Options on the phone in order for the desktop client to work. Since the upgraded privileges are lost after reboot, we'll have to reconnect to your PC and re-run the desktop client every time you restart your phone. It's quick, but still an annoying necessity. It's worlds easier than rooting, though.
This leads me to an important point: turn off auto-update for Substratum and every Substratum theme you download. Many Substratum themes need a device reboot after an update or things can get unstable, and because you need to re-run the desktop client every time you reboot, if Substratum updates and something breaks while you're out running errands or on a weekend trip without your computer, you could be stuck disabling theme until you get home.
Theming made easy (almost)
Once Andromeda is installed and the desktop client has upgraded the necessary privileges, it's time to go theme shopping. There are a lot of different themes out there for Substratum, and not all of them will work with Android Oreo, nor do all themes theme the same apps and system elements. Here's what to look for with Substratum themes:
Look for Oreo, 8.0, or OMS compatibility in the theme's description. Most themes are quick to say what systems they do and don't support, especially in regards to skinned Android phones like TouchWiz.
Look for a list of themed apps included in the theme. Some Substratum themes just theme the Android system and a few basic apps, while others support dark themes for dozens of Google and third-party apps.
Read the theme's full description before downloading and applying a theme. I know it's hard to resist it, but don't skim. While most warnings in theme descriptions are usually big and bold, some aren't, and applying an overlay that's not compatible can give you a really, really bad time.
While I've dabbled with a couple of themes, the one I've stuck to most is Swift Black (opens in new tab), which supports a lot of different devices and Android versions, and features a whole, whole lot of customization. I've been slowly adding more and more app overlays as the days have gone on, and I am in heaven.
The next frontier of Android theming
If you've been reading Android Central for a while, you've probably heard me begging Google for dark themes for our favorite apps and our favorite system for years. I've been begging them to bring back a dark theme in Google Play Music for four years, and Substratum finally granted my wish. These overlays aren't perfect, but they give me a glimpse of what Android could look like with a dark vision, and it's glorious. Google Play Music's dark theme looks like a jack-o-lantern, just in time for Halloween, and YouTube with a dark theme is heaven, even if it doesn't extend to every nook and cranny of the app yet.
I have little doubt that OMS theming will be coming to Android before too much longer, and then we can all build and enjoy themes that make Android as diverse and beautiful as its users. Until then, Andromeda and Substratum have given me back glorious darkness, and I'm never letting it go.
If you've got a Pixel-friendly Substratum theme you'd like me to check out, reach out to me on Twitter or email. I'm especially looking forward to trying more overlays for Google Play Music and Google Keep.
Android Central Newsletter
Get instant access to breaking news, the hottest reviews, great deals and helpful tips
Ara Wagoner was a staff writer at Android Central. She themes phones and pokes YouTube Music with a stick. When she's not writing about cases, Chromebooks, or customization, she's wandering around Walt Disney World. If you see her without headphones, RUN. You can follow her on Twitter at @arawagco.
It's a little easier on the note 8 with substratum and the system theme. And it is wonderful! Especially the dark theme on an AMOLED screen. Glad I did it.

Love Substratum. They have it working to darken my GS8+. Glad to know it will work with Oreo. Mav.

Thanks so much for posting this, pretty excited to try it out later.

Been using substratum with my S8+ since it has been available. It's been a dream. Absolutely perfect. Especially Swift Black.

Yup. Swift Black is also my choice. Works great on the S7 as well.

I look forward to trying this out, although having to constantly reconnect to a pc means it's likely gonna be even more of a headache than using it on a rooted device with a custom recovery. Hopefully though, Oneplus will use the new OMS features to implement their own dark theme more fully and I won't even have to bother with substratum. I'm not holding my breath.

It's really cool, I used it the other week. The notification of it (substratum) running in the background is annoying though. Also glad you shared the point of turning off auto update, because I didn't know that I can do that.

Go into setting and force stop the substratum app to kill the notification.

Ooh okay, I'm going to try that.

It literally looks like Pixel running on Windows Phone OS from distance, eh? xD

Well, yeah, only with good apps running on it.

Anyone know if LG's theming engine (on the V30 or G6) supports substratum themes?

It currently does not work on the LG G6. I use a Verizon variant and without root, bootloader unlock and a custom ROM that supports it, it isn't compatible. It sucks, but there are currently a lot of themes available for the G6. The only things those themes don't touch are the status bar and nav bar.

Substratum themes without root are only supported on Android 8.0. The G6 runs Nougat so it doesn't support it (but the G6 has themes of its own).
Now, the V30 *might* support Andromeda if it keeps using OMS. If it does, then rootless Substratum through Andromeda should work. BUT it's always better to wait until someone with the phone tries it out.

If you buy the G6 us997 unlocked version you can root and use substratum. Works great!

A problem I've had is that after applying a theme to an app when the app updates it will sometimes cause the app to crash and it won't work until you uninstall the theme. I don't think this is when the substratum app or the theme app is updated but when the app that the theme is applied to is updated. Not sure if this is just an inherent problem with themeing apps, i.e.; the theme developers will always be behind the app developers and have to update their theme for changes to the app.

I've been using the Substratum for Samsung on the S7 to complete the "dark-ification" of the S7 and I love it. And I'm very glad that IF I ever need to use a stock Android device, I can now get rootless Substratum to fix Google's horrendous colour choices. Now I need someone with a XZ1 Compact to try Andromeda on it. My Z3 Compact's screen is menacing to die on me and I'll need a new music player. The XZ1C might be it IF it supports Andromeda (after all, I've keep the Z3C on KitKat on purpose, precisely because it still used the black notification panel and the theme engine allowed then to customise the system UI as well).

If I get one, I'll give it a try. Already bought Swift Black. You'll probably have someone else try it before me though.

Heads up. According to people on XDA the camera contains the same distortion problem as the XZPremium has. Most noticeable when shooting buildings or anything with straight lines. Apparently the results looks like something out of a fish-eye lens.

That's a bummer about the distortion. Thank you.

i just tried it on my XZ1C and holy crap - it worked!

Anyone know how to get back to the default samsung theme? I've uninstalled all the subatratum apps but the subatratum theme is still the "default theme on my phone, even after I've reset it

Did you uninstall the overlays as well? Uninstalling Substratum itself won't remove the overlays you might have installed over apps or the system UI.

I uninstalled subatratum and the swift dark apps. Those are the only things I downloaded from the play store. How do i uninstall the overlays?

You have to redownload the app, along with swift dark and remove the overlay by selecting the ones you have chosen and tap clear overlays or something along those lines.

You have to re-download those apps (Substratum and Swift Dark), then on Substratum swipe from the left to open the panel and select "overlays". You'll then get a list of the overlays you installed. From there you select all and in the bottom right button select "uninstall all". What happened is that you deleted the portals to those themes but you didn't delete the themes themselves ;)

You can also just go into the apps manager and uninstall all the overlays there, if you don't want to reinstall substratum for some reason. They should be fairly obvious to spot.

"Since the upgraded privileges are lost after reboot, we'll have to reconnect to your PC and re-run the desktop client every time you restart your phone. It's quick, but still an annoying necessity" Damn, I have a PIxel and I got two random reboots already. This will suck for me.

So the theme disabled every time you turn ur phone off then on? And then u have to connect to ur PC to install the theme again? Because I installed it on my 6P running Oreo (I only have the navigation bar themed) and it stays themed when I restart my phone, so I'm confused. Can someone clear this up, please

The theme doesn't disable, but you can't apply or update a theme after a reboot.

I've been using Andromeda/Substratum with O/Pixel Dark Mode for two weeks now. I absolutely love it. I really can't stand the excessive white theme on Oreo. Best $4 I've ever spent on apps.

Really love substratum and I switch between 2 beautiful themes:
Compound : https://www.androidcentral.com/e?link=https2F2F...
And Focus : https://www.androidcentral.com/e?link=https2F2F... Both Oreo ready

Been using it about 2 weeks as well and Substratum Black is my favorite as well, I tried two others and went back after a day. I disabled all auto updates because if one of the app using the theme gets updated it won't open and crashes unless you disable the theme. I just update ever few days after I get at least 3-5 updates then reapply the theme. Can't wait until you don't have to use Andromeda, I can't get it to stay authenticated so can only do it when plugged into a PC.

Ara...thank you for the article. Thanks for everyone's input as well. Finally got around to using it on my S8 and it's a KEEPER! No more blinding white for me. Reminiscent of my old Windows Phone.

I liked some of the other black themes but Swift Black is the blackest of them all. It takes a little getting used to but I like it!

That all sounds too hard for a tired old dude like me.... Soon as you mention computers and usb debugging you have lost me in the murk Ara!
Android Central Newsletter
Get instant access to breaking news, the hottest reviews, great deals and helpful tips
Thank you for signing up to Android Central. You will receive a verification email shortly.
There was a problem. Please refresh the page and try again.