Wear OS accounts for less than 12% of the U.S. smartwatch market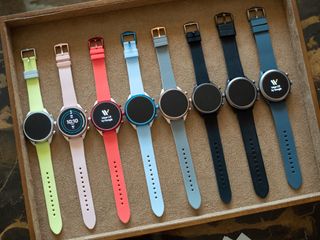 While the smartphone market may be sitting at a standstill right now, the smartwatch market is currently growing. According to an analysis from research firm NPD, dollar sales of smartwatches in the U.S. increased by a massive 51% in November 2018 compared to November 2017 — resulting in total sales of $5 billion. As for unit sales, those saw an even larger 61% increase.
What's resulting in those big numbers? Apple, Samsung, and Fitbit. Per NPD:
As for the remaining 12%, that's being shared by Google's Wear OS watches and smaller brands like Garmin. We could see Wear OS's numbers increase this year thanks to the platform's recent UI overhaul, Snapdragon Wear 3100 processor, and rumored Pixel Watch, but if it does grow, there's no telling by how much.
Looking through the rest of the report, here are a few other interesting stats that stick out:
16% of U.S. adults own a smartwatch (up from 12% in December 2017).
People aged 18-34 carry the majority of the market with 23% market penetration.
15% of smartwatch owners use their devices to control smart home tech.
In the Android space, Samsung's Gear and Galaxy smartwatches have proven to be a mighty force to be reckoned with. Last year's Galaxy Watch (opens in new tab) was crowned as our favorite smartwatch/fitness tracker of 2018, and during Samsung's Unpacked event on February 20, we're anticipating the company to unveil a more sporty and affordable option with the Galaxy Watch Active.
Fitbit's growth in the smartwatch field is quite surprising, considering that it only has two models available with the Versa (opens in new tab) and Ionic (opens in new tab).
Wear OS needs nothing more than a runaway success if it wants to stay in the fight. I sure hope the Pixel Watch exits the vaporware stage this year and finally becomes a real product that we can buy, but even if we do get it, will that be enough for Wear OS to beat out the competition?
That's a tough one. Sound off in the comments below if you have any thoughts on the subject.
Joe Maring was a Senior Editor for Android Central between 2017 and 2021. You can reach him on Twitter at @JoeMaring1.
If Google wants Wear OS to compete they need to make sure manufactures release smartwatches with good built it health/fitness trackers. That's the reason I used Fitbit for years and just moved over to iPhone and Apple Watch.

I just bought my first smartwatch yesterday, by mail so I have not received it yet, hopefully I won't be disappointed. I read a lot about them and saw that most of them shares the same flaws of stop tracking mid supersize. I defensively need something water-proof, I am used to wear my watch 24/7 and not think about taking it off to take a shower, or wash my hands... I once got in the ocean with my car keys in my shorts. Given it was my very first watch, I did not want to go too expensive, really liked the Galaxy watch, but did not want to get tangle in the Samsung application ecosystem, having to install their apps and such. I went with the TicWatch S2, for the pure Wear OS experience... again, hopefully I did not make a mistake. Also read a lot of complains about using an older CPU the 2100 vs the 3100, but specs wise they are exactly the same processor, only that the 3100 adds an extra chip that helps with the always-on display, other than that, they have the same specs: 4 cores up to 1.2 GHz Cortex-A7, same GPU Adreno 304 and same memory. So other than the always on, I don't think there will be any speed different when opening apps, and navigating through the menu, so not sure why people make such a great deal about, then again, like I said, it'll be my first smartwatch, so we'll see.

That looks like a nice a choice. Honestly I'm having a little buyers remorse moving over to iPhone and Apple Watch. There are some things iPhone/iOS does better than my Pixel but overall I think Android/Pixel as a phone was better. Hopefully in a year or so Google will have a complete Pixel integration like Apple does with their products.

I had a Fitbit flex years ago. I literally reached my step count by drinking during a pub crawl.
I have a garmin s20 that notifies me of texts, but it is a golf first watch.
I still haven't found a viable alternative to pebble.
I looked at the Ticwatch, the Fossil and Garmins, but nothing has made want to go out and buy one. Peaked my interest? Of course.
Now the new pixel watch probably will be in the 400-500 price range, but Wear OS is still a mess imho.

Just tried Ticwatch Pro and returned it after a few days. Not worth the 199 I paid. In essential mode that gives you more that a day of battery you end up with a watch you can barely see, dark grey on grey. And that's it. Wholly unimpressed with Wear OS.

Love my Gear S3 Classic! MST and rotating bezel FTW

To be honest, if I had to guess, my guess would've been lower than 12%. I really do hope that Google figures it out, because it would be really nice to have a solid, official companion wearable to Android phones.
Android Central Newsletter
Get the best of Android Central in in your inbox, every day!
Thank you for signing up to Android Central. You will receive a verification email shortly.
There was a problem. Please refresh the page and try again.