Watch face roundup: Free faces for your Gear S2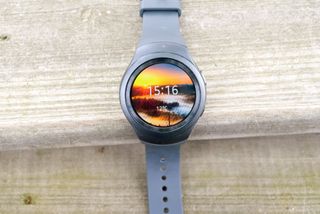 This weekend we've got 5 awesome and free watch faces that are available for your Gear S2 smartwatch. While the options for watch faces are a bit more limited for the Gear S2 than for an Android Wear device, there still are some perfectly awesome faces out there.
If you're looking for a new watch face that won't cost a dime, be sure to check out these 5 watch faces.
Radiation Night
Radiation Night is the first watch face on our list of awesome faces that are free. It's got a great design that gives you access to the time, the date, and your battery percentage. It does so in a way that is bright, and easy to read, without seeming overloaded by information. You also won't find a digital display of the time, because this is a full on analog watch face.
In the very middle of the watch face is where you'll find the date along with your current battery percentage. Designed in blues, with yellow for emphasis, it's quite easy to read even at a glance. As mentioned above, this is an analog display with hands for hours, minutes and seconds. The minute and second hands are the easiest to read, as both are tipped in glowing yellow to help you focus on them.
The Radiation Night watch face is available for free.
CWF Aquarius
If you prefer a more classic look for your watch face, then you should definitely take a look at the CWF Aquarius. It's got an elegant design and display that in reminiscent of the days when a wristwatch was the norm. You get access to the date, digital and analog displays of the time, and your battery percentage. It designed with multiple dials on the face that read off the data for you.
The lower half of the watch face has three dials. On the left is the month, on the bottom is your battery, and on the right is the hour in a 24 hour format. You'll also find the day of the month on the lower right side of the face. The upper half of the face has the day of the week, and the time in a 12 hour format. Additionally you'll find the numerals for the time around the edge of the watch, along with markings for seconds passing.
The CWF Aquarius watch face is available for free.
Weather Face
If you're looking for the most minimalist watch face that you can find, that still gives you some basic information then look no further than the Weather Face. You won't find gauges, or a lot of information here. Just the time, temperature, and weather conditions. It works really well though, and has some gorgeous backgrounds to show you the current weather.
The background is how you'll see current weather conditions. It changes for a sunny afternoon, the evening, rainy conditions, and more. The temperature is displayed in Celsius on the lower half of the screen. The time, in a 24-hour format, is displayed fairly large right in the middle of your watch face. It works together very well, and adjusts quickly to changing conditions.
The Weather Face is available for free.
Nuclear Face
If you're looking to display some information without being overloaded, and you're a fan of the apocalypse, then it's the Nuclear Face that you should check out. This is a fairly simple watch face that rocks a black and yellow radiation symbol as it's background. You'll get access to a pedometer, the time, the date, and a battery gauge.
The middle of this watch face is dominated by the time and date written out in white. Above the date is a gauge with a shoe, that works as a pedometer. It won't tell you precisely how many steps you've taken, instead slowly filling the gauge as you travel. Underneath the date is another gauge, this one displays your battery percentage. Much like the pedometer it won't display a precise percentage, instead giving you a rough idea of your remaining battery percentage.
The Nuclear Face is available for free.
Hobbes Digital Face
If you never got to spend time with Calvin and Hobbes, you might not understand why this watch face is kind of exciting. It's a minimalist watch face that will probably bring back memories for fans of the comic strip. It is an seriously minimalist watch face though, and includes no information other than the time written out in a 12-hour format.
Most of the watch face is taken up by an illustration of Calvin and Hobbes wobbling across a log. At the bottom of the screen it's where you'll find the time, tucked underneath that log. It won't tell you much, but it is a very quite, and simple watch face.
The Hobbes Digital Face is available for free.
Did we miss an awesome free watch face? Is there a watch face you'd like to see us talk about? Let us know about it in the comments.
Jen is a staff writer who spends her time researching the products you didn't know you needed. She's also a fantasy novelist and has a serious Civ VI addiction. You can follow her on Twitter.
I believe the first watch face is actually Radiant Night? (Not Radiation)

Thanks. I couldn't find radiation night .

And the Hobbes picture is the same as the weather one... Posted via the Android Central App

Great watch! Posted via the Android Central App

How about a link to each? Can't find the Nuclear one.

Can we get a link? Posted via the Android Central App

That nuc one reminds me of duke nukem' Posted via the Android Central App

Adding new watch faces to my gear s2 has been a blast love this watch Posted via the Android Central App

I've owned a few smart watches. I've had the 1st generation LG, Moto 360, Pebble watch and ZenWatch 2. All were good watches but the Gear S2 is my favorite. It offers a functional smart watch with great battery life. This watch can last at least 3 full days for me. Posted via the Android Central App

As a owner of the Moto 360 and the Gear S2, I like the way everything flows seamlessly throughout. I was a little skeptical on pulling the trigger on the S2 because of the lack of apps initially available due to the Tizen OS. Now I realize that Android Wear has a long way to go. Now my 360 has become a nightstand clock. I do dust it off from time to time.

Yup Gear S2 is legit. I have the classic on a black stainless steel band. I get so many compliments

Timr Face https://www.androidcentral.com/e?link=https2F2F... :) Posted via the Android Central App

So far most watch faces are garbage. The BEST Free one is: Tuner Military...

"So far most watch faces are garbage. " As someone who has bought nearly a hundred watch faces for my Gear S2 Classic, I have to kindly disagree :) IF you look hard enough there are also a TON of great free ones out there... (I have like 30 of those as well, lol)....

There is a lot to factor in a "good" watch face. Ambient mode/always on is a huge one for me. Try tuner military , you will never switch back.

What's the best way to get new watch faces on to the Gear S2? For the life of me I cannot find any information about how to do this.
Android Central Newsletter
Get the best of Android Central in in your inbox, every day!
Thank you for signing up to Android Central. You will receive a verification email shortly.
There was a problem. Please refresh the page and try again.