Want snow on your Google+ photos? Just shake your phone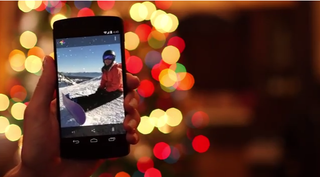 Add a little on-demand holiday cheer to any photo you take
The latest update to the Google+ app (and therefore the Photos app) lets you add on-demand animated snowfall to any picture you take. If you've been using Google+ to share photos lately and have "Auto Awesome" effects turned on you may notice many of your holiday-themed pictures adding snowfall and twinkling highlights automatically, but you can now do that under your own direction with the latest update.
Simply grab the new version of Google+, rolling out gradually today, and view one of your pictures in the app (or the Phtoos app, same thing). Give your phone a little shake while viewing the photo full-screen, and you'll see the same falling snow animation that was applied by Auto Awesome. Shake your phone again, and you'll save that new version of the photo and can share it out to your circles.
It's a fun little holiday-themed update to the app, and we're sure more than a few people will take advantage of the new feature.
Source: +Paul Sowden
Andrew was an Executive Editor, U.S. at Android Central between 2012 and 2020.
I dont have the Phtoos app :(....just kidding. Its a fun novelty.

Did you get the update yet? Posted via Android Central App

Doesn't work for me either.

It's a shame that someone gets paid the big bucks to come up with this stuff... Where do i sign up?

Yeah it isn't all its cracked up to be ----------------------------------------------------
My phone can beat up your phone. It's bigger, badder and has more moves. If worse comes to worse, it also comes with a sword.

Haha, cool signature Sent via the Android 5.0 MilkShake.

you mean "Sent via Android 5.0 M&Ms®." (Google gotta make money) but first the "Ls" Lemon Meringue Pie

If "Google gotta make money" I think you mean its L's as in Lemonheads...

That's cool! Posted via Android Central App Using my Samsung Galaxy S4 T-Mobile

Yeah, but the update breaks location. It causes the app to crash.

If this follows the usual slow roll out, I probably won't get the update until January. They should have added this back in November.

Don't have mine either, but I have been loving auto awesome features so i'm looking forward to it!

it doesnt work for me either currently using lg nexus 4 kitkat 4.4.2. all google apps updated. am i doing something wrong?

Interesting.. Posted from either my Galaxy S3 or Nexus 7 2012

It's been doing this for me for days now. In Dallas in the big ice storm. Almost every picture I took with ice on the ground added snowfall to the photo. I assumed it was a winter thing. And no. I can't get it to work on any other photo. Maybe I don't have the update.

Yeah I noticed that as well... I figured someone at Google just hated DFW.... Lol Posted via Android Central App

Just tried it and it worked! That's pretty cool Posted via Android Central App

Does it work for anyone yet? I've tried on a dozen different photos and nothing. Posted via Android Central App

I still can't get this to work and Google Play is telling me I have the latest version of G+ installed.

Still waiting for this update Posted via Android Central App

RAZR M a day later and no update. I don't understand Google's motives. Posted via Android Central App
Android Central Newsletter
Get the best of Android Central in in your inbox, every day!
Thank you for signing up to Android Central. You will receive a verification email shortly.
There was a problem. Please refresh the page and try again.