Vodafone's Smart Platinum 7 offers a 5.5-inch QHD display, Snapdragon 652 for £300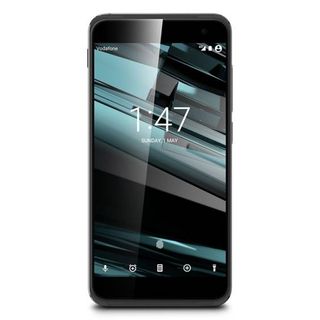 Vodafone has been releasing its own devices for a decade and to celebrate the company has just announced the Smart Platinum 7. This handset will set you back £300 if you wish to purchase it outright on Pay-As-You-Go, while contracts kick off from £28 a month, which bags you 1GB of UK data and 500MB of roaming.
For specifications, the Smart Platinum 7 sports a Snapdragon 652 processor, 5.5-inch 2K display, 32GB of internal storage, 3GB RAM, 3000mAh battery, 16MP main shooter (8MP front-facing selfie taker), and runs Android 6.0.1. It's touted as the first premium 4G+ smartphone, featuring a super slim aluminum and glass frame.
The Smart Platinum 7 from Vodafone will launch on June 20.
Press Release
A decade of Vodafone Devices marked by launch of premium Smart platinum
85 million sales of Vodafone Devices in 10 years.
Smart platinum 7 is first premium 4G+ smartphone: super slim aluminium and glass frame; 2k AMOLED display; 16MP rear camera with zero second shutterlag; up to two days' battery lifetime.
Vodafone has launched the Smart platinum 7, its new flagship smartphone to mark a decade of creating mobile devices. Customers can pick one up for £300 Pay as you go or £28 per month – which includes unlimited minutes, unlimited texts, 1GB of UK data and 500MB of inclusive roaming allowance.
Back in 2006, Vodafone began creating devices to reduce the cost to its customers of owning the latest mobile technology, and therefore to enable more of them to access well built, slim and sleek handsets and its fast and reliable mobile networks.
The first Vodafone Device was launched in October 2006. The Vodafone 710 was a low cost 3G clamshell feature phone.
The Vodafone Devices range now includes 3G and 4G smartphones, tablets, mobile data products and broadband routers. Over 85 million Vodafone devices have been sold to date.
Vodafone has built up a wealth of experience in creating devices over the last decade, working closely with component makers and manufacturers. Its aim has been to deliver great value experiences using the latest smartphone technology, while never compromising on build quality.
The Smart ultra 6, Vodafone's highest specification smartphone of 2015, was praised by many expert reviewers. The smartphone won a series of awards, including: best value smartphone 2015 – Recombu; best budget smartphone of 2015 - Mobile Choice; best budget smartphone of 2015 - PC Advisor; best budget smartphone of 2015 – Btekt; and best buy award - Expert Reviews.
Vodafone has now leveraged its experience to create its most compelling smartphone, the Smart platinum 7.
The Smart platinum 7 is designed to meet customer requirements for a smartphone that contains the latest mobile technology, delivers top class performance and is tuned to the operator's fast and reliable 4G+ networks.
Daniel Schubert, Head of Industrial Design for Vodafone, said:
"We've designed the Vodafone Smart platinum 7 to be beautifully elegant. It is super slim, below 7 millimetres thick, has sensually curved 2.5D gorilla glass on the front and back to give it extra depth and tone and its aircraft grade aluminium body and diamond cut detailing have a precision finish that evokes the feel of luxury jewellery."
The Vodafone Smart platinum 7 also contains the latest smartphone technology. Its features include:
Fingerprint sensor placed on the back of the device (in a convenient holding position) for fast activation and added user security;
5.5" 2K AMOLED display and front facing landscape stereo speakers that deliver a cinematic experience ideal for watching high definition multimedia including virtual reality;
Octa-core processor supported by 3GB of RAM delivers significant computing power;
32 Gigabytes (GB) of internal memory (22 GB available to end user), which can be expanded by up to 128 GB with an SD card;
Up to two days' battery life from 3,000 milliampere hour (mAh) battery and Quick Charge 3.0, which will restore half the smartphone's charge in just 30 minutes;
16 megapixel (MP) HDR rear camera with super zoom, Phase-Detection Auto Focus and zero second shutter lag. Both the rear and 8MP front camera have flash. There is also a dedicated key to take photos and launch the camera with a double press from sleep mode or the lockscreen to ensure users never miss a shot; and
The smartphone is 4G+ capable with a responsive antenna tuned to the Vodafone network.
Vodafone will also be selling its first virtual reality (VR) headset as a separate accessory to the Smart platinum 7. The Vodafone Smart VR headset is comfortable and lightweight (260 grams) to deliver a fully immersive VR experience.
Patrick Chomet, Group Director of Terminals at Vodafone, said "A growing number of our customers take a closer look at Vodafone Devices when choosing a new smartphone because they deliver outstanding quality and value for money, particularly when combined with our Vodafone Red price plans. I am particularly excited about the Vodafone Smart platinum 7, which makes premium smartphone design and technology more attainable, so many more Vodafone customers will enjoy streaming everything from HD TV to virtual reality over our fast and reliable 4G+ networks."
Sensually curved 2.5D gorilla glass...WTF??? Posted via the Android Central App

In this day and age this device is too expensive when compared to likes of the UMI Super & Elephone P9000. The price needs to be closer to £200-250 but it is a good looking, well specced phone. Anybody know what this phone really is??? i.e. ZTE or some other oem's phone.

its a custom designed ZTE

It's not a custom designed ZTE, its an Alcatel design of some sorts by the look of it, Some sort of variation of the Idol 4s

@jimborae
What I was thinking. £200 - 220 tops.
Plus the midrange Snapdragon. But having just moved to Vodafone albeit a rolling sim contract I would consider this if they offset the cost and have more than the 10gb data I'm on.
But what am I thinking, no more 24 month contracts for me.
Let's see it come down in 2 - 3 months. Meantime I will probably switch to O2 on their 12 month 20gb sim for £20. (another company I dislike, but I won't go back to Three after they screwed with my PAC code for 2 weeks and their appalling customer disservice phone support) Sorry, was I going on.... :p

trouble is, if it is a custom ZTE design, unlike the Smart Ultra 6, then it wont get very frequent updates pushed to it.

Nevermind, it's an Alcatel Idol 4s in slightly different clothes. :)

You're right on the money. http://www.gsmarena.com/alcatel_idol_4s-7896.php Posted via the Android Central App

yep the only difference I can see is that the VF SP7 has a fingerprint reader which the Idol 4S lacks and maybe grills on the rear for the front firing speakers.
Android Central Newsletter
Get the best of Android Central in in your inbox, every day!
Thank you for signing up to Android Central. You will receive a verification email shortly.
There was a problem. Please refresh the page and try again.