Vodafone's new PAYG bundles offer generous 4G allowances from just £20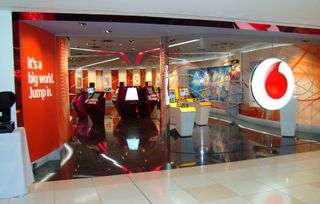 Vodafone will be throwing in unlimited SMS, minutes and capped 4G data at certain price points. Simply pick up a SIM, throw it into your phone and top-up when you feel like doing so. For the unlimited calls and messages, you'll need to top-up £30 or £40, which will also land you with 30 days access to NOW TV, Spotify Premium or Sky Sports Mobile. 4GB (6GB for £40) of 4G data is included.
For £20, 2GB of UK data is provided alongside 500 minutes and unlimited SMS. The cheapest option is £10 with 500MB of data and 150 minutes. As well as the new bundles, Vodafone has also announced the new rewards program. By topping up by more than £5 a month, points can be collected and saved for a range of redeemable items. See the Vodafone website (opens in new tab) for more details on these new bundles.
That's not a good deal, top up £10 and get 500mb, ee, orange, t mobile are 1gb for £10, I guess Vodafone are out of touch. Posted via the Android Central App

+1 Posted via the Android Central App

They are out of this world. Three is the best. What is 1 GB? I can finish it in one hour. Sony Xperia Z3/Z3 Tablet

+1 .....Am on unlimited everything for £18 with Three, sim only on monthly basis. Posted via the Android Central App

Agreed. I'm on Three, paying £12.80/month for unltd 4G data, 5000 texts and 200 minutes Posted via the Android Central App

Hi guys, which is the mobile operator with the best signal in London?Not interested in 4G and speed, just voice and 3G are fine. I tried O2, was fine but not very cheap.

It depends of where in London you are. ie: Central London, West east .... Vodafone covers central London pretty fairly... if you want value for money and overall services. .go with Three... plenty voice and data for your money. Posted via the Android Central App

I work for a letting agency, so I need to go in different places. for me is essential not to miss the calls and the whatsapp messages from my colleagues and the customers,
I lived in tottenham hale for few months, and O2 was the best option for signal

I came off 2 years of Talkmobile 3g running on Vodafone I think (forgot), now pay the Three £18 rolling for uld + 200 mins like others here, (how dya get 12.40? awesome).
Three has improved in most areas, but I bought a 3 month 10gb EE sim for a second phone late last year and data and call signals were miles better. So I will switch to EE when I can but need 20gb. EE for me but of old O2 had great call coverage (eg south coast cliffs).
EE also seen 2nd best to Three for value, but both have been bought so expect changes. Posted via the Android Central App

Still haven't hold a better deal then my for sim only £15 3000mins unlimited texts 4gb data on tesco (02) Posted via the Android Central App

That's not a better deal... am on £18/month unlimited everything,4G included, on Three... .. my data consumption is almost 40-50gb a month(lots of Spotify / Kodi) on the road... Posted via the Android Central App

Yeah but my dad's car can go under water.... Google is your friend

Three in my area south London is really bad get no signal at all. Even there 3 in touch apps had issues. Posted via the Android Central App

What is the verizon of the UK Posted via the Android Central App

No one. No network is ridiculous enough to demand that you use their network specific phones only. Posted via the Android Central App

Do you mean the 'go-to' carrier? I'd say it's probably O2. Or at least it used to be. These days they're all pretty much equal now. Although, in my head, I'd consider O2 and EE the bigger boys. I'm on Vodafone myself. Posted via the Android Central App

Three in my area is really poor no signal when do they plan to combine with o2 Posted via the Android Central App

Three will be rolling out 800Mhz 4g very soon. It all depends whether ofcom.and the EU regulations approve Three buying o2. Sad thing is o2 3g is as Crap as Vodafone Posted via the Android Central App

I don't live in London but when I'm there, Three has the best overall signal for me. If for whatever reason I'm unable to nab a Three SIM, Vodafone is my next choice (they seem to have SIMs available all over Terminal 5 at Heathrow).

Are you crazy. Three offer unlimited data with a 1TB soft cap for a £15 add on. Screw unlimited calls and texts its so cheap for the networks now its useless. Unless Vodafone improve its Crap 3g coverage and offer good data plans screw them. I'm still on the Three one plan with unlimited mobile data, unlimited tethering 2000 minutes, 5000 texts and 5000 3 to 3 minutes for £15 per month. Clocking 70Mbps . how can you say Vodafone is good when they have the worst 3,g coverage in the UK, while 3 and EE have 98% 3g coverage. Three has over 90% ec-hsdpa coverage too. Shocking how wp central and android central are so pro Vodafone. Shocking Posted via the Android Central App

I'm on Vodafone. They're good. Better than O2 (who I was with for 4 years). Posted via the Android Central App
Android Central Newsletter
Get the best of Android Central in in your inbox, every day!
Thank you for signing up to Android Central. You will receive a verification email shortly.
There was a problem. Please refresh the page and try again.