Built-in Google Cast comes to Vizio's more affordable TVs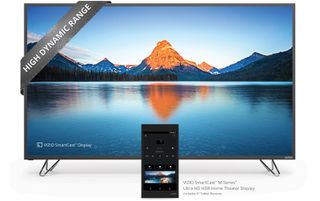 Not content to restrict cool features to the ultra high-end, Vizio has announced that it is bringing Google Cast to two of its lower-cost TV lineups. Rolling out to retailers soon, the new M-Series and E-Series lineups will pack Vizio's SmartCast, which is powered by the same Google Cast technology behind Chromecast.
With Google Cast built into the sets, owners can easily cast content from their phones or tablets to the TV without any extra equipment. As a bonus, the M-Series will pack the same 6-inch Android-powered remote that debuted with the higher-priced P-Series in late march.
Both the M-Series and E-Series look to impress from a picture standpoint as well. Both options pack 4K support, making the option even more affordable. Meanwhile, the M-Series also carries HDR support for even more definition.
The 4K M-Series models start at $850 for a 50-inch TV and go up from there, while the E-Series starts at $470 for the 43-inch 4K model.
Unfortunately this means no ability to access Amazon Video via these 2016 models, no thanks to Amazon's continuing hatred for Google, Android and Googlecasting. Despite the Fire line being built on Android, their having an Android TV app on select Sony sets, and not placing any onerous restrictions upon any of the other digital content they sell - MP3s, apps, e-books - when it comes to video, Amazon would rather tell their Android-using customers to pound sand than simply allow them access via ANY method they wish. With such a top-selling maker being blackballed, Amazon is showing that they DGAF about this one segment, thus mooting all the money they're spending on exclusives and original content.

Will this be rolling out to previous models? Just bought a M55-C2 2015 model this weekend!

It's a hardware feature , not a software feature...just buy a chromecast

I share your pain, but I think not. I just bought the same TV in February. I knew a model refresh was coming but I didn't think all of these features (HDR, Cast, Tablet remote) would be added to the M series. On a related note, anyone want to buy a 2 month old 4K Vizio M55? ;)

Gee. I guess I was ahead of the curve. I bought a 55" Vizio E Series back in the Fall. Part of my setup involved taking the Chromecast off of the old 50" Hitachi and putting it onto the new set. It's just not built in is all. As to Amazon......... The extant Smart features include Amazon Video. But yes, I too would like to see a little cross platform action too, instead of a ******* war between giants.

Yeah, I'm not a fan of Smart TVs... their UI's are usually slow compared to set top boxes and the smart part of the TV will be outdated well before I replace my TV since I usually keep my TV's for 6 years or more.
If there were high end TV's without the smart garbage I would definitely buy that... especially without chromecast, since you don't need a separate remote for it there's absolutely no advantage for me to have it built in. I agree there needs to be more cross platform support... I have no idea why these companies like Amazon think they are gaining business by not supporting other platforms and getting their content in front of as many people as possible. ******* morons!!

In the market for a new TV and may consider this brand/model. Posted via the Android Central App

I don't know about this company. Is Vizio a googd brand? Posted via the Android Central App

They offer good value for the money. Great list of features for the price. Though, the sets tend to not be as good as LG or Samsung, but you are paying less for Vizio... the value proposition on the trade off is a personal choice.

My concern is that Vizio will now leave those with older models out in the cold. I find the Yahoo! app selection lacking and was hoping they would eventually change providers. This is not the change I was hoping for.

Early adopters get left in the cold??? You must be new to technology. I have a TV set that is a couple of years old, none of the built in apps work. That's where chromecast or any of the other streaming boxes/sticks come in handy.

Confirmed by Vizio. They will not be updating those sets purchased pre refresh. Once again, as soon as you get a"new" thing, it's obsolete and outdated the second you take it out of the box. Just seems like this wouldn't be that difficult of an update considering the m55-c2 already had DLNA capability.

It's disappointing...and something I'll keep in mind for the future. I'm big on brand loyalty and outside of this development I'm really enjoying this Vizio set. Hopefully they won't forget about those who purchased their products pre Google integration.
Android Central Newsletter
Get the best of Android Central in in your inbox, every day!
Thank you for signing up to Android Central. You will receive a verification email shortly.
There was a problem. Please refresh the page and try again.