Vizio announces its $99 Co-Star Google TV set-top box, with OnLive gaming included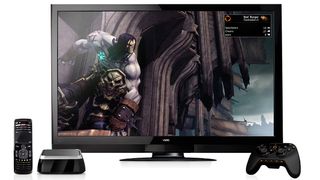 Vizio this morning announced its Google TV set-top box. Dubbed Co-Star Stream Player (Vizio really could have stopped at "Co-Star"), the $99 box has all the features we've come to know and love from Google TV. And as an added bonus, Vizio has thrown in OnLive gaming. A universal remote and Bluetooth keyboard around things out nicely.
Aside from all the usual services, we're still waiting to hear exactly what's powering this thing.
The Co-Star Stream Player will be available for preorder in July at Vizio's website, with free shipping for a limited time.
More: Co-Star specs
VIZIO LAUNCHES THE VIZIO CO-STAR™ WITH GOOGLE TV GIVING USERS THE POWER TO TURN ANY HDTV INTO THE ULTIMATE SMART TV
Irvine, CA — June 26, 2012 — VIZIO, America's #1 LCD HDTV Company*, announced today the launch of the highly anticipated VIZIO Co-Star™ Stream Player. Using the latest version of Google TV™, the VIZIO Co-Star makes it easy to transform any HDTV into the ultimate smart TV, merging live and streaming entertainment into one intuitive and easy experience. With VIZIO's new stream player, users get instant access to thousands of apps, full-screen web browsing capabilities—via Google Chrome™ with Adobe® Flash® Player and HTML 5 support—and the best in streaming entertainment.
Unique to the stream player market, the VIZIO Co-Star offers the distinct advantage of connecting to a cable or satellite box. This allows viewers to enjoy live TV along with the web, apps, OnLive cloud gaming, and other streaming entertainment without interrupting what they're already watching. This integrated experience along with the universal touchpad remote with keyboard eliminates the need to switch TV inputs or remotes to access alternative content and provides viewers with a truly smart TV experience
"Our focus to deliver the best consumer experience continues with today's announcement of the Co-Star, which delivers a superior smart TV interface that anyone can add to their existing HDTV" said Matt McRae, VIZIO's Chief Technology Officer. "We combined the powerful features of Google TV™ with an intuitive and easy to use interface, giving users the power to enjoy an entire world of entertainment."
The added benefit of Google TV's powerful search feature lets viewers easily browse websites, hunt for streaming movies or locate their favorite TV shows; and with picture-in-picture technology, it can all be done while simultaneously watching live TV action.
In addition to favorite apps such as Netflix, Amazon Instant Video, YouTube® and iHeartRadio, the VIZIO Co-Star is the first stream player to offer video games on demand through the OnLive® Game Service. OnLive allows users to demo, watch and play hundreds of top-tier video games directly from 'the cloud' via their VIZIO Co-Star, eliminating the need for users to own an independent game console. With easy access to thousands of apps through Google Play, Co-Star offers the most comprehensive stream player available today.
Complementing the overall experience, the VIZIO Co-Star includes a universal Bluetooth® remote with an innovative touchpad that lets you touch, tap, scroll and drag. A full QWERTY keyboard helps users search for their favorite entertainment. Plus, its universal feature makes it easy to control home entertainment devices with one remote.
The VIZIO Co-Star incorporates a number of power user features intended to satisfy the variety of user demands, starting with support for 1080p Full HD and 3D entertainment. Built-in 802.11n Wi-Fi provides easy wireless Internet access without unsightly wires. Integrated USB port connects to hard drives, keyboards and other peripherals. The VIZIO Co-Star even enables viewers to enjoy photos, music, and movies from any DLNA-enabled phone, tablet, or computer on the TV screen.
The VIZIO Co-Star exceeds expectations by combining a definitive user experience with a powerful smart TV platform, resulting in an all-in-one, solution that brings the ultimate smart TV experience to any HDTV.
The VIZIO CO-Star will be available for pre-orders in July 2012 on VIZIO.com for $99.99, with an introductory free shipping offer, while supplies last.
About DAMN time, this is the VAP430, that I have been waiting for since CES.
I highly suggest everyone look into this thing, it seems pretty awesome.
Unlike , Roku, this can stream from a local NAS hard drive (I have a buffalo cloudstor which I can also stream to my GN with a pogoplug app). I just hope that it will have the HBO Go app so it will complete what I need in my family room.

Fully and totally agree. I've been trying to find this thing since January! They said at the time release was "imminent", lol.

Right? That "Coming Soon" crap on the site was really annoying after March.

I see that my last suggestion on the AC Podcast #100 about Google TV and the Sony PlayStation was an idea already in the works for another company.
We still need GTV in the PlayStation though.

You know it looks very cool however, my problem with this device along with the Roku2 is that there are no optical audio outputs which eliminates a major portion of the market. From the looks of it the only way to get surround or stereo output is via HDMI which requires you have a home theater receiver with HDMI pass through. Many of us have high quality receivers that are 5 or more years old and have digital optical audio for surround instead. I cam certainly not going to buy a new receiver ($1000+) to accommodate a $99 media box. My Roku 1 has optical audio output as does Apple TV and EVERY Blu Ray player on the market I think this is an error in the design just like Roku did with the latest version of their media streamer. My two cents.

*round things out nicely.

I see Netflix and Amazon among others, but what about Hulu Plus, and HBO Go? Any news?

This guy makes references to then, buy not sure if he really knows anything about the apps working on the device.
http://www.techofthehub.com/2012/01/first-look-at-vizios-google-tv-box.html

Thanks. Here's hoping. I want to put a separate TV in the Den for the Xbox and Kinect, but the Xbox is our primary means of watching hulu and netflix on the main TV, which we use more than basic cable.

Logitech, Sony take notes. This is how you price a new GTV Product!

Wow, nice! Vizio is really drawing me in for my next big purchases...

How is this thing that different from the Xbox? I've heard the Google TV apps were slim ATM. The browser is enticing to me but Xbox has that coming soon apparently.

Looks like it is smaller, cheaper, etc.

lol. Let me rephrase. How is the multimedia aspect that much different than the Xbox?

With respect to home media it can play more formats than the xbox. As far as online services, the potential is there because of a real app ecosystem but how I see it now the xbox has better online services available. Maybe Google is "doubling down" (lol) on the GTV and will improve it's offerings though. Personally I'm excited about the potential interplay between phone/tablet and the GTV, I'm really hoping some better air-play like solution comes from google soon.

The airplay is the only other thing that caught my eye. That being said since their app ecosystem isn't very refined yet I think it's too early for this to work out and appeal to people. That being said I may be interested when this drops in price a little and gets a more expansive app base.

It doesn't require an Xbox Live Gold account.

Any idea on specs? Were corners cut? Is it still running a Marvell dual core chip?

This would be very good to know - of course per Vizio it's "Driven by an ultra-fast processor, advanced chipset" so no worries right? This box has me interested - I will eagerly await a review. Can we get Jerry to give this thing the twice over? Since he's a GTV fan and has a Revue I'd love to get his take.

Include Epix and I'll be interested

Any word on skype support? one of the big things I thought would be a awesome on GTV was some sort of video chat, whether its TALK or skype, But as of right now at least on the revue there is none of that.

I was wanting to plug a webcam into it and use it for Skype, but I got this message from their tech support. They did respond very quickly. "At this time it is not going to work when it launches, this is something they will work on but cannot guarantee it."

I keep throwing money at my screen but nothing happens!!!

If it does HBOGO, I'll pick up this and just get rid of my roku since my cable provider *cough* *cough* directv *cough* *cough* doesn't allow HBOGO streaming to Roku.

Just for clarity, it doesn't come with the OnLive game pad in the $99 package does it? That would be too good to be true. -Suntan

ST, no it doesn't, the game pad is $50 extra, but you do not need anything else, you can just buy the press and a subscription and your good to go, pretty sweets stand alone is $100.
But the keyboard had basic controls for simple games.

Actually, OnLive does not require a subscription. They have the PlayPack option, which gives you access to 200+ games for $10/mo. But, you can just purchase games a la carte (sometimes at ridiculously low sale prices), and play them indefinitely without a subscription. The universal controller is totally worth it. It works with smartphones, tablets, and computers, as well. And by creating or downloading a custom .kl file to your system/usr/keylayout folder, you can fool ICS into thinking it's a 360 controller, so other games work with it, as well. I'm curious to hear how OnLive looks on Google TV. I've been using their microconsole for a while, and I'm curious whether it's the same quality as the microconsole or the downscaled quality used for smartphones and tablets.

You are absolutely right,I totally forgot about that option. Also, that is good to know about the controller, thank you.

Next two tech purchases in my near future: this and the Nexus tablet. Can't wait.

You and me both, since CES,I wanted this and the Asus 370t, now they both get reported in two days.

I'm pretty impressed. I'm gonna get 2. One for me, and one for my parents.

The Logitech revue supports HBO go, so I assume this box would. It is Supported through the browser, not an app.

Good to know, so if the app is not supported the site will be. Thank you

Makes the NSZ-GS7 look like crap!!!

This is wait I have been waiting for!!!! I loved the idea behind Google TV and now they are finally delivering it! The feature set size and the price is PERFECT!!! The only issue I have is that there are several Android USB sticks coming out priced just slightly less. And those stick support ALL Android apps from the normal Play Store section for Android. So it is going to be a tough one, but I am really loving this all inclusive device so it is probably going to win out. Also on the Google TV web site, it has been redone. And if you go to it and click on the Play Store icon and read the text you'll see it mention a funny statement.... "Now if it only had sandwiches".... HMMMMM is that a hint that the new Google TV is ICS driven.... I think so.

Anybody know if this would be available in the UK? or would a US bought one work in the UK? Would love GTV at this price!

So for 30 bucks more than the no-name Chinese Android sticks, I can get a Google TV box that supports OnLive, a far better value proposition than Roku, never mind the other attempts at GoogleTV. Congratulations, Vizio, if your product actually works (and, um, if it's not too hard to root it), I'll be handing over my credit card details as soon as I can.

I've been very happy with my Vizio TV and almost bought the Logitech Revue. This looks good. We shall see.

This is awesome!! I've been looking to get a new GTV set top box and with this one supporting OnLive, it eliminates extra cords I need to plug in :) If you don't have OnLive, you should try it out.

I'm looking for a box that streams Netflix, Amazon and all the crap but also allows me to stream movies from my Laptop. Does anyone know if this will work for that without hooking in my cable box? I don't need the cable integration. I just need to plug the HDMI into my HDMI projector and connect the wifi for streaming. I have the Boxee box, but it is too slow and glitchy so I am returning it.

I have the Logitech Revue that is not hooked up to neither satellite or cable and absolutely love it... only wish it had HuluPlus app. The hook up is to merge the Live TV (airing now) with the device eliminating you having to change devices. Hope that helps. Once the Vizio Co-Star is available.. I will be ordering 1.

Now, if this will allow me to stream movies from Box.net account; I'm in for at least 4 of these!

I have one on order and just noticed that there is no SPDIF connection! ARGH!!!! No high quality streaming music. Bummer!
Android Central Newsletter
Thank you for signing up to Android Central. You will receive a verification email shortly.
There was a problem. Please refresh the page and try again.