Viewdle SocialCamera now available, uses facial recognition to automatically tag photos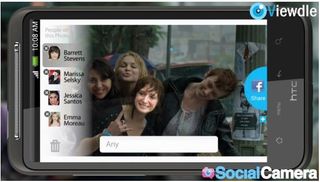 The Viewdle SocialCamera, that nifty little facial recognition app we first saw back at CTIA, is now available for download. The concept is really cool and from what we saw back in March, it works like a charm. Simply take a photo with your camera and Viewdle will recognize the faces in the picture and automatically tag them for Facebook, Flickr, MMS, or e-mail.
Viewdle does need to learn the faces you frequently snap, but once you've told it who's who, it delivers on its promise. Check out the demo above and grab the newly released beta version for free directly from Viewdle or in the Android Market. Download links are after the break.
Source: Viewdle
Downloaded. But really waiting for Google to add this feature to Google Goggles. They have said in the past that this could be a creepy thing and that they have the tech to do it now but haven't because it could be used in a bad way. But this app learns from your input vs searching the internet. Maybe not so creepy.

Sod Google Goggles, I want this in Picasa. You know Google photos, where Google wants me to store all my photos. The Windows application of Picasa has this and the Android app is sorely missing it. At this point I would settle for the web version adding it.

Agree with CLMark -- I want this for Picasa. In the app, on the web, whatever, but manually tagging the same face (namely, my infant son) gets tedious, especially knowing that it's unnecessary. /Kevin

Pls can someone give me a functioning link to download it to my Galaxy S duos. I Downloaded it from m.onairda.store.aptoide.com/app/market/com.viewdle.socialcamera/132/125950/Viewdle%20SocialCamera but I could not install it even though i downloaded Aptoide as was recommended on the site.
Android Central Newsletter
Get the best of Android Central in in your inbox, every day!
Thank you for signing up to Android Central. You will receive a verification email shortly.
There was a problem. Please refresh the page and try again.