Video chat officially coming to Nexus S in Android 2.3.4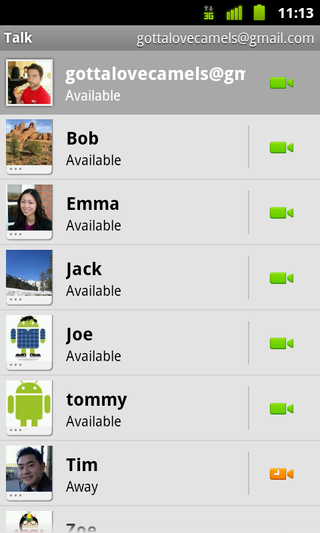 That little surprise that Google's been teasing us with is now official -- Android 2.3.4 will indeed support video chat for the Nexus S. And that's a good thing, 'cause we've been loving it on Android 3.0 and our tablets. Looks like it'll work the same way on our phones. And Google says it'll also be coming to Gingerbread (Android 2.3 and up) devices later. And what's more -- it'll work over 3G as well as Wifi.
The update will be "rolling out over the next few weeks." Which means as soon as we have a download location, we'll all have it. But that's not all. As you can clearly see, Google's got another surprise in store. Any guesses? Video of video chat is after the break.
Source: Google Mobile Blog, @googlenexus
Youtube link for mobile viewing
Awesome. I can't wait for it to never come to the Thunderbolt.

just wait for a modified .apk to come down the pike. BTW how is the Skype video working of for you Tb users, that we cannot use.

Skype works great! So with the Gvoice video, will it only work on 2.3 or will a modified .apk work on 2.2? Perhaps another reason to get CM7? Although currently the CM7 pre-alpha for Tbolt doesn't support Skype video.

i cannot confirm nor deny that a modified .apk will work with 2.2. 22 was an EXT3 ROM and 2.3 is an EXT4 ROM. So i'm sure 2.3.4 will still with any 2.3 ROM. With that being said i don't know, i'm sure the can hack and slash it to work. But either way yes go to CM7 when i hits at least an RC status. It's an AWESOME ROM.

if carrier supports it on 3G. sorry VZW your sol.

googlenexus Google Nexus
Android 2.3.4 OTA rolling out over the next few weeks! Has bug fixes for Nexus One, video chat for Nexus S. But a surprise is still to come!

I bet this is why carriers haven't updated existing phones. I makes a lot of sense. Sent from my Evo...no pun intended.

This is going to kill off Skype if it works. It will sell a lot of Tablets and new dual camera phones. Even if only the voice works world wide, you can save a bundle talking to friends overseas on google talk. FTR: I am already seeing the Mic and Camera icons in Google Talk on the Acer Iconia (Honeycomb) tab. Oh, and The Adobe Flash player just got multi-core support today, and that seems to make a speed difference on a multi core platform. Maybe even enough for me to leave it turned on.

HoneyComb already supports google talk. You could of done this since day one. Atleast on the Xoom it has been like that.

I hope the MyTouch 4G gets this

I don't get it....what surprise does Google have? I don't see anything.

You failed to click the Twitter Link: http://twitter.com/#!/googlenexus/status/63707554831806464

What were they loading into the truck at the end? The next lawn sculpture? Didn't look like an Ice Cream Sandwich to me.

That was when honeycomb figure was placed.
Stop the video at 41 seconds and read the screen.

I've already stopped using Skype to Go on my phone now I have tight integration with Google and Sprint. Once I get my Nexus S 4G i'll be super happy!! See ya webOS!!

Same thing here can't wait to ditch my palm Pre-. On another note what is that on the chics lip in the video chat? She should never want to chat with those things there ewwww.

I've already stopped using Skype to Go on my phone now I have tight integration with Google and Sprint. Once I get my Nexus S 4G i'll be super happy!! See ya webOS!!

I'm guessing this will be available from Gmail as well. But perhaps Google will finally turn up SIP (Internet Call) which is in Gingerbread, but limited to WIFI (and sucks battery big time). Or maybe they will simply allow calls with GV using your Data connection. The trend seems to be that Google has given carriers long enough and is now going to reduce them to Dumb Pipes as far as Android goes. I hope so any way.

Whilst it may be carrier dependent in the USA - there is no chance if you not in the USA as you get the following from Google... Google Voice is not available in your country.
Thanks for visiting Google Voice. We're not yet open for users outside the US, but are planning to expand our service to additional countries in the future.

This is an update to Google Talk, not Google Voice. Does Google Talk for Honeycomb not feature video chat in Britain? I was under the impression that it did, and never thought to directly ask someone.

Thank God, Something finally will knock that dreaded skype out the box. Now let's see the Evo 3d launch.

The surprise was "a second Twitter Puzzle Challenge, with 10 new chances to win a Nexus S." kinda lame. http://twitter.com/#!/googlenexus/status/63748476701388800

Wish it worked on the Galaxy Tab.

Quick question - does it allow multiple accounts? I have both a Google account and a Google Apps account, and I really like how I can be signed in to both on Honeycomb on my Xoom. Can you do this now on the Nexus S?

I am really surprised at the lack of foresight this Company fails again to display....
So I can call and chat with 'friends' that have the same device?
Big Whoop!
You developers are so far behind the 8 ball on this deal.
What if your users want to chat with the numerous new chat dating sites?
What?
No option for that huh?
Nexus Fail!

WHat they should do is to make GTalk a application on the android market and restrict it for phones that have either a front facing camera or 2.1-2.3. That way I don't have to wait months for Sprint and HTC to get off their ass and give me 2.3 and a newer version of sense.

hello please anybody to help me out my nexus one is not updated still on 2.2.1 have been try to update to 2.3.4 but is not going can anybody tell me what to do please i need it urgently
Android Central Newsletter
Get the best of Android Central in in your inbox, every day!
Thank you for signing up to Android Central. You will receive a verification email shortly.
There was a problem. Please refresh the page and try again.