Verizon's IndyCar mobile app brings you one step closer to racing addiction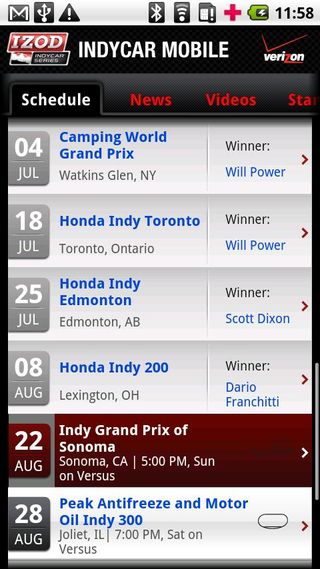 Fans of the IZOD IndyCar series can now feel safe leaving their couch during any of this summer's races: Verizon has released the IndyCar Mobile app for its customers, available now for free in the Android Market. The app features a live audio feed, timing and scores during all races, as well as a detailed database of driver bios, stats, videos and tweets. You'll also never miss a race (though we know you never have) with full event schedules right on your smartphone or tablet. So while you're preparing yourselves for Sunday's Indy 500, text INDY to 3406 to grab your Verizon-exclusive download, or hit the break for the Android Market link.
Source: Verizon
Android Central Newsletter
Get instant access to breaking news, the hottest reviews, great deals and helpful tips
Uhh, the race is on Sunday...

some please download this and send me the .apk.... pweeeze

IndyCar is a great example of struggling brand that is doing a horrible job of interacting with its fan base and creating any sort of acceptable web or mobile product, particularly with any live or interactive services. The one and only half way decent product they offer is to Android users on the Verizon network. Sometimes it takes days to see a truely relevant article on their website that talks about what happened in the IndyCar series for a race or qualification. They've only recently (re)offered live steaming events on their website. They've abandoned their own community/interaction offerings, like discussion forums, and instead point fan over to fan-operated communities. They have an iOS app that features last year's data (schedule, driver info, etc) -- in other words, it was released and never updated. Preparation for the running of the Indy 500 (practice, qualification, etc.) has been going on for weeks. Congrats to the niche Android on Verizon users who get this app three days before the race. It's the 100th anniversary of the 1st Indy 500, BTW. Can you say unprepared? For a brand that even describes itself as desperate for new fans and maintream acceptance (beyond the Indy 500), IndyCar is doing so many things wrong. They actually make it hard to be a fan. It's very, very unfortunate.

I think the app has actually been out for awhile now. Probably just getting pub on the site because of the 500 on Sunday.

The app runs great on my Thunderbolt but I agree with roark1138. The content is limited and new info is slow to be updated. The Indy series marketing leaves much to be desired. I live close to Texas Motor Speedway and go to the Indycar race every year for 3 reasons. 1-tickets are cheap. 2-getting to and from the track is easy when the stands aren't full. 3-the racing itself is great at that track. Always close and exciting. I've gone to 3 NASCAR events there and I won't go again unless I'm going to spend the whole weekend in an RV or something. An absolute nightmare to get in and out otherwise.

This would have been great if it would have actually worked on Verizon's network at the track. No freakin' data or voice from 12 noon to 3:30 inside the track!
Android Central Newsletter
Get instant access to breaking news, the hottest reviews, great deals and helpful tips
Thank you for signing up to Android Central. You will receive a verification email shortly.
There was a problem. Please refresh the page and try again.