Verizon updates Galaxy S5 with VPN, SD card fixes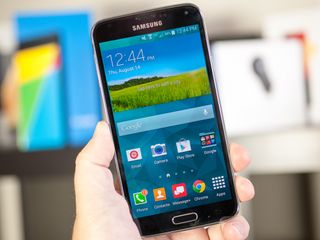 If you're currently sporting a Galaxy S5 on Verizon, you can look forward to a small update today. While it certainly isn't any Lollipop, the update does squash a couple of bugs concerning VPN connectivity and SD card errors.
Again, it's nothing groundbreaking, but here's a list of the fixes coming in software version KTU84P:
Fixed VPN connectivity issue
Fixed an issue where some users saw a memory card error "Blank SD card or unsupported files" after the last software update
Replaced Isis Mobile Wallet with Softcard
You can go ahead and check for the update now, and while it's rather minor, hopefully Lollipop isn't too far off for U.S. customers since it began rolling out in Poland at the beginning of the month.
Source: Verizon (opens in new tab)
No lollipop updates for the US carriers Posted via the Android Central App

On the s5? It is coming Posted by my soon to be retired Note 3

Be patient. Even Nexus devices are just now having their Lollipop kinks worked out. Trust me, you'd rather have it a month later and functional than right now and messy. Sent from my Nexus 5, behind six proxies

I have a feeling it's going to be a month late and with problems... The panda has spoken

Can't be worse than the Nexus is. Last time around the oems fixed the issues, hope the trend continues Posted by my soon to be retired Note 3

why is the U.S always the lasts ones to receive any updates, whereas other countries gets it much sooner than we do?

Because the US carriers are a pain in the behind and very protective of their networks and services. Posted via the Android Central App

I propose that the reason for delay is that these updates are usually so buggy developers don't want to antagonize the elite USAmericans and would rather test it out on other countries with markets of less value to them.

Relax people, enjoy kikat while you can. Posted via Android Central App

+1 Posted via the Android Central App

Verizon is lame as hell, but yet you people still flock to it to be treated like a red headed step child. Enjoy what you pay for.

Yeah I prefer to actually have coverage with Verizon then junky sprint or Tmob.....but hey were just idiots for spending money to get service that actually works....

I live in a major city so not the sticks so I have no problem there

So people should sell their homes move away from their friends and family and go to the city where just to save a few dollars with tmo and sprint. You're a moron. Posted via the Android Central App

Wow so let's all move into the city so no one complains about rural coverage. No thanks I'll stay in the country Posted via the Android Central App

Travel much? City/town coverage isn't the issue brianiacs pretentious brother, it's when you're in the act of getting from point A to B, that in between area. I'm 99% of the time on a WiFi network somewhere anyway, so having LTE at home or work is meaningless to me, and it's almost always switched off. But when I'm on trips, that's when having Big Red pays off. Troll elsewhere, no one cares about you and your carrier choices. Go get US Cellular and tell all your boring friends how interesting you are :)

I'm getting a update for my verizon Note 4 as well. Posted via the Android Central App

If my Verizon S5 doesn't suffer from any of those 3 issues, should still let it update?

you have to do a update if it pops up. you can postpone it but eventually you will have to do it.
Android Central Newsletter
Get the best of Android Central in in your inbox, every day!
Thank you for signing up to Android Central. You will receive a verification email shortly.
There was a problem. Please refresh the page and try again.